Nicola Benedetti unable to sleep during first year as Edinburgh International Festival director
Violinist Nicola Benedetti was a guest at the Scotsman Fringe Awards
Nicola Benedetti has admitted she has been unable to sleep during her first year in charge of the Edinburgh International Festival.
The violinist, who is the first woman and the first Scot to be appointed director of the event, has told how the adrenaline rush from speaking to so many people around the city has kept her awake at night.
Benedetti was speaking as she joined forces with Fringe Society chief executive Shona McCarthy to pay tribute to all those involved in the festivals at their biggest awards ceremony, which is organised by The Scotsman each August.
Hosted by theatre critic Joyce McMillan, the Scotsman Fringe Awards, which were held at the Pleasance Grand, saw the final round of Fringe First-winning shows recognised, the announcement of several special end-of-festival awards and a performance from the cast of Gunter, one of this year's previous Fringe First winning shows.
Benedetti, who presented this week's Fringe Firsts, said: "It's such a huge honour and pleasure to be part of this ceremony. It's been an overwhelming journey and quite an incredible thing to be part of this eco-system.
"For us, we've had more than 300 different performances and a lot of things going on, with people coming from all over the world. I've not been able to sleep at all for about three weeks.
"It's not because every night has ended at two or three in the morning. It's because I get home having interacted with so many thousands of people during the day.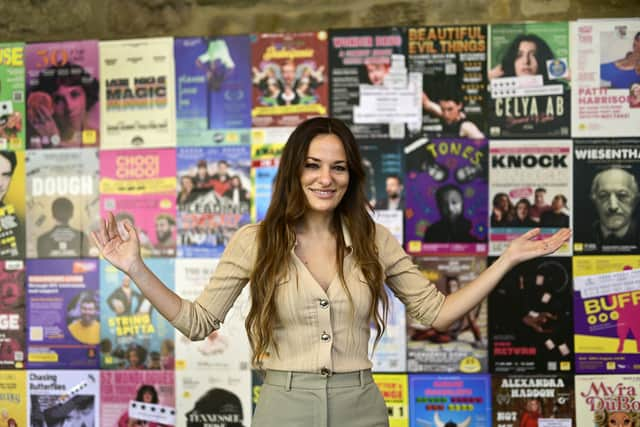 "The general energy you get from all these people gives you such adrenaline that is uplifting. The whole thing is a life-affirming experience, which makes you feel pretty good about the world. It's been wonderful.
"I don't want the next couple of days to end. I want this just to continue forever. To be able to be part of this moment is really such an honour. I'm so grateful to have been invited and to see such incredible work being done."
Ms McCarthy said: "I just wanted to take this moment to say a massive thank you to everyone. I hope you're all feeling it in the air, but I think this year's Fringe has brought a tangible positivity and reconnection."
StammerMouth's Pleasance Dome show Choo Choo, which was billed as a "silly and surreal insight into obsessive compulsive disorder", won the Mental Health Foundation Fringe Award after previously winning a Fringe First honour this month.
The prize, for the most compelling new work about mental health at the Fringe, was awarded in memory of Tim Cornwell, a former arts correspondent at The Scotsman, who had lived with bipolar disorder.
Eva Connor, co-writer and performer in Summerhall play Chicken, won the Filipa Braganca Award, which recognises an outstanding emerging female performer at the Fringe.
The Holden Street Theatres Award, which sees the winning show supported to travel to the Adelaide Fringe, went to another Fringe First winner from this year – England & Son, a new one-man play written for the comic Mark Thomas by Ed Edwards and performed at Summerhall's Roundabout venue.
The Brighton Fringe Award, which helps a show from Edinburgh travel south the following year, went to Character Flaw, Philippa Dawson's show at Greenside, which explores her experiences of ADHD.
Comments
 0 comments
Want to join the conversation? Please or to comment on this article.