Lewis Capaldi is a no-frills kinda guy, happier joshing with a crowd on deadpan terms than fronting a whizz-bang arena show. You can imagine the production planning in order to inject some element of spectacle – watery visuals? Check. Piano on a high platform? Why not? Confetti shower? Let's have two.
Capaldi may just be a regular patter merchant in comfortable stage wear, but he can muster screams like Harry Styles, stoking anticipation as the big screens were raised to reveal his band on four floating platforms, thundering away in a sign of unsubtlety to come.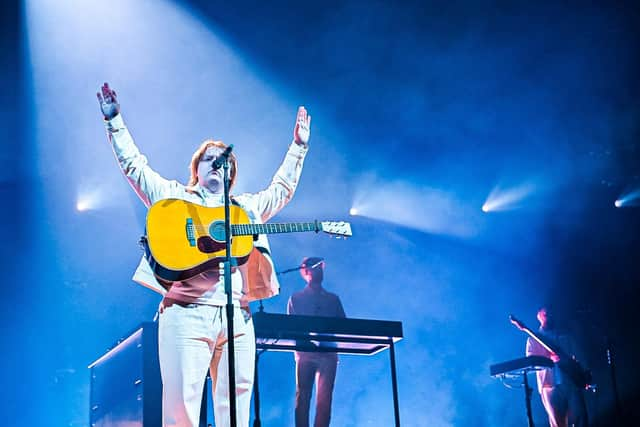 Opening comeback hit Forget You was mercifully musically upbeat but the confetti was still hovering in the air as he unleashed Forever, the first of many chest-beating ballads lapped up by the capacity home crowd.
"We're on a date tonight, Glasgow," he declared before unleashing his unsexy post-coital ballad Lost On You. Capaldi throws the most unlikely parties, but even he couldn't make it through the whole song without taking a breather from the self-critical sentiments.
The big numbers, such as the forced Grace, were all a variation on a lyrical and musical theme. New songs – "fresh out the womb" – included Leave Me Slowly, dedicated to the "geriatrics" in the audience who lived through the Eighties, complete with arena drum fills and gurning guitar.
Capaldi pulled back from the brink of a Bryan Adams show with a standout moment of convincing confession in the encore, admitting that the bare, acoustic How I'm Feeling Now can get on top of him. Given his wide commercial reach, one suspects this new song about mental health could do a lot of good. Certainly his fans have long embraced the braying catharsis of Someone You Loved – so much so that Capaldi's band exited the stage, knowing they could leave its rendition to the audience.