Given the sheer volume of spectacle fizzing around this titanically ambitious event, it's not hyperbole to say it's surely the most essential stadium concert tour of the 21st century so far, delivered by its single most defining pop megastar.
The costumes were all in retro-futurist, tinfoil silver, an array of swimsuits and shimmering robes for the Queen, who ended the show flying like an angel above the crowd. The enormous video backdrop filled with spectacular images while sets were changed, of far-off galaxies (voiced-over by astrophysicist Neil deGrasse Tyson) and Beyoncé herself as a human machine.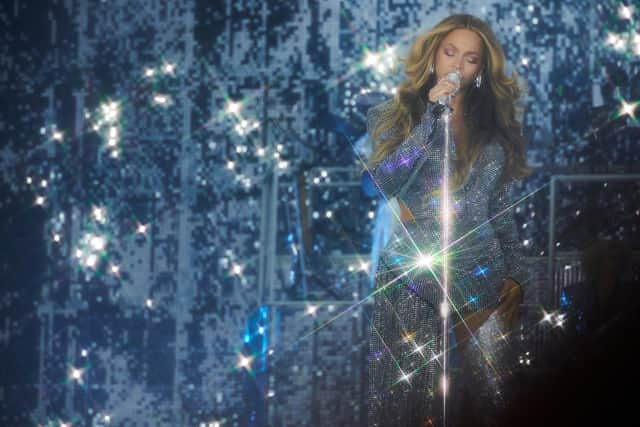 The giant silver horse from the Renaissance album cover lurched forth from the backdrop, and later Beyoncé rode a silver space-tank into the stadium to the pounding dancehall of Black Parade.
Chuck Roberts' "let there be house!" speech blasted out, before a euphoric, energetically clubby full-length medley of Cuff It, Energy and Break My Soul.
The music concentrated on gleaming, futuristic electronica, although a retro analogue section comprising Rather Die Young and Crazy in Love also featured one of the night's finest moments, the crowd's full verse-and-chorus singalong with Love On Top, key changes and all.
Beyoncé and her creative team know exactly who they want to position her alongside.
After the house medley, the words "Queen Mother Madonna" flashed up on screen and the souped-up rhythm of Vogue pumped out. Bey and her team of pneumatic dancers pounded the extended catwalk to it, her retooled rap over the top paying tribute to inspirations like Grace Jones and Roberta Flack.
Later on, America Has a Problem saw her in front of a mock-up rolling news screen, wraparound shades recalling Bono on U2's Zoo TV tour, her black and gold bodice identifying her as Queen Bey, not The Fly. This show is every bit as much a game-changer in the attention-hungry digital era as Zoo TV was during the advent of MTV and rolling news.