Five adorable little furballs have been born at the Highland Wildlife Park as part of the venue's pioneering conservation efforts to save the critically endangered Scottish wildcat from extinction.
The kittens, which were born at the start of April, are doing well, according to keepers, and will be on show to the public at the park's Wildcat Wood at Kincraig near Kingussie.
It is hoped they can play an important role in safeguarding the future survival of the UK's only native feline.
The mischievous kitties were born to mum Talla, who herself was born as part of the Saving Wildcats project – a partnership 'breed and release' initiative run by the Royal Zoological Society of Scotland, which aims to restore viable populations of the cats in the wild.
Their sex is not yet known, but will be revealed when the youngsters get their first proper health check.
Numbers of Scottish wildcats have dropped so low – estimates suggest as few as 35 close to pure-bred individuals could remain – the species was declared "functionally extinct" in the wild. The main threat is from interbreeding with domestic cats, but hunting and changes to their territory have historically impacted numbers.
Keith Gilchrist, animal collection manager at Highland Wildlife Park, has welcomed the new arrivals and praised the first-time mother. "This is Talla's first litter and she is taking to motherhood brilliantly and being very attentive," he said.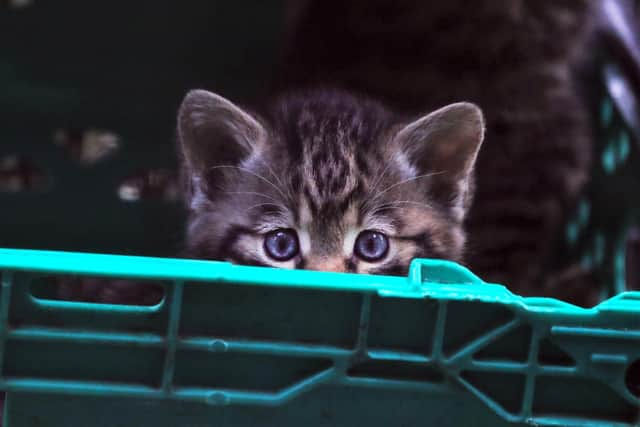 "The kittens are doing extremely well and are getting more confident every day. It has been fantastic to see them growing curious about their surroundings and start exploring their home in Wildcat Wood with Talla by their side.
"Wildcats are Scotland's most iconic animal, but sadly also one of our most endangered. This incredible species in on the brink of extinction due to historic habitat loss and hunting.
"More recently they have become increasingly threatened by interbreeding with domestic cats."
Kittens born last year at the charity's off-show conservation centre are due to be released later this year in the Cairngorms National Park. As well as Talla and her five kittens, dad Blair and two other wildcats, Katrine and Staffa, are on show at Wildcat Wood.