Kurt Cobain Death: Remembering when Nirvana played Edinburgh - plus Cobain's Scottish connections
We look back at a legendary impromptu gig the grunge band played at an Edinburgh pub - plus Kurt Cobain's links to Scotland and his favourite Scottish bands, 29 years to the day the Nirvana singer died.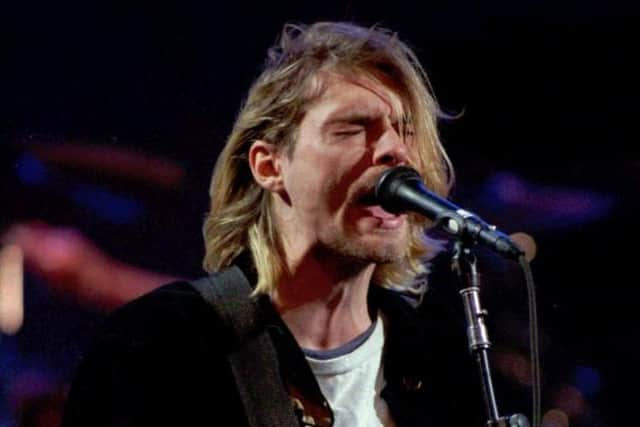 Featured in a recent documentary titled 'When Nirvana Came to Britain', Kurt Cobain and Dave Grohl took to the tiny stage in the South Clerk Street pub, armed with just two acoustic guitars and hitlist of soon-to-be Nirvana classics, just as the likes of MTV and Top Of The Pops were noticing the rock phenomenon that was about to explode.
And while Nirvana were most definitely one of rock's rising stars at the time, few could have guessed just how huge an impact the Seattle band would make on music just months later thanks to the release of second album Nevermind.
Nirvana drummer, 54-year-old Grohl – now of Foo Fighters fame – says he remembers it like it was yesterday.
"I was sat at the bar and someone gave me a lesson in whisky that went on for a long time" recalled Grohl. "The UK definitely responded to Nirvana much more, before America. You guys were the first with everything – we cut our teeth there", he later admitted in the BBC Scotland documentary.
The gig would cement a friendship between Scottish grunge band The Joyriders, who had asked Cobain and Nirvana if they would appear at a benefit show for Edinburgh sick kids' hospital – which the band agreed to.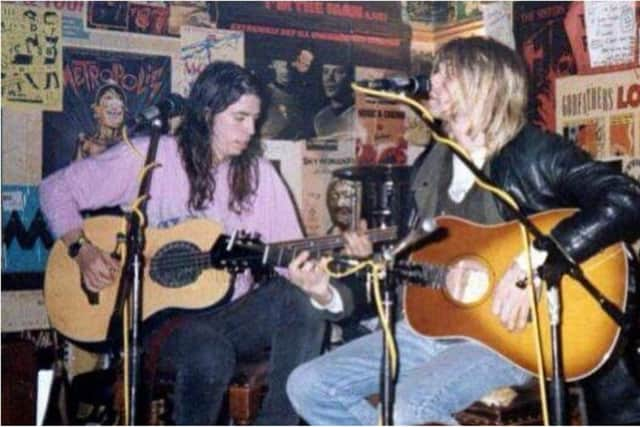 Subsequently, flyers were handed out which promised "very, very special (American) guests" would be appearing at the The Southern Bar following Nirvana's own gig at Calton Studios in November. Within days, rumours were abound that the guests would be Nirvana themselves and a rather hefty looking crowd would assemble from early afternoon on a freezing December night in 1991 outside of the bar.
The Joyriders themselves admitted they weren't 100% sure that Seattle rockers would make an appearance and actually confirmed to the crowd that Cobain and company would not be attending following their own set, which saw a bulk of the crowd disband into the Edinburgh night with sullen faces.
However, an hour later both Cobain and Grohl came through the pub doors, much to the delight of those who had stuck it around on the off chance of catching the would be rock icons in action. One of them was Nirvana super-fan Alan Edwards, who by stroke of luck had a "sh***y camera" at hand that allowed the only photographic evidence of Nirvana's special set in Edinburgh.
"It was just epic," said Edwards, recalling the gig. "When Kurt screamed out the lyrics to his songs, I've never heard anyone with a scream like that. He could've stripped paint off the walls."
The duo would go on to play a total of five songs for the crowd (which can be heard here). including stripped down versions of Dumb and Polly. and adopted the name 'Teen Spirit' for the night, and wrote themselves in Edinburgh folklore.
What are Kurt Cobain's links to Scotland
The connections between Nirvana, Kurt Cobain and Scotland are endless.
Firstly, It was long known that the musician was a huge fan of a number of Scottish bands and had a long held affection for them. Kurt regularly named the likes of The Vaselines, The Pastels and Teenage Fanclub among his favourites of all time.
Cobain famously covered The Vaselines song 'Jesus Wants Me for a Sunbeam' on Nirvana's iconic MTV Unplugged session in 1994, while they covered their songs 'Molly's Lips' and 'Son of a Gun' on their Incesticide collection released in 1992. The Vaselines frontman Eugene Kelly joined Nirvana on stage to sing 'Molly's Lips' during their 1991 Reading festival set, months before they exploded into the public consciousness. Cobain's only daughter, Frances Bean Cobain, was named after The Vaselines songwriter Frances McKee.
Nirvana's first ever live gig outside of the US saw them play alongside a Scottish punk band named The Cateran, who hailed from Edinburgh. Murdo MacLeod (who later formed The Joyriders, mentioned above), guitarist for The Cateran, later saw his brother Alex become Nirvana's tour manager. "Most people could hear that they were pretty special" said MacLeod, recalling the band's first shows outside of their homeland.
Perhaps even more interestingly it is known Cobain had Scottish relatives. His great-grandfather, James William Irving, hailed from Hawick in Roxburghshire.
Meanwhile Simon Neil of Scottish rock giants Biffy Clyro has a tattoo depicting the cover of In Utero, Nirvana's third and final album. Heck, the name of Cobain's town is actually Scottish – although it is the American Aberdeen rather than our own.
Despite all of these links, Nirvana only played Scotland – officially at least – three times. Twice at Edinburgh's Calton Studios (later called Studio24) and finally Glasgow's QMU.
Comments
 0 comments
Want to join the conversation? Please or to comment on this article.