JJ Chalmers: who is the Edinburgh-born Strictly Come Dancing contestant partnered with Amy Dowden - and could he be the second Scottish winner?
The ex-Royal Marine, who was born in Edinburgh, tells The Scotsman how he has faced adversity and is now living his dreams
John James Chalmers waltzed onto our screens in October as a contestant on this year's Strictly Come Dancing.
So who is the inspiring veteran and television presenter - and what is he hoping to achieve on Strictly?
Where did JJ Chalmers grow up?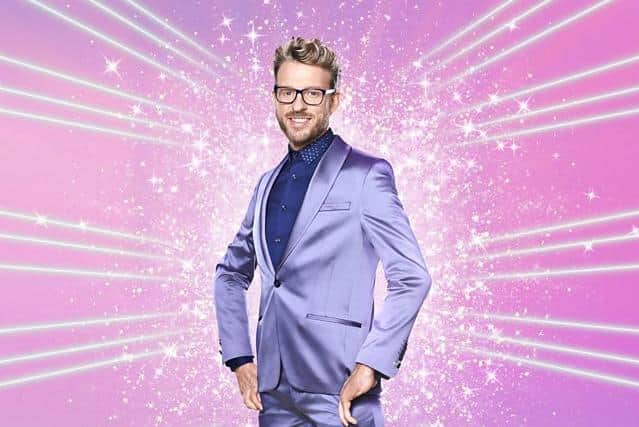 John James Chalmers was born in Edinburgh in 1986.
The son of a Church of Scotland Minister, he attended Strathallan High School before obtaining a Bachelors of Education from Edinburgh University in 2009.
The ex servicemen served as a reserve from the age of 18, throughout his time as a Design and Technology teacher at Balerno High School in the city, until he became a full-time soldier in 2010.
He now lives with his wife, Kornelia Chitursko and two children, Hayley and James in Dunfermline, Fife.
How does he feel about being on Strictly?
The Scot previously admitted he isn't a diehard fan of the show, but the excitement of taking part and bringing some light-hearted fun to television screens, in what has been a dreich year for everyone, has made isolating away from his wife and kids worth it.
There is also a hint of nostalgia in the set up of this year's Strictly, with contestants, dancers and crew isolating together for the 12-week duration of the show.
JJ told The Scotsman: "Funnily enough the military is quite similar cos we're a little bit tribal. We had this healthy competition between cap badges and regiments but at the same time we're actually all on the same side and here we're all part of this Strictly bubble right now and want to make the best show."
JJ thanked his supporters in Scotland for their well wishes for Strictly, saying: "I'm incredibly proud of the backing that I get from Scotland.
"You know I get such amazing messages from people and it's so great to know that it's folks close to home, and I miss Scotland, and I can't wait to go home, but at the same time I don't want to go home too soon."
What happened to him in Afghanistan?
As a Royal Marine Commando, Chalmers was wounded in battle in 2011, which resulted in a crushed eye socket, burst eardrums, injuries to his arms and legs and scars to his face and body. He also lost two fingers.
He has previously told how he woke in a hospital in Birmingham a week after an IED (improvised explosive device) explosion in Helmand Province, which took the lives of his two friends and comrades and injured many of the other nine soldiers.
The 33-year-old remained in the Navy while receiving intense rehabilitation until his departure in 2016.
Since his horrific ordeal, he has gone on to support the rehabilitation of soldiers and raise awareness of army veterans and their physical and mental struggles.
He has paid tribute to his gran for his approach to life since the accident, explaining in a previous interview with The Scotsman that she always advised him to "get on with it".
Having faced many barriers on his road to sporting success and rehabilitation, he encouarges others in similar circumstances to use their setbacks as motivation to achieve their own dreams.
He told the Scotsman: "What you should do is have that big dream.
"But actually, you need to break it down into small parts, think of building a wall.
"You know you want a wall at the end of the day, but actually just go out and lay a brick every single day as perfectly as you possibly can.
"At the end of the day, you've succeeded in something, a small task you've already succeeded in.
"And then one day, you can take a step back and look at the big picture and realise that you've actually achieved your dream."
What have been JJ's biggest achievements so far?
The Strictly contestant told The Scotsman he tries to ignore any feeling of defeat when facing adversity, which has stood him in good stead when chasing his sporting victories.
In 2014 he competed in the Invictus Games, a multi-sport event for wounded, injured or sick armed services personnel, as a non-amputee cyclist for Team Britain.
He won a gold medal as captain of the trike team in the Men's IRecB1 Recumbent Circuit Race, andtook home two bronze medals for the 1-mile time trial and 4× 100m mixed relay race.
He told the Scotsman: "You need to dream big, but at the same time don't allow yourself to be defeated when something doesn't go your way. You need failures, to be able to come back stronger."
Following his cycling success, the father-of-two became an ambassador for the games and a patron for Help for Heroes before presenting Channel 4's Paralympic coverage in 2016. Later that year he also hosted the Lord Mayor's on BBC One.
He has since presented sports segments and other features for the BBC and held the presenting role for the Invictus Games in 2017.
Could he be the next Scot to win strictly?
JJ told The Scotsman that his dream is to bring home the glitterball, following in the footsteps of Scots actor Joe McFadden in 2017.
The presenter has been coupled up with Strictly professional, Amy Dowden and so far has wooed the audience with his foxtrot, waltz and the Paso Doble.
Although he has dreams of reaching the finals, he is taking it one week at a time.
He said: "I haven't really allowed myself to think about winning the thing, it really is a case of just trying to get from week to week.
"It's interesting because you kind of have to put the success of last week behind you and start from fresh, so yes you can put the failures behind you, but you also need to put the successes behind you.
"I have the big goal of wanting to make the final and see what happens. But actually, you need to get through every single step."
Asked what he has made of the show this far, the father-of-two said: "I am absolutely loving Strictly.
"I'm loving everything about it, whether it's, you know, learning a new skill or spending time with my amazing dance partner and the rest of the crew.
"I don't just mean the other celebs and dancers, I mean from the bottom to the top, everybody just loves the job that they're doing and they get to do their job at the moment so I feel very privileged.
"I just want to keep turning up every Monday and having another week at this."