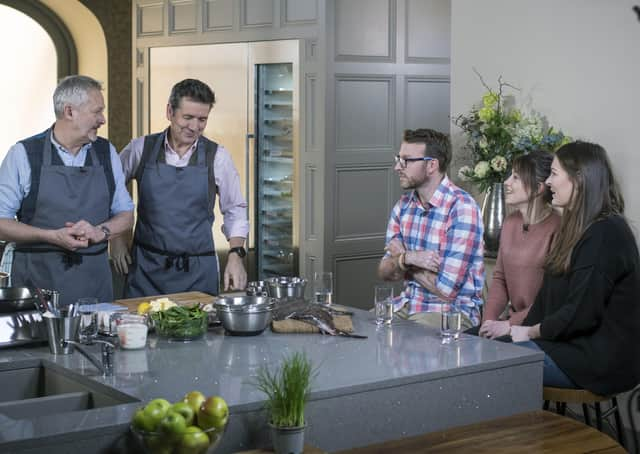 JJ Chalmers on the show
JJ Chalmers, 33, from Edinburgh, suffered life threatening injuries in 2011 when a deadly IED was triggered as he helped clear a bomb-making factory in Helmand, killing three colleagues.
After nearly 30 operations, he won gold medals in the 2014 Invictus Games and has since carved a new career as a TV presenter.
Speaking as a guest on last night's BBC Scotland food show The Great Food Guys, he said that as he lay in hospital, he recalled his grandmother's advice.
He said: "We were on a big operation into Taliban-controlled land and we were searching a suspected bomb-making factory. Our big threat out there were these improvised explosive devices – roadside bombs – crudely made devices that are just buried in the ground waiting for someone to step on them.
"While we were searching this compound, unfortunately one of our team triggered a device. It went off underneath his feet and I was talking to the bloke at the time. This blast went off and it just tore me to pieces, head to toe.
"It was completely life changing. I survived – others didn't. I woke up in a hospital bed a week later and it was a case of rebuilding my life from there.
"You find yourself in a hospital bed at the mercy of other people. I was literally a head in a bed.
"I couldn't feed myself, I couldn't wash myself, I couldn't do anything for myself, but you've got no choice. You either lie in that hospital bed and feel sorry for yourself or you get on with it.
"That's what my granny used to say – a proper Ayrshire lassie, she used to say 'just get on with it'.
"Then you're told that a couple of your friends have not made it – they didn't get the choice to get on with it; life ended. So you pick yourself up and you get on with it."
JJ, whose father John Chalmers was Moderator of the Church of Scotland from 2014-15, was a craft, design and technology teacher at an Edinburgh secondary school before serving in Afghanistan.
He was serving with 42 Commando when the bomb blast killed two of his fellow Marines and their Afghan interpreter. He suffered facial injuries, lost two fingers and his right elbow disintegrated.
During his recovery, he won medals for Great Britain in cycling at the 2014 Invictus Games.
JJ – short for John James – said the Games, founded by Prince Harry, had given him motivation to regain fitness.
He said: "It was massive. Rehab is a pretty intense thing to go through physically, but a lot of it is psychological.
"I found myself looking for something to do with my life and the Invictus Games fell in my lap.
"It was the very first Games. Nobody knew what it was going to be. The world was watching and I just had to be a part of it.
"It was an unbelievable catalyst to get me out of bed in the morning and commit to something.
"More than anything it was that mission – I'm getting out of bed. I want to be the best I can be at this."