Alongside the slogan, artwork showing hearts beating together in the colours of the Ukrainian and UK flags was also unveiled by the BBC.
As the UK came second at the European event with singer Sam Ryder, it took over the responsibility for organising the event before Liverpool was revealed as the host city.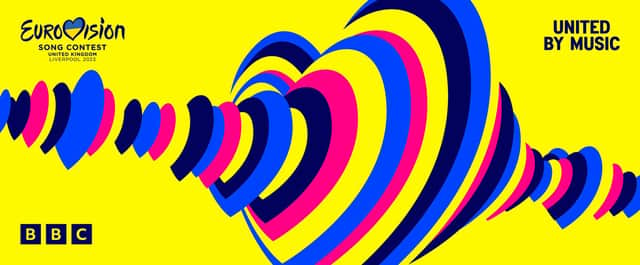 The BBC said the new slogan "reflects the very origins of the contest, developed to bring Europe closer together through a shared TV experience across different countries".
As a "nod" to the city's rich musical heritage and iron street signs, the corporation added, the typeface Penny Lane has been used in the branding.
The Beatles, formed in Liverpool, released the song of the same name, Penny Lane, in 1967.
Martin Green, managing director of the Eurovision Song Contest 2023 at the BBC said: "The 2023 Eurovision Song Contest will be a truly special event and the creative look is a big part of creating that magic.
"This year's identity sums up perfectly the amazing partnerships across the contest and more importantly the power of music to bring people together across the world."
Olena Martynova, CEO of Starlight Creative said: "Creativity and music both have the power to unite and inspire.
"We are so proud to be part of the creative concept for such an important musical event when more than ever, we need to come together as a global community.
"For Starlight, it is an opportunity to represent Ukraine on an international stage, showcase our creative and musical ability, and create something that honours our strength and the power of unity."
St George's Hall and the Liverpool sign at Liverpool ONE is using the branding already before it is rolled out across the city from April.
The 11,000-capacity M&S Bank Arena on Liverpool's waterfront will host the song contest in May.