Edinburgh International Book Festival: Former Makar Jackie Kay says she felt 'hampered' when she was Scotland's national poet
Writer Jackie Kay admits she had to be 'careful' in the role
Former Scots Makar Jackie Kay has told how she found being the country's national poet too restrictive because she could not fully express her own views.
The celebrated poet, playwright and novelist has admitted she felt "hampered" rather than "liberated" after being appointed to succeed Liz Lochhead in 2016.
Speaking at the Edinburgh International Book Festival, Kay said she had to be "careful" about speaking her mind when she held the post. Kay, whose term as Makar ended in 2021, said she felt Scotland had become more polarised and divided since then.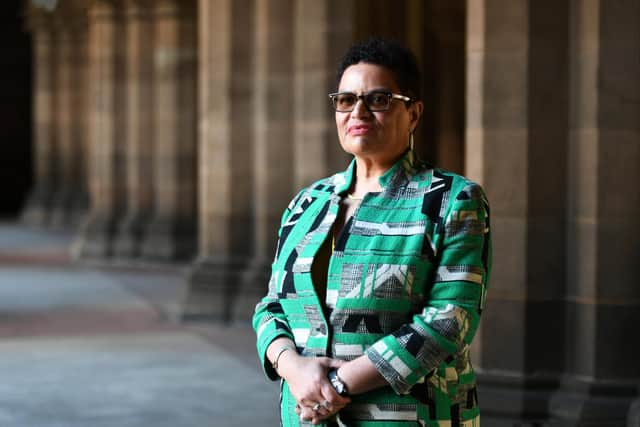 The poet, who was born in Edinburgh and brought up in Glasgow after being adopted, suggested it was still not easy to be black and Scottish because of the prejudice that could still be encountered.
Kay, who has been succeeded as Makar by Kathleen Jamie, was speaking at the book festival about a new collection of work, which reflects on key moments of political activism in her life. When she was unveiled as Makar at the Scottish Poetry Library in 2016 by the-then first minister Nicola Sturgeon, Kay insisted the role was non-political.
Kay recalled: "Having a public role is always an interesting thing. You have to use your position wisely. You don't want to be a spokesperson in a 'here she goes again' kind of way. You're the national poet for the entire country, for the people who are yes, the people who are no and the people who are whatever.
"I found that I was being more careful than I normally would be about stating what I actually think. I felt slightly hampered by the role. While it was liberating, it was also the opposite. I felt that there were big responsibilities."
Asked about her relationship with Scotland, Kay said: "It has changed a lot. It changed particularly with becoming Makar interestingly. It was quite a public role. People would acknowledge you and take great delight in you being Makar. You also learned about the way that the country has changed a lot.
"Our country has changed for all of us in lots of different ways. It has particularly changed if you are black and Scottish because there are more people, there has been more ackowledgment of Scotland being diverse and the fact that cities like Edinburgh and Glasgow are founded on money from the slave trade.
"I still don't think it's completely easy. I don't think that people when they think of a Scottish person immediately see us. It's still a leap.
"If they don't know I've been Makar, people will say 'where are you from dear? Are you over from America?'"
Kay said Scotland had been experiencing a "tricky" period over the last couple of years. "There has been such a lot of change, polarisation and division, and a lack of debate," she said.
"It is quite difficult to know how to get a healthy and good dialogue back for everybody. it's complicated. Having devolution and the Scottish Parliament has been amazing and there has been such a lot to celebrate, but there is still a long way to go.
"We are still evolving and changing. I wish we were given more say to change in the way we want to change."
Comments
 0 comments
Want to join the conversation? Please or to comment on this article.