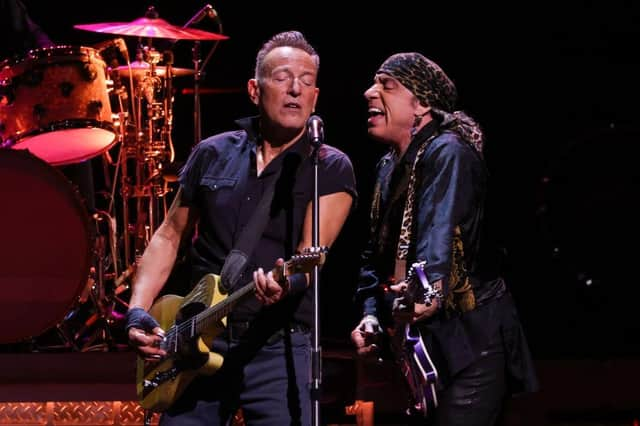 Tickets for the gig sold out instantly in July last year, when organisers were criticised for the so-called 'dynamic pricing' model which saw tickets quickly spiral to three times their original face value due to demand.
But if you were one of the lucky ones who managed to snap up a ticket (and hopefully payed a reasonable price) here's everything you need to know before heading to Murrayfield.
What time will the gig start and end?
The West Fan Village opens for ticket holders at 3.30pm, with the stadium itself openiung at 4.30pm.
It's expected that Brice Springsteen will take to the stage at around 7.30pm, playing for around three hours and finishing at around 10.30pm.
Venue chiefs have requested that nobody arrives early to queue – instead getting to the stadium in time for the doors opening.
Is there any support act?
There will be no support for the Murrayfield concert.
Are there age limits in place?
For standing areas no people under the age of 14 are permitted, while children under the age of 16 must be accompanied by an adult 18 or over.
In seating areas, no under 5s are allowed and children under the age of 16 must be accompanied by an adult 18 and over.
Food and drink
Small amounts of food can be brought into the stadium if required for medical and childcare purposes – but must be held within an A4-zise bag.
There will be a number of food and drink outlets, all of whom will preovide free drinking water.
Murrayfield is a cashless venue so make sure you have a card with you to buy food, drink and merchandise.
What items are prohibited?
The following items will not be allowed into Murrayfield:
Weapons of any kind or anything that could be considered a weapon
Glass bottles and drinks cans
Sealed/unsealed plastic drink bottles
Hip flasks, metal drinks bottles, thermos flasks or refillable water bottles
Air horns, party poppers or silly string
Laser pointers or flashlights
Fireworks/ pyrotechnics or flares
Audio or recording equipment
Go Pros/active cameras and selfie sticks
No professional camera/video/audio equipment including those with a removable lens
Controlled or illegal substances
Items deemed to be inappropriate or offensive – including clothing, flags and banners
Animals other than guide or assistance dogs
Any other items deemed to pose a risk of injury or annoyance to other customers
What songs has Bruce Springsteen played most often on the tour?
Springsteen is renowned for playing different sprawling sets every night, but there are certain songs he tends to return to more than others.
Here are the 25 songs that he is playing most often on this tour – they have all featured in at least 26 of the 38 concerts he's played this year – and how many times he's played them. Expect to hear the majority of these at Murrayfield.
I'll See You in My Dreams (37)
Tenth Avenue Freeze-Out (37)
The E Street Shuffle (37)
Rosalita (Come Out Tonight) (28)
What did Bruce Springsteen play at his most recent gig?
At his concert in Rome, Springsteen played the following setlist in a 28-song epic live show spanning three hours:
My Love Will Not Let You Down
Darkness on the Edge of Town
Nightshift (Commodores cover)
Last Man Standing (acoustic, with Barry Danielian on trumpet)
Because the Night (Patti Smith Group cover)
I'll See You in My Dreams