Being Gregory: Origins of Scottish comedy classic explored in new book
Writer and director Bill Forsyth used amateur actors in high school movie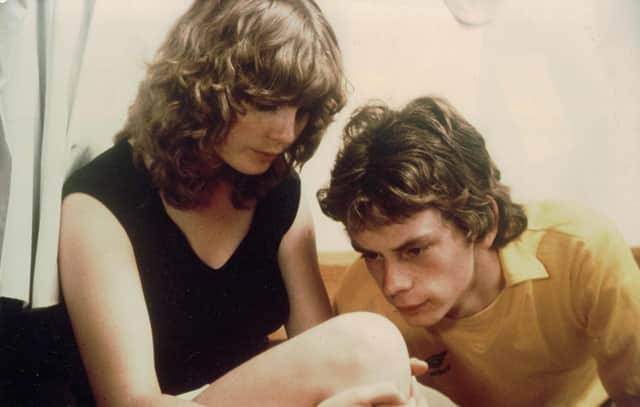 It is the Scottish cinema classic that turned its cast of unknown performers into stars and has won the hearts of generations of film fans since its release more than 40 years ago.
Now the origins of Gregory's Girl have been explored in a new book devoted to the high school romantic comedy.
Tim Blanchard's new book, Being Gregory, features new interviews with its stars, many of whom were plucked from obscurity after attending Glasgow Youth Theatre classes.
He recalls how Glasgow-born Forsyth's love of film was sparked by regular visits to the then Cosmo cinema (now the Glasgow Film Theatre) in the city centre.
Forsyth embarked on a career in the industry in 1964 after answered a newspaper advert for an assistant for production company Thames & Clyde. Forsyth, who made his first experimental short films in the late 1960s, was part of the first cohort of students at the new National Film and Television School in Buckinghamshire 1971, but left early the following year and set up a production company with Scottish filmmaker Charlie Gormely, which focused on making commercial documentaries.
By 1977, Forsyth was keen to pursue feature film ambitions and was urged to visit Glasgow Youth Theatre, which had been set up by an American, John Baraldi, in the Dolphin Arts Centre in Bridgeton for 15-18 year-olds from across the city.
Alan Love, who played Eric in Gregory's Girl, said: The Bridgeton area was a dark, foreboding, dangerous place to be.
"Local works and industries were in rapid decline or gone altogether, and the area itself was stepped in sectarianism and gang violence.
"Money was an absolute stranger to us back then and any fun we had needed to be manufactured from scratch."
Caroline Guthrie, who played Carol in Gregory's Girl, recalled: "I loved it as soon as I walked in.
"There was such a mix of people: some people who'd come from places with no bath, others might be living in a posh bungalow. It was always such a laugh – and nothing to do with acting, the acting was incidental."
Forsyth initially quietly observed the amateur actors in their weekly workshops, before discussing his ideas for Gregory's Girl, working with them to improvise scenes.
Love said: "We soon got to know him for the incredibly fun person he is. No-one had a clue about Bill's filmmaking background to begin with, but what shone through, apart from his excellent sense of humour, was his sheer intelligence.
"There was a real sense of deep trust that we shared with each other, of pure love, and Bill was right in there with all of those feelings."
Forsyth's hopes of making Gregory's Girl were dealt a blow when the British Film Institute rejected a funding bid. He decided to make another feature with the young actors, That Sinking Feeling, despite having no budget available.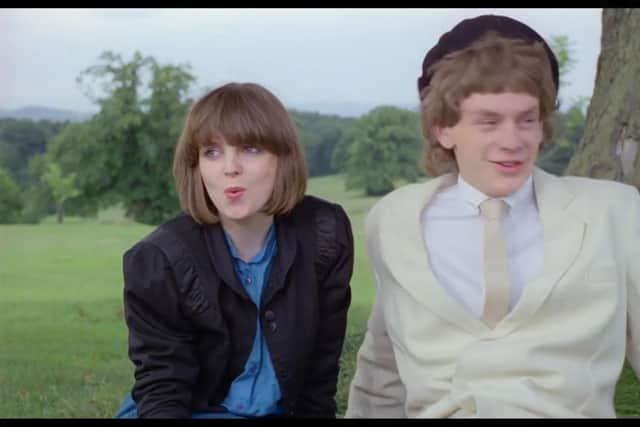 However the heist comedy, about a group of teenagers who plot to steal stainless steel sinks from a warehouse, was selected for the Edinburgh International Film Festival, won the acclaim of critics and brought Forsyth to the attention of the wider Scottish film industry.
GYT member, Rab Buchanan, who starred in both movies, said the initial rejection of Gregory's Girl, which was eventually backed by STV and the National Film Finance Corporation, turned out to be "fortuitous".
He said: "He (Forsyth) made That Sinking Feeling instead, which meant there were professional producers and more money to make Gregory's Girl – it would have been a very different film without that."
Being Gregory charts the preparations for seven weeks of filming in Cumbernauld, in Lanarkshire, in the summer of 1980, with a cast led by John Gordon Sinclair, one of the GYT regulars, and Dee Hepburn, a young actress who had previously appeared in STV's 1978 adaptation of the The Prime of Miss Jean Brodie.
The book recalls how Forsyth had to keep the Cumbernauld Development Corporation "on side" to ensure key locations were available, recalls how many of its stars were paid just £200 in total, and explores crucial changes made to the screenplay before filming began.
Hepburn, who played aspiring footballer Dorothy, was sent to train with Partick Thistle, but struggled with the demands of the schedule needed to film the crucial football pitch scenes, which featured 20 real-life players as extras.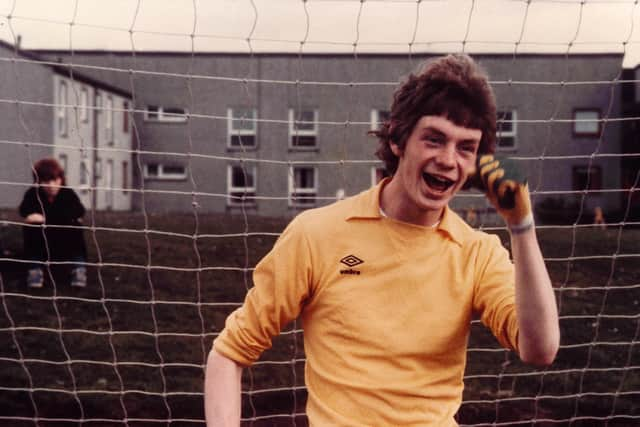 She recalled: "It was so cold that my knees had turned blue.
"I had to be taken for some emergency treatment with a doctor that evening because my muscles had seized up, I wasn't used to it.
"That kind of thing was just funny at the time, though, something else to laugh about."
Recalling his experiences, Buchanan recalled: "There were loads of laughs off camera and on camera. We were quite often standing behind the camera trying to corpse people."
The book recalls how Clare Grogan, whose character Susan becomes Gregory's other love interest, kept quiet about her other life as a singer with post-punk band Altered Images. She said: "I kept the two things separate and few people on the film knew about the band. It's a Glasgow thing and a Scottish thing, nobody likes a show-off."
Recalling his final experiences, Sinclair said: "I especially remember the scene after our date in the park, where there's a shot of us walking off into the sunset. Clare Grogan and I were both in tears. It was the last day of filming. It was all over. This magical bubble we'd been in was about to burst."
Gregory's Girl was launched in the spring of 1981, with a charity world premiere at the Odeon in Glasgow, introduced by comic Chic Murray, who played the school headmaster.
Douglas Sannachan, who played Billy, recalled: "He gets up and starts telling everyone what was going to happen in the film, he's explaining the whole story. Someone had to basically go and rugby tackle him to get him off the stage. It was brilliant."
Comments
Want to join the conversation? Please or to comment on this article.