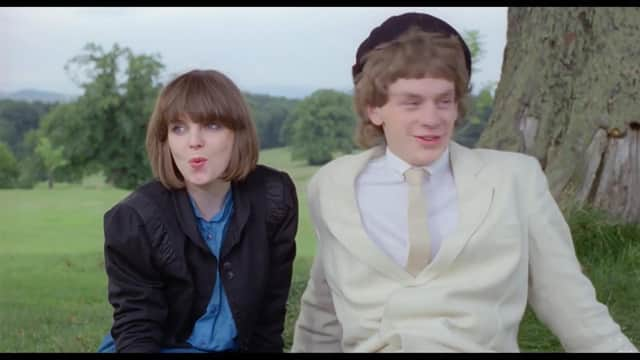 Bill Forsyth's Gregory from Cumbernauld won me over with his goofy and gentle ways when I first watched the movie when I was 15.
Although a painfully relatable watch for a school girl growing up in Glasgow, Gregory made me feel that I was not alone in the awkward world of navigating feelings and first romances.
Centred around the teen falling for the 'unattainable' Dorothy (Dee Hepburn), the low-budget 1981 movie offered far more than the 'fast food romance' churned out by American movie giants.
Fresh out the Glasgow Youth Theatre, John Gordon Sinclair (Gregory) offered a glimpse of a real Scottish hormonal teen.
From, practising Italian with his limited linguistic knowledge (stretching to roughly 'bella, bella') to covering up his nipples and saying 'I like to do something special on a Saturday night' , Gregory showed us an 'in love' protagonist did not have to have the smooth moves of Patrick Swayze.
He was a boy strikingly goofy - a contrast to a modern world of indie boys, troubled geniuses and artisan coffee roasters obsessed with being 'cool.'
And the learned companion to this embodiment of teenage angst? His wise wee sister, Maddy.
Back from his carefully-orchestrated date with Susan (Clare Grogan), Gregory, as usual, opens up to his sister: "She's lovely. I think she likes me. I'll see her tomorrow."
I mourn the loss of that sort of personality in my generation.
I know it's there - the gentle, clumsy, funny, able to take themselves as a joke person - but it's been clouded by a need to prove yourself in an image-obsessed social media-centric world.
I can hardly talk. I have a self-proclaimed selfie addiction with a love of showcasing my life on virtual platforms.
But I don't think I've let it become me as I've often seen some people let it do, when trying to 'stay true' to an image they have cultivated online.
So why can't we all be Gregorys?
I'd rather date a guy who made me laugh with his goofy, engaged way rather than a moody closed-off type who rocked up with nothing else to show for himself than 10,000 Instagram followers.
That might sound obvious but, sadly, the latter is a wrong turn myself and others have often taken.
Among sceptical peers, a girl playing football was, to Gregory, 'tremendous' as he baked cakes with Steve (William Greenlees).
However, not tremendous when boys enthusiastically congratulated Dorothy's goal scoring: "That's the sort of thing that gives football a bad name."
But that was the point of Gregory. He was not the 'always right' guy – he was the gentle guy true to himself in all his clumsy glory.
He was the guy who could laugh at himself and still get nervous when around girls but outraged and suspicious when his sister attracted a love interest.
More importantly, he taught us the timeless message that love is tricky and not always easy to navigate.
As his wee sister said: "Hard work being in love, eh?
"Especially when you don't know which girl it is."
A message from the Editor:
Thank you for reading this article. We're more reliant on your support than ever as the shift in consumer habits brought about by Coronavirus impacts our advertisers.
If you haven't already, please consider supporting our trusted, fact-checked journalism by taking out a digital subscription.