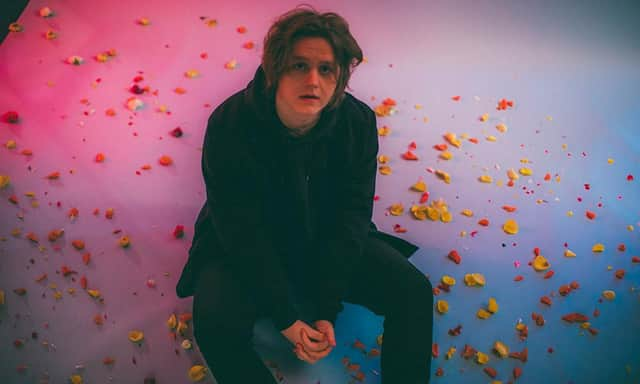 Lewis Capaldi was not automatically shortlisted for the SAY award
Long-listed for his mega-selling debut album, Divinely Uninspired to a Hellish Extent, Capaldi failed to win the public vote, which automatically ensures a slot on the shortlist of ten albums in contention for the prize along with nine picks by the judging panel.
Perhaps his legions of fans were feeling divinely uninspired.
Instead that guaranteed space on the shortlist went to the considerably less prominent Callum Easter, an audacious one-man band who sings like an old soul over an accordion fed through an armoury of DIY effects.
It's a far cry from the arena-busting pop angst of Capaldi, but this ex-footballer from Dunbar is surely in with a shout to follow his compadres and tourmatesYoung Fathers to SAY victory.
With eight debut albums recognised on the shortlist, household names are in short supply.
But this is SAY's strength – there are no free passes for established acts and, even though the award has found its own rather alternative rhythm over the past eight years, there is still an element of unpredictability around the result.
Plus, eligible albums are available to listen to on the awards website, so the curious music fan can fill their boots and expand their repertoire. Never heard of Cloth? Feel the quality.
This year's judging panel, including broadcasters Edith Bowman and Jack Saunders, playwright Kieran Hurley and Fringe of Colour founder Jess Brough, are evidently not fans of folk, jazz or rock, as albums by Karine Polwart, Fat-Suit and Vistas have been jettisoned alongside previous SAY Award winners Anna Meredith and Sacred Paws.
But it's a good year for the left-field and exploratory.
Lovers of industrial electro can feast on Blanck Mass and brother/sister act Comfort, while duos Bossy Love and The Ninth Wave offer a poppier perspective.
Scottish/Portuguese producer Shhe sculpts haunting electronica soundscapes, composer Erland Cooper has responded to his native Orcadian landscape and DJ/producer Nova flies the Scottish hip-hop flag, leaving Declan Welsh and the Decadent West as the sole standard bearers for good old-fashioned indie guitar slinging.