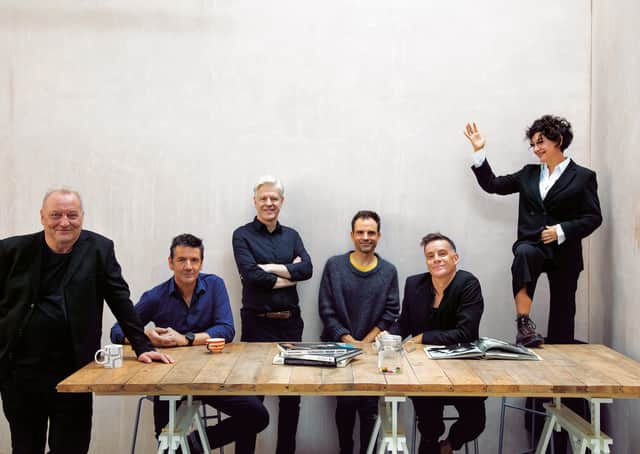 Deacon Blue: City of Love (earMUSIC) ****

Paul Heaton & Jacqui Abbott: Manchester Calling (Virgin EMI) ***

Sergio Mendes: In the Key of Joy (Conchord) ****

Sound of Yell: Leapling (Chemikal Underground) ***


Deacon Blue, one of the big beasts of Scottish pop, operate with a practised cohesion which is a pleasure to behold on their latest album. There is a carefree confidence running through City of Love, reminiscent of their warmly nostalgic 2012 comeback album, The Hipsters, with a levity and optimism to the songs even when the lyrics express regret or uncertainty.

With atmospheric reverb on the vocals and dramatic string arrangements, courtesy of The Pumpkinseeds ensemble, they break out a big sound without the bombast. The title track sets the pace. It's a song of fortitude and encouragement with a classic, rousing Deacon Blue cocktail of surging momentum, urgent strings, burnished bluesy guitar and eddying choral backing vocals.

Hit Me Where It Hurts showcases their moody, melancholic soul side, with Ricky Ross resonating on the agony and ecstasy of love when you least expect (or want) it, while heady string flourishes elevate Take Me, a rootsy pop number on the desolation of love lost.

In an expertly marshalled production, the light of In Our Room, about retreating to a safe haven, contrasts with the darker swaggering musical hues of Keeping My Faith Alive, about hanging on to the constants in a queasy world.

Lorraine McIntosh is on her purest form with the twinkling warmth of Intervals, bolstered but not overwhelmed by a hefty, swelling guitar break, while Ross offers modest snapshots of the value of communication in the spoken word verses of On Love.

Another long-standing vocal double act returns to the fray this week. Ex-Housemartins/Beautiful South frontman and national treasure-still-in-waiting Paul Heaton doesn't like what he sees in Brexit Britain and he's brought Jacqui Abbott along to sweeten the bitter pill. Manchester Calling is Heaton's tribute to The Clash's London Calling, broadly inspired by commercial expansion in the city he calls home. But Heaton can't resist training his lens on the man on the street or in his home.

The Only Exercise I Get Is You is a spirited hoedown on domestic relations, while The Outskirts of the Dancefloor is a portrait of a veteran wallflower through the medium of a melodramatic piano ballad.

Heaton sets wry lyrics in diverse, celebratory sonic settings – the chiming Motown pastiche of If You Could See Your Faults, the glam northern soul stomp of Big News In a Little World, an electro pulse over a lachrymose country ballad on House Party 2, even outbreaks of trad jazz on So Happy. But the standout track is impish symphony MCR Calling, with varied voices invoking Mancunian cultural references in a style reminiscent of the late Mark E Smith's merciless chronicling of urban folly.

Brazilian bossa nova legend Sergio Mendes is still going strong at 79 with a new album of smooth, summery Latin pop, featuring guests including rapper Common and Colombian brothers Cali y el Dandee, representing the current generation of Hispanic pop stars, while his wife Gracinha Leporace features on the satisfying Latin disco of Bora La and airy bossa nova number Tangara.

A bonus CD compiles past hits such as Mas Que Nada and Constant Rain into an evergreen easy listening party soundtrack.

Sound of Yell is the soothing soundtrack alias of composer and fingerstyle guitarist Stevie Jones, formerly of El Hombre Trajeado 
and Arab Strap, with friends including violinist Aby Vulliamy. Second album Leapling, titled after those born on 29 February, spins a whimsical, naïve and charming sound, with sparing but effective use of vocals creating a mercurial murmuration on Angel Lights, the otherworldly whine of theremin on Flame Soaked Seer and warped woodwind and free percussion lending an unsettling atmosphere to Hello Ramp. Fiona Shepherd


Bizet: Carmen Suite & Symphony No 1, Gounod: Petite Symphonie (Linn) ****

This is a delightful French feast. For starters, French chef d'orchestre, conductor François Leleux, serves up familiar titbits from Bizet's opera Carmen, courtesy of Ernest Guiraud's Concert Suite No 1, in the arrangement he made after Bizet's death. Leleux elicits a balanced variety of warmth and nimble lucidness from the Scottish Chamber Orchestra, either in the sweet intimacy of the Intermezzo or the rousing tutti of Les toréadors. Gounod's Petite Symphonie, for winds only, is similarly rich in flavours, its smooth, stately opening, the tender arioso Andante, the vigorous Scherzo and whimsical, operatic Finale, all freshly and imaginatively presented. 
The meat comes last, in Bizet's Symphony in C, not his most original music, but full of the joys of Spring. Leleux's reading is graceful yet thrilling, thoughtful but not without its pleasurable frissons.

Pat Metheny: From This Place (Nonesuch Records) ****

This complex, beguiling album sees renowned guitarist Pat Metheny and his seasoned core quartet with pianist Gwilym Simcock, double-bassist Linda May Han Oh and drummer Antonio Sanchez, joined by the Hollywood Studio Symphony. There's cinematic sweep to the opening America Undefined, as the quartet gathers pace and ominous orchestral murmurs build up, along with samples including locomotive clangs, as the piece steams towards an epic conclusion. By and large, the soloists cut loose from the rich orchestral matrix – Simcock and Metheny in Pathmaker and Everything Explained, for instance, or Oh's bass solo in Sixty-Six. Metheny's limpid yet precise guitar playing shines in Wide and Far, while piano and guitar chime with taut delicacy in You Are. The title track is a wistful reflection on the 2016 US election, with Meshell Ndegeocello's vocal rising from despair to a glimmer of hope, couched in stately strings.