Deshaun Watson is good with the potential to be great but Houston Texans are crazy to say he's worth five first-round picks
The quarterback carousel in the NFL is up and running in what could be the most significant offseason in decades.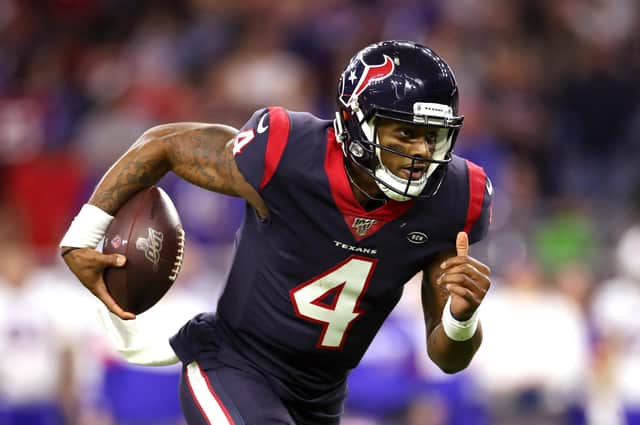 The Houston Texans have set the bar high for any potential Deshaun Watson trade. Picture: Christian Petersen/Getty Images
Last winter we waited on Tom Brady's next move; this season may not have a six-time Super Bowl winner, but there's intrigue over the future of 15 quarterbacks who started for teams in 2020.
The future of leading MVP candidate Aaron Rodgers seemed to be up in the air after the Packers passer stated "who knows?" when asked about his future, although he has since indicated that he is likely to be back in Green Bay next year.
New Orleans Saints' Drew Brees looks set to retire, but so far there has been no announcement from the future Hall of Famer. In contrast, Phillip Rivers has officially announced he is stepping away from the game after a final season with Indianapolis Colts. Meanwhile, Ben Roethlisberger has stated he is willing to take a pay cut back in Pittsburgh - I'm sure his agent appreciated that comment
Detroit Lions quarterback Matthew Stafford has been traded to the LA Rams. Picture: Gregory Shamus/Getty Images
Mitch Trubisky (Chicago), Carson Wentz (Philadelphia) and Jimmy Garoppolo (San Francisco) all have question marks over their future while in Dallas, Dak Prescott is also unsure as he returns from injury, although he is expected to be offered a new contract by the Cowboys.
The biggest splash could come from Houston Texans whose 2017 first rounder Deshaun Watson has requested a trade after a falling out with ownership and senior management.
There is no shortage of suitors for a player who finished 2020 as the league's leading passer in yardage and represents a surer future than any of the potential players coming in through the draft.
Before the weekend the potential passers available included the Detriot Lions' Matthew Stafford, the first draft pick in 2009. On Saturday, Stafford's future was cleared up as he was traded to the LA Rams with 2016 first pick Jarred Goff and two future first-round picks (2022, 2023) and a third-round pick (2021) going to Detroit.
That seems a hefty price for LA who will still have to pay $22 million of Goff's contract this season and will be without a first-round pick for the next two seasons, making a total of seven seasons without picking in the first round.
Detroit are entering a rebuilding period and despite Goff's struggles in the past two seasons, he is young and has shown some great ability in his four years in the league.
On the flip side, Stafford is prolific in yards and touchdowns but has never won a playoff game.
Stafford and the Lions agreed to part ways as their rebuild would reduce Stafford's chances of making a deep playoff run.
The trade is the first of the offseason, although it can't be made official until March 10, but has already set the bar pretty high for any potential Watson trade.
Within minutes of the Lions/Rams deal, speculation started on what Texans QB Watson would now cost, with the common theme being as many as four or five first-round picks.
Watson is good with the potential to be great and the Texans have been making the right noises about wanting to hang on to him, keeping the price high - but five first-round picks? That's crazy talk.
The Rams gave up two first-round picks and Goff for Stafford, but that was more about shifting a larger contract for a player who hasn't performed since signing it. The additional picks were a way of sweetening the pot for Detroit and, for want of a better word, bribing them to take on Goff's hefty wages.
The other reason the Rams agreed to give up the picks is that they believe that there is little difference drafting late in the first round, and taking a player in the second, or third.
They go as far as to say that the later players offer better value.
I don't think the Texans believe that they can get four or even five first-round picks because of this deal, but I believe that their PR team is working overtime to make the rest of the league buy it. It's a smart move to use an inflated deal to your advantage, but be warned - and Jets fans I'm looking at you - any deal that includes more than three first-round picks for Watson is a deal that only benefits one team, and that is the Houston Texans.
A message from the Editor:
Thank you for reading this article. We're more reliant on your support than ever as the shift in consumer habits brought about by coronavirus impacts our advertisers.
If you haven't already, please consider supporting our trusted, fact-checked journalism by taking out a digital subscription.
Want to join the conversation? Please or to comment on this article.