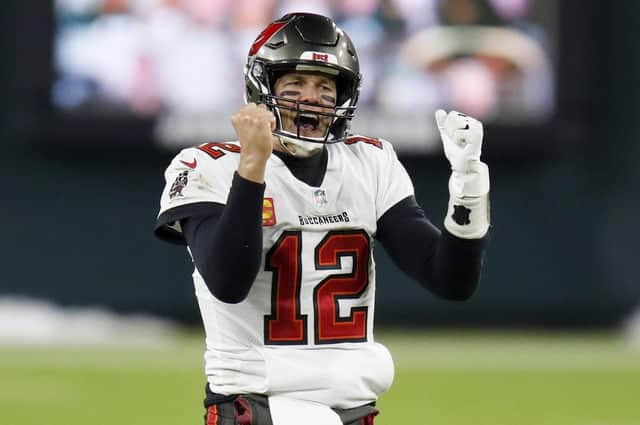 We get the pleasure of seeing the young pretender taking on the old master and offensive masterminds calling plays from the sidelines, while a small crowd of frontline workers will be rewarded with the free tickets for the game. Not a bad way to end a season, completed in a global pandemic.
On Championship Sunday, Tom Brady took his marauders north in search of his first NFC Championship title, having previously won nine AFC titles, where they were to take on the mighty Aaron Rodger and his Green Bay Packers.
The game did not disappoint as Brady and Rodgers lived up to their billings as quarterbacks for the ages.
Brady, an evergreen 43, and the Bucs took an early lead before Rodgers hit receiver Marques Valdes-Scantling on a 50-yard pass to even the score. Brady then fired back with a 73-yard drive to take the lead.
A Rodgers interception on the next drive gave Brady and the offense another touchdown to lead 21-10 at half time.
To make matters worse, on the first possession of the second half Green Bay fumbled the ball which Tampa quickly converted into another score.
After a Rodgers touchdown, the Packers defence turned it up a gear intercepting Brady on his next three possessions.
Unfortunately for Green Bay, the Tampa defence held the Packers to only three more points, securing a 31-23 win and the George Halas trophy.
Brady is heading to his tenth Super Bowl which will take place on February 7 at Raymond James Stadium in Tampa. He is chasing a record seventh win and will be up against the Chiefs' Patrick Mahomes in a showdown that's being compared to Michael Jordan playing LeBron James.
Josh Allen found wanting when it mattered
In the AFC Championship game in Kansas, the Buffalo Bills knew they had to be perfect to beat the defending champions, and they leapt into a 9-0 lead after a long drive ended in a field goal and a muffed punt secured the ball on the Chiefs' two-yard line.
But this is Mahomes they were facing. Despite pinning Kansas deep in their half, the Bills couldn't prevent the high powered offense from scoring three touchdowns in ten minutes, flipping the game on its head, with quarterback Mahomes pulling the strings.
Buffalo responded with a field goal before half-time to make it 21-12 to Kansas at the interval.
Unfortunately for Bills fans, it was more of the same in the second half as Kansas scored two more touchdowns and a field goal with only a field goal in reply from Buffalo, leaving them with a mountain to climb late on.
Despite a late rally, including an onside kick recovery, the game was never in doubt for Mahomes' Chiefs as they eased to a 38-24 win, and a second successive Super Bowl.
What struck me in that game was the difference in temperament of the two quarterbacks. The Bills' Josh Allen is similar in playing style to Mahomes. Both use their legs to extend plays, while they have many different throwing techniques to get them out of jams.
But the difference came in their decision making. Mahomes was sacked once during the game, whereas Allen was caught four times, although that's not always the quarterback's fault. The real difference was that Mahomes lost less than a yard on his sack, while Allen lost 53 yards on his four.
Allen was sacked on the game's final drive, leaving the Bills to settle for a field goal, a play where he lost 18 yards. Not only did the player move backwards but he then threw the ball at the defender, causing a scuffle.
The thing is, Buffalo will never win the Super Bowl with Allen at quarterback unless he develops situational awareness. He often tries to make a bad situation worse by extending the play and running backwards, but this isn't his small college. The defensive players in the NFL are elite and will catch him.
Allen continuously puts his team in bad situations and his little lash outs give defences fuel. The quarterback isn't the only reason Buffalo aren't in the Super Bowl, but it's a massive part of it.
If the Bills want to be serious contenders then his team-mates and coaches need to sit Allen down and explain that this is the NFL and having a big arm and being a strong runner are not enough. Allen needs to start using his head.
A message from the Editor:
Thank you for reading this article. We're more reliant on your support than ever as the shift in consumer habits brought about by coronavirus impacts our advertisers.
If you haven't already, please consider supporting our trusted, fact-checked journalism by taking out a digital subscription.