Scotland rugby: Gregor Townsend and Mark Dodson to discuss future this week as CEO admits discussions with other candidates
Mark Dodson will sit down this week with Gregor Townsend to discuss his future but the Scottish Rugby chief executive has admitted for the first time that he has held discussions with other coaches.
Townsend is in his sixth season as Scotland head coach but his contract expires after the Rugby World Cup later this year. Speaking after the recent Six Nations, he said he would take some time to reflect on his future before resuming talks with Dodson. However, the CEO has hinted that he remains to be convinced that Townsend is the right man to take Scotland forward and has cast his net wide in the search for alternative options. Chief among them is the Auckland Blues coach Leon MacDonald whose courting by Dodson has become an open secret.
"We've had a process this time – which Gregor has been aware of – looking at what is the right voice to take us forward from 2023 onwards," said Dodson. "It's been less about Gregor's track record in what he's done in tournaments up until the Six Nations and about what's right for this group of players, who are going to be in transition from '23 to '27. What's the right voice? As part of that we've done a huge amount of due diligence. We've spoken to coaches all over the globe about how they see Scotland and, if they were able to do the job, how would they undertake the task. We've finished that due diligence process.
"I was clear with Gregor right from the get-go that this is what we were going to do - we were going to talk to coaches all over the world. He was also free to talk to people about his own future, and things have come out about conversations that have happened in France and potentially elsewhere. This is entirely expected. It's not his first rodeo and it's not mine, we understand this is the way the world works. I'm speaking to Gregor this week and we'll see where we go."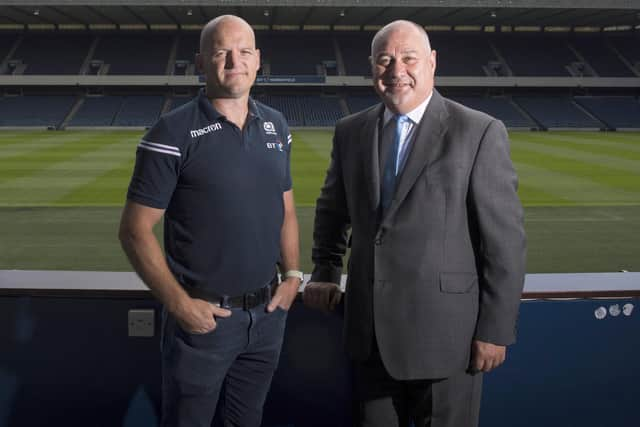 Dodson and Townsend now appear to be embroiled in something of a stand-off with both parties keeping their options open. It's a curious state of affairs with the World Cup looming but Dodson insists he is right to speak to as many people as possible. "This is a crucial decision for the union," he told the BBC Scotland Rugby Podcast. "It's something you'd expect me, as CEO, to do a huge amount of work on - and we've been doing that work since last autumn. We're now at the closing stages."
Townsend is the most successful Scotland coach of the professional era in terms of his Six Nations results (played 30, won 15, lost 14 and drawn one) but the national side failed to qualify from the pool stage of the 2019 World Cup and have an extremely tough draw for this year's tournament having been paired with holders South Africa and world No 1-ranked Ireland. Dodson spoke in the BBC podcast of a "glass ceiling" and is clearly keen to see Scotland move to the next level. They are currently ranked fifth in the world and finished the recent Six Nations Championship in third place, behind Ireland and France, the second time they have finished third under Townsend. The chief executive said the decision on Townsend's future would be made in conjunction with SRU performance director Jim Mallinder.
"The players are very pro-Gregor," added Dodson. "The players have thrived under Gregor, we're aware of that. What I've got to do and what Jim Mallinder's got to do, we've got to zone all that out - what the supporters feel, what the websites feel, what the players feel almost - and actually take a holistic view, coolly and dispassionately and have a look on paper. What is the best voice to take us forward? How do we improve? How do we stop this being a glass ceiling? How do we get to the next level?
"If we believe that is Gregor or we believe that is somebody else, that's the job I'm paid to do. In terms of support for Gregor inside the camp, that's pretty clear. We've known each other a long time, we haven't always seen eye-to-eye over things. We have a very good working relationship, but he's his own man and I'm mine. The most important thing is there's a trust and a belief we will do things the right way."
Comments
 0 comments
Want to join the conversation? Please or to comment on this article.