Speaking after his side ended their Guinness Six Nations campaign with a 26-14 win over Italy at Murrayfield, Townsend said he would now take some time to reflect on the tournament and his own future after six seasons at the helm. His contract expires at the end of the year.
Asked in the immediate aftermath of the Italy match if he wanted to remain in post, Townsend said: "Yes, at this stage, but it's not the time to be answering these questions when you're just off a victory, the crowd are behind the team and you're connected with the players. It's a great feeling, but I don't want to commit to anything just now. There's conversations that have started and they'll start up again after some time off. We'll see how they develop."
The coach added: "I've had initial conversations the last couple of the weeks, and getting some time over the next few weeks to have a bigger chat about it in more depth. The focus these last two weeks has been these games. After a few days off I'm sure these conversations will start up again. I've indicated I need some time to think about it, especially when the tournament was in full flow. I'll have some reflecting and time off and discussions will start again soon."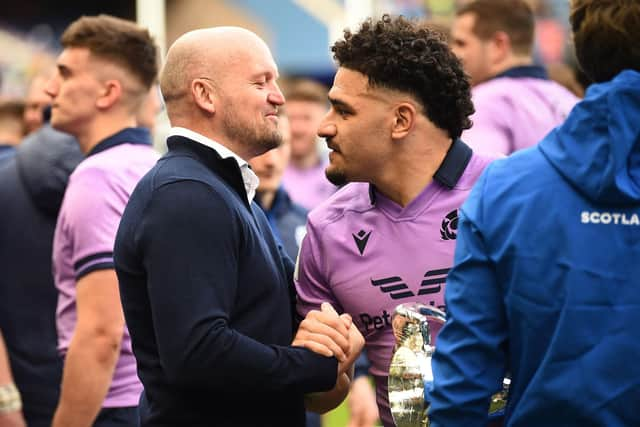 It was Townsend's sixth Six Nations campaign in charge and the fourth time his team have won three of their five matches. It will likely be good enough to finish in third place, behind Ireland and France, equalling Scotland's previous best in the tournament since it was expanded to include Italy. They previously finished third in 2001, 2006, 2013 and 2018.
The coach acknowledged that the game could have got away from Scotland at the end, with Italy camped on their line as the home side defended a 19-14 lead. The Scots were able to keep the visitors at bay and won a late scrum which they ran from their own line – with a penalty advantage – and scored a brilliant try through Blair Kinghorn with the final play of the game following Duhan van der Merwe's seeing break. It was Kinghorn's hat-trick score and van der Merwe also chipped in with an acrobatic first-half score.
"It could have gone the other way, absolutely," said Townsend. "When a team has a five-metre penalty against you, if they execute that you'd have to be going back to win the game. But that's not how the game went. We scored four tries to one, and we were on their line on a few occasions just before half-time. We're going to look at our game and think we could have really kicked on when we were 19-6 up, and maybe the scoreline would have been totally different if we had scored just before half-time. We didn't, they came back then we scored with the last play of the game so that's how it ended up."