Rugby World Cup: What Scotland need to qualify after beating Tonga in battle with South Africa and Ireland
The qualification picture from Pool B at the Rugby World Cup looks a little clearer now after the weekend's fixtures.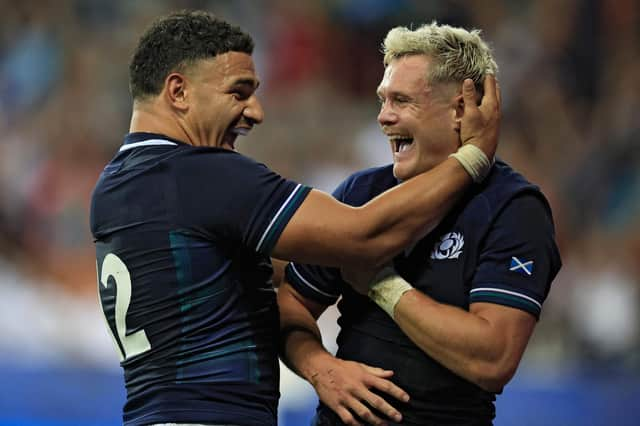 On Saturday night, Ireland defeated defending champions South Africa 13-8 in one of the games of the tournament at the Stade de France and on Sunday afternoon, Scotland posted their first win of the competition with a convincing 45-17 victory over Tonga in Nice. While Romania and Tonga can still arithmetically qualify, the reality is that the Scots, Irish and Springboks are in a three-way tussle for the top two positions in the group and a place in the quarter-finals.
Ireland currently top the standings on 14 points, having won all three of their matches. They now have a two-week break before taking on Scotland in Paris on Saturday, October 7. After losing to the Irish in the French capital, South Africa lie second on ten points and have one match remaining, against Tonga on Sunday, October 1 in Marseille. The Scots still have two matches to play, however, and face Romania on Saturday, September 30 in Lille before their date with the Irish a week later. Gregor Townsend's men are currently on five points.
For Scotland to qualify, they will almost certainly need to win their final two matches. South Africa are fully expected to defeat the Tongans, who have been soundly beaten in their first two matches. Should the Springboks slip up – and it would be one of the biggest shocks in World Cup history – then potentially one bonus-point win and one bonus-point defeat would be enough to seal Scotland's place in the last eight.
However, on the very likely assumption that South Africa win their last match and land a bonus point to finish up on 15 points, then Scotland need to defeat Romania and score four tries in the process to move on to ten points. That would leave them four points behind the Irish. In this scenario, Scotland would need to defeat Ireland by eight points or more, or by scoring four or more tries to secure a bonus point win while ensuring Ireland fail to pick up two losing bonus points to avoid a glorious failure scenario whereby Scotland could take 15 points from a section containing the world's top two ranked teams yet still fail to qualify for the knock-out stages. Bonus points are awarded for scoring four tries or more and being within seven points of your opponent in defeat. A team can accrue two bonus points in one match.
There is also a scenario whereby Scotland, Ireland and South Africa can all finish on 14 or 15 points. Should that occur, then points difference would be used, followed by tries scored.
Rugby World Cup Pool B table
1 Ireland – 14pts, +122, played 3
2 South Africa – 10pts, +86, played 3
3 Scotland – 5pts, +13, played 2
4 Tonga – 0pts, -43, played 2
5 Romania – 0pts, -150, played 2