Scotland World Cup reaction: Gregor Townsend hits out at bunker review system and aims swipe at Ireland chat
Gregor Townsend has questioned the validity of rugby's 'bunker review' system after losing captain Jamie Ritchie to a high tackle in Scotland's World Cup win over Tonga. The Scotland coach described the disciplinary process as "not good enough".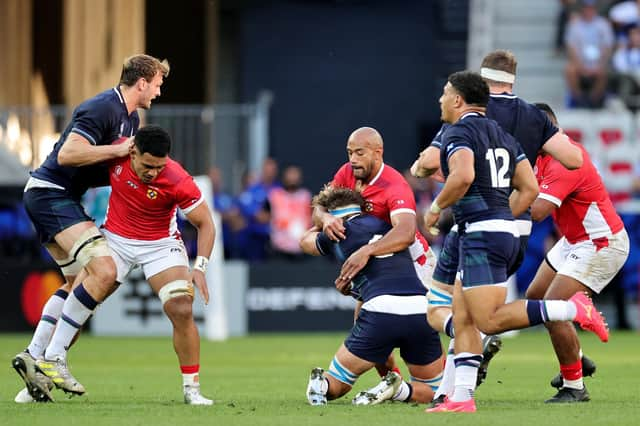 Ritchie went off after being hit by Tongan winger Afusipa Taumoepeau, whose shoulder caught him in the head in the 33rd minute of the 45-17 bonus-point victory in Nice. Taumoepeau was sent to the sin-bin while the offence was reviewed by the foul play officer in the so-called bunker. He had the option of upgrading the yellow card to red but chose not to, citing mitigation because Ritchie had lowered his height going into the tackle. Taumoepeau was able to return to the fray after serving ten minutes in the sin-bin.
Ritchie failed a head injury assessment and is now following return-to-play protocols, rendering him unavailable for at least the next 12 days. He will miss Scotland's next match in the tournament, against Romania in Lille on Saturday, but Townsend is hopeful he will be available for what is likely to be the decisive match in Pool B against Ireland in Paris on October 7, even if his participation in training will be limited.
Townsend's ire was heightened by the fact that Scotland No 8 Jack Dempsey had been hit by a high tackle by Jesse Kriel in the opening game against South Africa which went unpunished."It's very disappointing that our captain, one of our key players, was hit in the head and had to be removed from the game," said the Scotland coach. "It's twice now that's happened. Against South Africa, our No 8 Jack Dempsey was hit in the head. Nothing happened that day, and today it was only a yellow card. I just don't understand what the TMO bunker and the three officials who are there to say if it's a red card are looking at. We're trying to look at ways to not give red cards rather than referee what isn't a legal tackle and should be a red card, in my opinion."
The bunker concept was trialled in competitions around the world this year and it was announced on the eve of the tournament that it would be used at the World Cup. It is supposed to help referees and save time so that instead of a referee standing on the pitch going back and forth through his microphone asking for myriad replays, those discussions take place in the "bunker" as the game continues. The bunker ref has eight minutes to decide whether the yellow card should be upgraded to red. Townsend feels the new system allows referees to abdicate responsibility.
"The TMO bunker is not being delivered as I thought it would be," added the Scotland coach, "which is only if the referee is not sure at the time whether it's a yellow card or a red card. I don't believe there's been a red card issued by a referee yet - they've all gone to the bunker. It's to help referees when they are not sure whether it's yellow or red card, but it's taking the game away from the referees to make those decisions. If there is mitigation there for a player who runs into contact and gets hit in the head, I don't see it. It's supposed to be a late or sudden change in movement, but Jamie didn't even carry the ball that low and got hit in the head. This is our showcase, our opportunity to show what is legal and what is illegal, what we want out of the game. That's two tackles now, both upright, both hit the head of our players, one had no sanction, not even a penalty, and the second one just had a yellow card. I don't think that's good enough."
Ireland's gripping win over South Africa on Saturday night led to pessimism among some Scotland supporters but Townsend pointed out that their destiny was still in their own hands and had a swipe at those who had already mapped out Ireland's path through the knockout stage. "Reading a few comments after the game, it looked like Ireland were already in the quarter-finals," he said. "Even chatting to a few people today, they were saying it will be Ireland against New Zealand. Maybe that's already been decided. We know we have to win our next two games, and it's likely now we'll have to win with either a bonus point or deny Ireland a bonus point. But we've got a game next week to focus on and we've got to get maximum points from that one first."