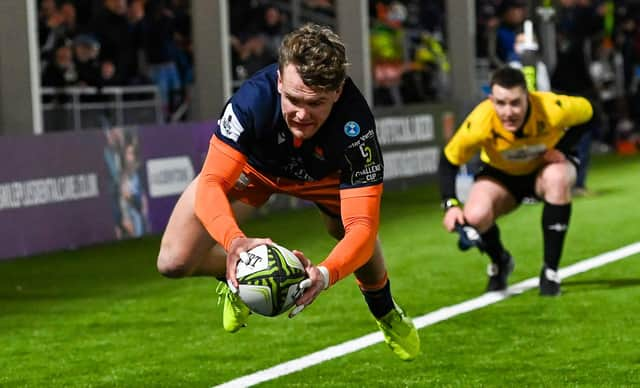 The capital side look set to attack their local rivals with Graham on one wing and Emiliano Boffelli on the other as they seek the victory which would secure a place in next season's Heineken Champions Cup.
Graham has been missing for five weeks after picking up a thigh injury in training in the build-up to the Challenge Cup match against Bath but Mike Blair is hopeful he will be fit to face Glasgow.
"He has been moving pretty well and he has been out training so we will see how he comes through but he is looking good at the moment," said the Edinburgh coach. "It was his upper quad but he should be available for selection.
"It was an injury he had had before so we were a little bit more cautious with it."
Graham and Boffelli were in devastating form for Edinburgh before the Six Nations and the pair will look to exploit the wide open spaces of Murrayfield this weekend. The match has been switched to the international stadium to meet demand and a crowd of between 20,000 and 25,000 is expected.
"He has been excellent and grown as the campaign has gone on," said Blair. "His English is getting a lot better and that helps with his conversation with his team mates on the pitch."
It's the final game of the URC league season and both clubs have already secured their place in the play-offs, but Saturday's match will determine who they will meet in the last eight, with the losers heading to Dublin to face Leinster. The winners could face a gruelling trip to South Africa but the real prize is representing Scotland in next season's Champions Cup. The defeated side will go into the Challenge Cup.
There is plenty at stake but Blair wants his players to enjoy the occasion.
"It is a funny one to try and balance," he said. "It is a really big game for the spectators, as it always is. There is probably more hanging on this one than there has previously been. I just hope it is a really good game of rugby.
"What I have tried to push since coming here is the enjoyment, playing with your mates and going for the same goal and being driven for the club and the city. We have had conversations about how big a game it is but at the same time I don't want it to be the main focus for the week. I want it to be about performing for Edinburgh."
The match may come too soon for Stuart McInally but fellow hooker Dave Cherry is likely to be involved following an arm injury. Ben Muncaster is available after missing the Wasps game and James Lang is also back in training. Marshall Sykes is free to play after serving his suspension for a red card against Zebre.