Antoine Dupont injury is not good for World Cup - I will be fretting for Finn Russell despite very nice weekend of rugby
The news of Antoine Dupont's facial injury is terrible news for France, and wretched news for all but the most narrow-minded supporters of other teams.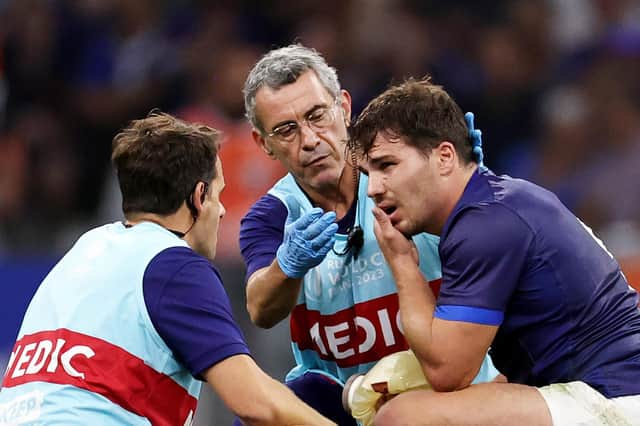 Dupont is not only the best scrum-half in the world, but one of the best I've ever seen. Not only is he a sheer delight to watch, but he is the heart and soul of the French team, the poster-boy of this World Cup. France had already been deprived of his club and international partner, stand-off Romain Ntamack, but there is not much to choose between him and his deputy Matthieu Jalibert. Dupont is different, truly incomparable.
Other countries have of course suffered similar losses in previous World Cups. Dan Carter, then the best fly-half in the world, missed the 2011 World Cup in his home country. In the first ever World Cup our own John Rutherford, then the best fly-half in the northern hemisphere, was injured ten minutes into the tournament, and then out altogether. In 1995 Gregor Townsend damaged a cruciate ligament and didn't even get on the plane to South Africa.
Accidents are part of life. It's bizarre that Dupont should have been injured in a match against Namibia and there will be criticism of the French management for fielding – and risking – him in a match France were sure to win. However, the first-choice XV want to play – Dupont among them – though it is surely surprising that he wasn't substituted at half-time. But there it is, injuries happen in any match and at training too. We'll all be anxious while Finn Russell is on the field against for Scotland against Tonga on Sunday, and hope that he isn't called upon for the Romania game.
It has been quite a long break for Scotland since the South Africa match, time for battered bodies to recover. Ireland beat Tonga quite comprehensively, but not without some difficulties too. Tonga reportedly won half-a-dozen turnovers at the breakdown, not something that happens often to Ireland, who pride themselves on their ability to recycle ball more quickly than anyone else. Unsurprisingly, we are fielding an almost first-choice team.
The line-out was ragged against South Africa and that cost us momentum. We can't claim that we were unlucky that day, and it was peculiarly disappointing not to score a try. But it wasn't the sort of defeat that makes you despair. We have always known that this pool was going to be hard to get out of. So there is intense interest in Saturday night's Ireland-South Africa match.
In normal circumstances I suppose most of us would have supported Ireland. Not this time. A Springbok win makes our task simple. We would then only – only! – have to beat Ireland to qualify for the quarter-finals – assuming there is no slip-up against Tonga and Romania. If Ireland win we would still have to beat them, but, with regard to qualifying, these wretched bonus point would come into play.
Ireland thrive on a fast game with swift changes in the direction of attack. They have named their strongest team – obviously – but also a conventional 5-3 split on the bench, whereas South Africa have opted for a 7-1 split with the famous bomb squad ready to enter the fray early in the second half. The intent is clearly to suppress Ireland up front and to force them into taking risks when they have the ball.
That said, there is no team more dangerous in the counter-attack, and Ireland may not only have a better kicking game, but have back three of Hugo Keenan, Mack Hansen and James Lowe unrivalled, except perhaps by New Zealand in fielding kicks and striking from deep. Then, assuming Johnny Sexton lasts the game, Ireland have an advantage in goal-kicking, for the young Springbok fly-half Manie Libbock, brilliant in other respects, has proved unreliable from the kicking-tee. It should be the best match in the tournament since the France-New Zealand on one the opening day and I have no idea who will win.
Elsewhere, Eddie Jones has said he is confident Australia will beat Wales. Given that Wales are getting better and there has been no sign of any improvement from Jones's team, I doubt of many Aussie fans share their coach's confidence. Janes said he took full responsibility for the loss to Fiji. If it's now followed by a Welsh victory, his shoulders will sag under the weight of his responsibility.
A very nice weekend is in store.