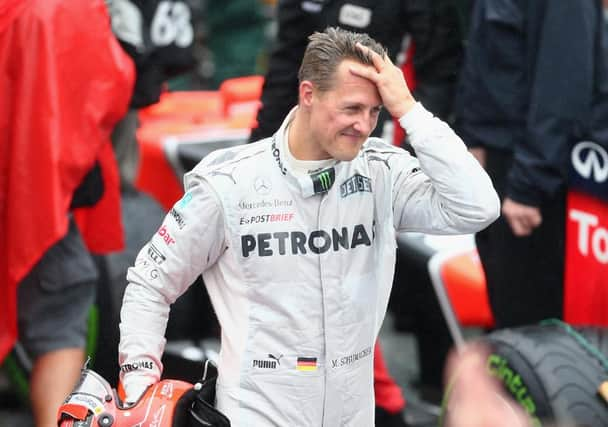 Michael Schumacher is said to be receiving treatment which could help him "return to a more normal life".
The German Formula 1 legend is still battling severe injuries that he gained during a near-fatal skiing accident in the French Alps in 2013.
Yet his close friend Jean Todt, FIA president, gave a rare insight into Schumacher's recovery when speaking to French publication Ouest-France.
Schumacher, 51, won 91 races and seven world championships during his F1 career.
This is what happened during his skiing accident, updates on his current condition and where the sporting icon is now.
What happened to Michael Schumacher?
Michael Schumacher was skiing in the prestigious French Alps resort of Meribel seven years ago, on 29 December 2013, when his accident occurred.
He was skiing with his son, Mick, just off-piste in between two ski runs, when he fell and hit his head on a rock, causing severe brain damage.
The F1 ace was wearing a helmet when the accident happened, and doctors have since speculated that his injuries would have been fatal if he didn't have one on.
Following the devastating incident, Schumacher is said to have undergone two surgeries before being placed in a medically-induced coma.
He regained consciousness six months after the accident, in June 2014.
What is his current condition?
The Formula 1 icon's condition has been closely guarded by his family since the accident happened.
After Schumacher was brought out of his coma, he was returned to his luxury home in Geneva, Switzerland for round-the-clock care.
He was reported to be receiving at-home specialist medical treatment costing £115,000 per week, with the total care costs now thought to have surpassed £20 million.
News of his condition was uncommon until August 2018 when reports in France alleged that Schumacher was able to show emotion.
However, it is unknown whether this surgery went ahead and, if it did, what the outcome was.
This year, renowned neurosurgeon Erich Riederer told French TV station TMC that Schumacher is likely to be in a "vegetative state".
He said: "I think he's in a vegetative state, which means he's awake but not responding.
"He is breathing, his heart is beating, he can probably sit up and take baby steps with help, but no more.
"I think that's the maximum for him. Is there any chance of seeing him like he was before his accident? I really don't think so."
Schumacher's former boss, Jean Todt, is one of the select people permitted to visit Schumacher at his home in Switzerland.
After a recent visit in 2020, he said the F1 icon was still "fighting" to get better with his family by his side.
Who is Schumacher's wife?
The Formula 1 champion is married to German Corinna Betsch, who has stuck by him during his years of treatment.
Also a sportswoman, the 51-year-old won the European Championship for western-style horse riding in 2010.
The couple were married in August 1995 in Germany, and have two children Gina-Maria, 23, a professional horse rider, and Mick, 21, who competes in formula racing like his father.
Corinna has always been a big supporter of Schumacher's F1 career, and was often seen cheering him on during races.
Michael Schumacher is still living and being treated at his luxury home in Gland, near Lake Geneva, surrounded by his family.
He is now said to be receiving on-site medical care costing £50,000 a week, from an extensive team of 15 physicians and nurses.