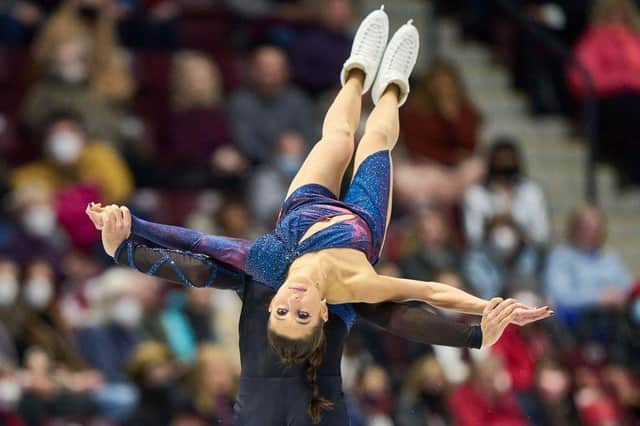 Gibson and Fear scored 86.56 points, finishing less than one point behind Canadians Piper Gillies and Paul Poirier in the bronze medal position on 87.34.
Madison Chock and Evan Bates from the USA also set a new personal best score, while reigning European Champions Charlène Guignard and Marco Fabbri of Italy came second in the competition, held this year at Saitama in Japan.
Gibson, from Prestwick, who won a silver medal at this season's European Championships, told The Scotsman: "We just had the absolute best time competing in front of such a welcoming and amazing audience. We are over the moon with our skate today."
Bates said: "We skated as best we possibly could today. It was so much fun. We're thrilled with the score. It's always nice when you come off the ice feeling like you've skated well and then you see a score that reflects the feeling that you had inside."
Fabbri said: "We wouldn't have expected such a high score at the end of this season, that's why we are very happy."
Gillies, who with Poirier, won the Grand Prix final at the end of last year, said their partnership, which began in 2011, was at its peak.
"I feel like there is just something different about us this year," Gilles said. "Like we are doing everything together, and we feel united every step of the way. Even when things get a little bit sticky it doesn't throw us anymore, and it doesn't shake us."
The World Championships is the biggest event on the figure skating calendar. Dundee-based pairs skaters Anastasia Vaipan-Law and Luke Digby came 16th in their event earlier this week, in heir first appearance at the competition. Meanwhile, Kristen Spours, who trains in Swindon, did not qualify for the final, finishing in 27th in the women's competition, while Graham Newbery is in 32nd place in the mens' competition.
Dundee skater Natasha McKay, who has represented Great Britain in the event five times before, said after the European Championships earlier this year that she would not compete in Worlds.
The free dance will take place on Saturday.