Scottish pairs skaters happy after 16th place finish in first World Championships
Scottish pairs skaters Anastasia Vaipan-Law and Luke Digby have hailed an "exciting" first performance at the World Figure Skating Championships, where they climbed one place after the short programme to finish 16th.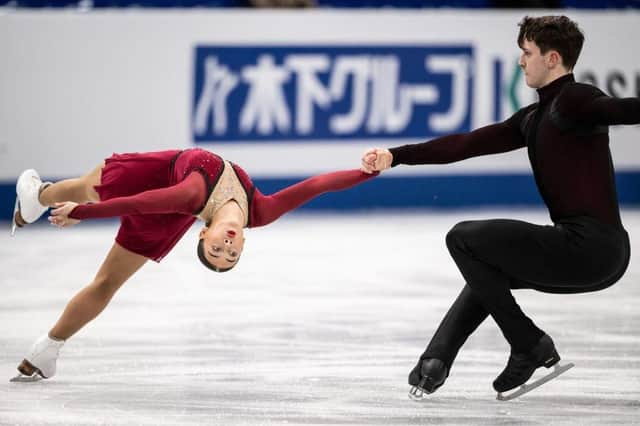 The pair, who train in Dundee, scored 97.96 in the free skate and 55.42 in the short programme - a total of 153.58, a personal best for the team, who started skating together two years ago.
They finished 17th after the short programme, but qualified for the free skate final, where they rose to 16th position.
The event was won by Riku Miura and Ryuichi Kihara, who won the first world pair skating title for Japan on home ice with an overall score of 222.16. Last year's world champions Alexa Knierim and Brandon Frazier, from the US, earned an emotional silver medal, skating just weeks after their coach, Todd Sand, suffered a serious heart attack. The pair won the free skate, but could not make up the six point lead taken by the Japanese couple n the short programme.
Meanwhile, Italy's European champions Sara Conti and Niccolo Macii took the bronze in another historical first for their country.
Ms Vaipan-Law and Mr Digby said: "We enjoyed the experience and performing in front of such an amazing crowd here in Japan. We are both happy with how we skated and the result we achieved.
"It was an exciting event and now we are looking forward even more to building towards next season, working on new elements and strengthening existing ones."
The gold medallists said they wanted to work on "weaknesses" in their free skate for next season.
"I am really happy to win here in my home country," said Mr Kihara. "The first half of the season was a bit difficult for us, because Riku got injured, however, because of that we were able to acknowledge how strong our bond is."
Ms Knierim said the programme was "all for our coach".
Mr Frazier said: "It's just been a Worlds with emotion. I'm so proud of our fight in the two performances. It took a lot of courage to come here this week, and do what we needed to do, and I'm just proud of Alexa and I."