Maia Lumsden: Scots tennis player who battled long Covid makes Wimbledon return after winning run on doubles circuit
Maia Lumsden's Wimbledon debut last year was played out on the back courts during the Championship's first week when the grass was still green and anything seemed possible.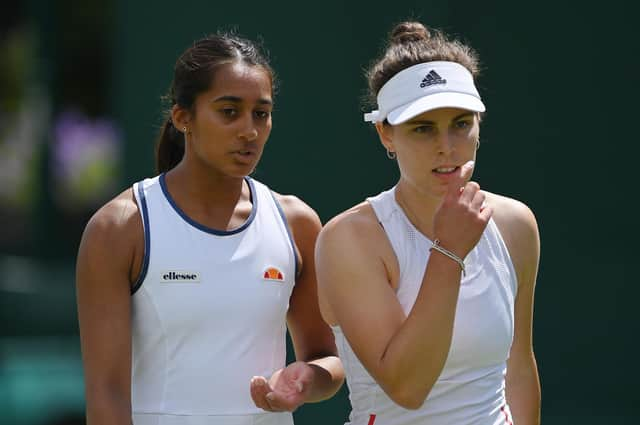 The Glasgow-born player teamed up with Naiktha Bains, her Australian-British partner, to defeat the Italians Jasmine Paolini and Martina Trevisan and advance to the second round of the women's doubles. It was a notable success for a number of reasons. Trevisan is a former world No 18 in singles and reached the French Open semi-finals a month or so before facing Lumsden and Bains. Paolini, meanwhile, had previously spent time in the top 50.
It was also Lumsden's biggest doubles pay-day, earning the Scot $12,901, good money for someone who plays on the ITF Women's World Tennis Tour, a developmental circuit for the main WTA Tour. But more significant was the fact that Lumsden was there at all. The 25-year-old had been sidelined for 18 months by long Covid and had understandable concerns about whether she would be able to play professionally again. To step out at Wimbledon last summer felt cathartic.
"We weren't really expecting to get in," she explains of her late wild card invitation. "It was last minute - we'd made a final in one of the lead-up tournaments and when we got in it was great. We managed to win our first match. That was really special. I'd been out the game for quite a while before that and I didn't know if I'd get back to playing at that kind of level again so it meant a lot that I managed to play there and get through a match as well."
The good news is that Lumsden and Bains have continued to flourish, winning three tournaments in a row in April and May, and their reward is another wild card for Wimbledon which begins on Monday. The return to SW19 is a dream for Lumsden, one of only two Scottish women in the main draws. She used to watch avidly on TV as a kid and tried not to be starstruck last summer as she practised alongside some of the sport's greatest names.
"You see them about and I did get a picture with Nadal last year," she said. "He's always been one of my favourite players. Everyone is focused on their own tournament but sometimes when you are in the warm-up area or the practice courts, on the next court could be one of the very top players in the world, and it's like 'wow, this is actually Wimbledon'. That's when you realise this is the best tournament in the world and it's amazing to be part of it."
Nadal ("quite friendly", reports Lumsden) won't be there this year due to hip surgery but the Scot will, and she won't be taking it for granted. Her enforced absence from the sport was borne with impressive stoicism but in those bleak days of Covid little was known about the long-term consequences. "I didn't play any tennis for 18 months," she said. "The first year was no exercise. After a year I could start building it up. It was pretty bad. It was really tough to not be able to do anything for so long, and not really knowing why at the start because it wasn't very common. Now I've spoken to a few athletes and they've had to actually stop their sports and have not been able to return, another tennis player. So that makes me very grateful for being able to get back to it, and at a professional level as well. They've had to completely retire. And I've had to remind myself of that sometimes."
Fellow British player Tanysha Dissanayake, a contemporary of Lumsden's, announced last October that she had been forced to retire from the sport at 21 as long Covid had left her housebound. Lumsden, who bonded with Dissanayake during their lay-offs, appreciates how fortunate she has been to return to what she describes as "pretty much" full health, although she has been bothered by an elbow injury which has limited her ability to play singles.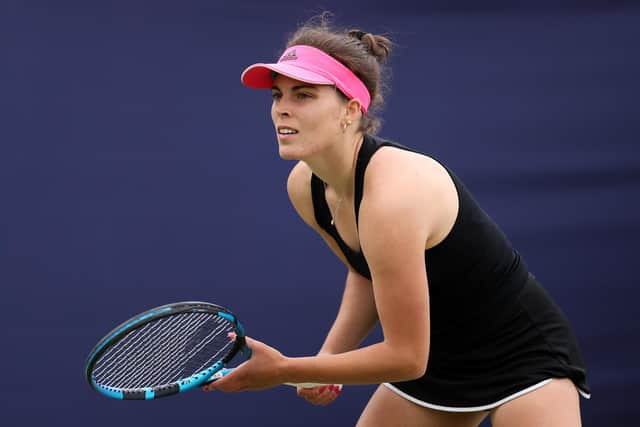 "It's so much better this year," she said of her recovery. "I'm able to build my strength, fitness, everything now, when even last year I couldn't really push it fitness-wise. This year has been so much better in that respect but it's been a bit annoying with the elbow injury. I think I've been picking up a few more niggles because I was out so long and not able to do any exercise. Before I wasn't picking up as many injuries but it has affected my body, becoming really deconditioned. It's getting a lot better with time but it's been a slow process to get back to full strength and robustness against the injuries.
"I had to stop playing singles for a few months because it was too much pain but I could manage doubles and that obviously helped my doubles rankings and I've been focusing more on that. I've just started playing a couple of singles matches again so after Wimbledon's done the goal is to get back into the singles and hopefully next year I can do both because I'd say my ambitions are still in both and whatever one goes better, then great, but I definitely want to give myself a chance in the singles."
One of Britain's best juniors, Lumsden reached a career-high singles ranking of 250 in October 2019 and was looking to push on when Covid struck. She is now ranked 442 but will look to improve that in the coming months. After her recent successes with Bains her doubles rankings is 176, inside the all-important top 200 which generally means a wild card for Wimbledon.
She is staying with friends in London this week as she and Bains look to build on last year. After the victory over Paolini and Trevisan, they lost in the second round to doubles specialists Shuko Aoyama and Chan Hao-ching, of Japan and Chinese Taipei respectively. This year, Lumsden and Bains will face a first round tie against the 11th seeds, Anna Danilina of Kazakhstan and Yifan Xu of China, and the University of Stirling-based talent is looking forward to getting back on grass. "With my game, I use slice quite a lot and I like to come forward to the net so grass suits that," she said. "But I'd say hardcourt is probably my favourite surface. It's the surface I've spent most time on and, game-wise, it probably suits me the most. But I have enjoyed the grass as well and because you only play two weeks a year on it it's always an enjoyable time and a bit different to the rest of the year."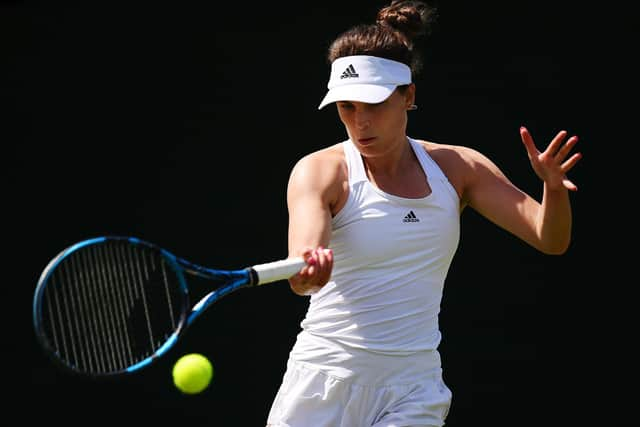 Outings at tournaments in Ilkley and Surbiton have reacquainted her with the surface, as did a training block on the grass courts at the Grange Club in Edinburgh where she was able to take advantage of the recent fine weather. It's all good prep for this week's return to the the All England Club although nothing can fully equip you for Wimbledon's unique ambience. "It's really special," said Lumsden. "Being there, it's an atmosphere that's different to any other event. It was really cool just to be a part of it. I'd played there in the juniors a few times but to play in the main draw was a goal achieved."