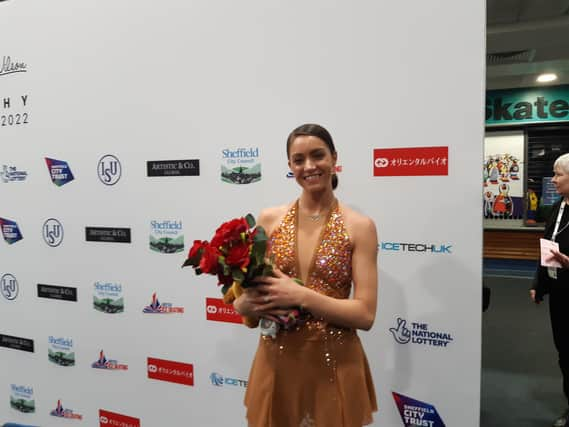 Ms McKay said competing in a Grand Prix competition was a "thing to tick off the bucket list" as she hinted that this could be her last competitive season.
She scored 57.62 in the short programme of the MK John Wilson Trophy in Sheffield, leaving her in ninth place before the free skate final on Sunday.
She said: "That was so much fun, it was the most fun I've ever had on the ice, I was just smiling from ear to ear."
"[A Grand Prix] is the last thing on my skating bucket list. I was so excited when I heard Sheffield was going to host it. I had no idea what they were going to do with the spots and if I would be competing, but I am. This is the biggest competition I've ever done on home ice.
"I'm not sure how long I've got left skating, so to have that this year was fantastic."
She said she had always planned to retire after the Winter Olympics earlier this year, but decided to delay her decision due to missing competitions due to the Covid pandemic. Her Dundee training mates Karly Robertson – a 12 time silver British medallist - and former British champion Danielle Harrison both retired from competitive skating last year.
The women's short programme was won by Mai Mihara of Japan, with a score of 72.23 points. Isabeau Levito from the US, is lying in second place with 72.06, followed by Georgia's Anastasiia Gubanova on 66.82 points.
The John Wilson Trophy is the first major competition to be held in the UK since the European Figure Skating Championships in 2012 – and the first ever Grand Prix series event to take place in Britain.
It was assigned to the UK after competitions usually held in China and Russia were relocated due to the war in Ukraine and Covid travel restrictions respectively.
In pairs, Anastasia Vaipan-Law and Luke Digby finished seventh in the free skate and overall competition, with a personal best score in an International Skating Union competition of 143.81.
Ms Vaipan-Law said: "I felt like I could enjoy it today, yesterday it was more overwhelming, but today I knew what was coming and could enjoy it more."
The gold was won by US skaters Alexa Knierim and Brandon Frazier, with 205.85, a 21 point lead on silver medallists Sara Conti and Niccolo Macii.
In the men's competition, Daniel Grassl of Italy took the gold medal, scoring 177.50 in the free, which gave him a total score of 264.35. Deniss Vasiljevs of Latvia scored 171.55, with an overall score of 254.56, winning him silver, while Shun Sato of Japan climbed one place to take bronze with an overall score of 249.03.
Roman Sadovsky of Canada, who was leading the men's competition after the short programme, slipped to sixth place after a disappointing free skate.
UK skaters Graham Newberry and Edward Appleby finished in 10th and 11th place respectively.