Stuart Manley says regaining DP World Tour card at age of 44 'means everything'
Stuart Manley regained his DP World Tour card at the age of 44 after enduring an agonising three-and-a-half hour wait to find out if he was among the Challenge Tour's 'Class of '23 Graduates'.
The Welshman had been sitting 14th in the Road to Mallorca Rankings heading into the season-ending Rolex Challenge Tour Grand Final supported by The R&A at Club de Golf Alcanada in Mallorca.
But, after following opening efforts of 78-74 with a 79 on Saturday, he found himself last in the 45-man field and down to 22nd in the projected standings in the battle to finish in the all-important top 21 in the season-long card fight.
That meant the four-time Challenge Tour winner knew he'd allowed his fate to slip out of his own hands and, even though he signed off with a gutsy one-under-par 71, it went right down to the wire.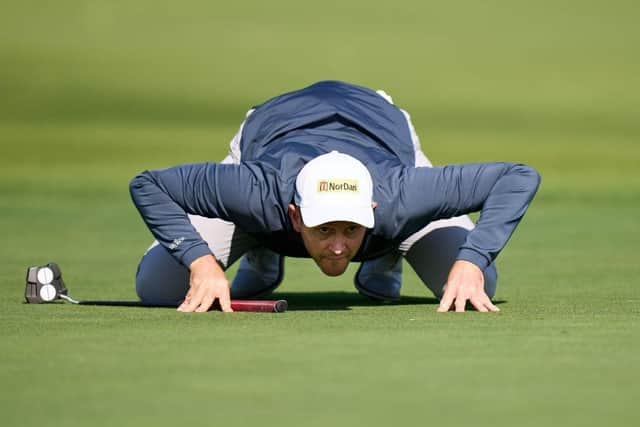 Manley was the man in the 21st spot as Englishman Brandon Robinson Thompon rolled in a monster birdie putt at the 17th to keep his hopes alive as that meant a birdie at the last would see him jump into a card-winning spot and knock Manley out.
He gave himself an opportunity only to see a birdie attempt slip to the right of the hole before a par to finish in the same group for Farmfoods Scottish Challenge champion Sam Barrow meant it was mission accomplished for Manley.
"It means everything, yeah," he declared of securing his main tour status again, having played his first full season in 2005 and clocking up close to 250 appearances.
"It was the perfect storm for me this week. Everybody who at the start of the week I didn't want to see doing well from a selfish perspective were doing well. You could not have scripted it worse from me.
"I think it's almost too heavily weighted in terms of the points. I don't think you should be 14th and potentially move to 22nd and not get a card. Personally, that seems a little bit unfair, but I guess it adds to the excitement."
His closing effort on the Balearic Island contained four birdies, including three in a row on the back nine. "Yeah, it was good," he said of his day's work. "I played pretty solid, to be fair. I haven't played bad all week. It's just the course has been tough. I've not quite been on my game and it's beaten me up a little bit.
"I knew by then after that round yesterday that it was out of my hands. It was in other hands and whatever I shot today wasn't going to make a massive difference. I was just trying to make a couple of points as it could literally come down to one or two points. I was trying my hardest out there."
Manley was comfortably the oldest of the card winners, with South African Casey Jarvis and Frenchman Tom Vaillant being more than half his age.
"It doesn't get any easier," he admitted, smiling. "They obviously hit it a lot further than me. I'm obviously a lot more experienced and I can control my ball better than a lot of them. I hang out with some young guys and they keep me young and I can still compete with them."
Comments
Want to join the conversation? Please or to comment on this article.