Masters 2023: Rory McIlroy 'feeling pretty good' about latest bid to complete career grand slam
They said Greg Norman would win The Masters and Ernie Els, too, due to the fact their games were 'tailor-made' for Augusta National. But they didn't and Rory McIlroy is well aware of that.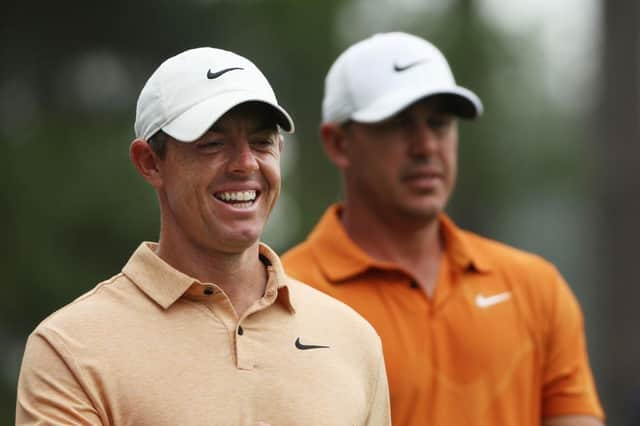 For his ninth attempt to complete a career grand slam and become just the sixth player to achieve that feat, McIlroy is feeling more confident than he probably ever has driving up Magnolia Lane. A record-equalling 64 in the last round to finish second behind Scottie Scheffler 12 months ago has given him real belief that he can indeed get the job done on this occasion at the Georgia venue.
At the same time, though, McIlroy is well aware that nothing can ever be taken for granted in golf and the fact neither Norman or Els won here is certainly proof of that. "It does," replied the four-time major winner, smiling, to being asked if this had always been the course more than any other major venue that he felt could play to his strengths when he made his first appearance in 2009.
"But they said the same thing about Ernie Els, Greg Norman. It's been said that this course is tailor-made for players and they haven't went on to win a Green Jacket. That's always in my mind, too. Just because a place is deemed perfectly set up for your game, it doesn't automatically mean that you're going to win it one day. There's more to it than that. There's also been players that you would think this golf course wouldn't set up well for them, and they have went on and won a Green Jacket.
"Look, it's a factor and it's nice to know that I come back to this place every year and that if I played the way I know that I can, that I should have a good chance. I don't need to do anything differently this week. I go out and play the way that I know that I can, get myself in with a chance to win, and then, you know, those last couple hours on Sunday, it's not about whether the course sets up well for you. It's about who can hold it together the best."
McIlroy holed out from a greenside bunker for a closing birdie last year and a huge image of celebrating joyously was displayed on two giant screens in the interview room as he spoke to the media about the season's opening major. Referring to that, he said: "Obviously the last time this tournament was played, I walked away from the course and the tournament pretty happy with myself, as you can see on the screen over there."
Gene Sarazen, Ben Hogan, Gary Player, Jack Nicklaus and Tiger Woods are the only players to have won all four majors. "Pretty good," said McIlroy, laughing, to being asked how it would feel if he could earn the right to be mentioned in the same breath as those golfing greats. "Yeah, look, it's one of the biggest sport tournaments in the world. Wherever you rank them, it's up to you as we've seen this week (referring to Player having ranked this one at the bottom of the last despite his three title triumphs in it), but it's a major championship. I've won four of them. I've been knocking on the door for that fifth one for a while. I feel like I am as good, if not better a player, as I was the last time I won a major championship. So I'm feeling pretty good about it."
No-one ever needs to remind McIlroy that he squandered a golden opportunity to already have a Green Jacket to his name as he suffered a collapse on the back nine in the final round in 2011. "I think you have to go through everything, right," he said of his past disappointment in the season's opening major. "Not every experience is going to be a good experience. I think that would lead to a pretty boring life. You know, you have to learn from those challenges and learn from some of that scar tissue that's built up.
"You know, I felt last year that I maybe shed some of that scar tissue and felt like I sort of made breakthroughs. Yeah, I'm feeling as sort of relaxed as I ever have coming in here just in terms of I feel like my game is in a pretty good place. I know the place just about as well as anyone and I've played 81 holes in the last sort of two-and-half weeks. So sort of very familiar with the place again."
He was asked if he categorised past attempts in this event as physical, mental or emotional struggles and, as always, delivered an honest answer. "I would say the majority of mental or emotional struggles rather than physical," said the world No 2. "I've always felt like I have the physical ability to win this tournament. But it's being in the right head space to let those physical abilities shine through.
"You know what's the biggest thing here in Augusta? Greens in regulation, hitting greens. If you get off to a good start, it's way easier to get into that mindset (the potential accomplishment of getting the job done) when you've been off to a fast start. Yeah, say you shoot a couple over that first day, then you start having to chase just to make the cut or try to get yourself back in the tournament, that's when this golf course can really sort of step up and bite you. I think that's part of the reason.
"It's been tentative starts, not putting my foot on the gas early enough. I've had a couple of bad nine holes that have sort of thrown me out of the tournament at times. So it's sort of just like I've got all the ingredients to make the pie. It's just putting all those ingredients in and setting the oven to the right temperature and letting it all sort of come to fruition. But I know that I've got everything there. It's just a matter of putting it all together."
Comments
 0 comments
Want to join the conversation? Please or to comment on this article.