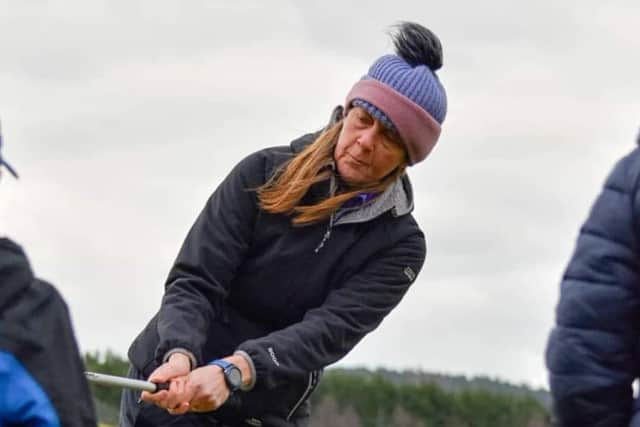 But, after soon becoming hooked, golf became her life, first as a tour pro on the Ladies European Tour and then as a club professional.
Dallas developed her own coaching programme and worked with the likes of Kylie Walker, Kelsey MacDonald and Michele Thomson on their journey to becoming LET players.
Where did golf start for you?
KD: I was a member at East Kilbride from about 13, though I didn't really want to play golf initially. I was quite into horse riding, but my whole family played golf so I didn't fit in with any holiday plans due to all of them wanting to play golf. Much to much disgust, they announced one day that I had become a member at East Kilbride and I thought, 'gosh!'. I made a deal with my parents that I would play in the monthly medal as long as they took me up just in time to tee off and as long as though they would be at the 18th green to pick me up again. I didn't want to spend any unnecessary time up there.
What changed then that led to you becoming hooked on the game?
KD: Well, as time went on, I got to know some people and I also began to like the game. As my dad said, 'you didn't like the sport, but the sport liked you' as I seemed to be quite good at it. It progressed from there and it was around the time I was 14 that I started to become hooked. At East Kilbride, I had a great junior convenor called Ian Thompson and I give him so much credit for keeping me in the game. I was playing with lots of lovely ladies, who were very supportive, but they were a lot older than I was. I felt I wanted to be around people my own age and Ian decided that I could play in the boys' medals and that was a turning point for me as they helped me improve my golf. I grew up on the golf course with about 30 brothers, so to speak, looking out for me. What wasn't to like about that? (laughing).
When did you start to make an impact on the competitive front?
KD: Nowadays, juniors get into sport in quite a serious way early on. They seem to have a performance pathway mapped out for them early doors. For me, I loved my county golf with Lanarkshire Girls and Lanarkshire Ladies . My foursomes partner was Fiona McKay and I really enjoyed that. We were like chalk and cheese. I was a chatterbox while she was very calm. At that time, I didn't think about making golf a profession. I remember going up to the Scottish Ladies one year, but it was more a week away with my mum than anything else. I wasn't included in the national training programme, so I didn't get to meet a lot of the top players probably until after I was married and had turned professional, having made a pledge to myself that I would take that step if I got my handicap down to scratch within about two years and I did. Looking back, I think it would have been better if I had gone through the ranks as I would have learned a lot more about playing the game.
So, when you turned pro in 1988, did you feel from an early stage that it wasn't going to work out for you?
KD: By then, I had been in a couple of the Scottish training programmes and I had won the Belle Robertson Trophy. But I remember standing in my first professional tournament, the English Open, at The Tytherington Club in Cheshire and hearing the starter say, 'Karyn Dallas'. That was quite surreal, actually, as just two months prior to that I had been playing in a medal at East Kilbride. The first year I didn't have any expectations and I did all right. My husband had come out on tour with me, having bought a camper van. He had caddied for me in my amateur events but he didn't do that when I turned professional. He decided to try and bring in some money as well by caddying for other players. I think that was a mistake, as we both admitted subsequently. We should have kept the team intact as I felt exposed out there due to it being quite new. It was weird, but it was a great learning experience.
When did you start to realise that your time on the Ladies European Tour was going to be short-lived?
KD: After that first year, I started to lack confidence and that created a negative mindset, so it becomes a downward spiral when you are out on a golf course, which can be a very lonely place when you are playing for a living. Through being on tour, I met some fantastic friends who I have kept in touch with, but it wasn't as successful as I would have hoped. I think the reason for that is that I didn't really set any goals. I had been very much in the mindset of getting my handicap from eight to scratch in two years and I had worked so hard to achieve that. But then, when I went on tour, I had no goals at all. I know people will say that is a terrible thing to admit, but hindsight is a great thing and you are talking about 30-odd years ago. Nowadays, I tell my young players that they always have to set goals and, once you achieve that, you reset so that you are raising the bar all the time.
What was the highlight of your pro career?
KD: I had some great laughs, probably not so many on the course but lots off it. But I remember doing well in a Hennessy Cup at St Germain in Paris one year. I didn't realise it, though, as I was in a bubble that week. I remember being on the practice area and looking around and saw only five or six players left, including Laura Davies, Trish Johnson and Alison Nicholas. My immediate thought was, 'god, I must have missed my tee off time' (laughing). But I hadn't and it was only then that I realised that I was in the third last group off and thought 'wow' as I had been used to being the dew sweeper on Saturdays and Sundays. I remember being really nervous and there was a big crowd on the first tee as they waited for the players in the groups behind me. I hit one of those daisy cutters off with my opening shot - it only got about four inches off the ground - and there was big gasp from the crowd. I remember saying to them, 'it's okay, it's straight' and they laughed. Even at that time, though, I was starting to think I wanted to do something else in life and I also wanted to have children.
After you came off the tour at the end of 1991, you then took up a post at Gleneagles. How did that come about?
KD: I was a qualified medical secretary before I became a golf professional. I had worked for a consultant surgeon at Hairmyres for a couple of years. So I was thinking about going back to doing some medical secretarial work. I then got a letter from Gleneagles Hotel from Ian Marchbank and Tom Younger as they'd read an article about me in an airline magazine heading over to America and they were looking for a female member to join their coaching team. They asked me to go there for an interview and it was weird how it had turned out as I would have turned my back on golf at that point but for that. I spent a wonderful five years at Gleneagles Hotel as an assistant professional doing my PGA exams. I loved it there. They worked you hard, but they taught you well. I learned so much in that time and I became the first female to win the PGA in Scotland's Stewart Thom Award for assistant of the year and I think I was sixth in Britain. I was really happy with that and I kind of felt I'd found my niche as that opened up a whole new world for me as a coach. I realised that it was something I really enjoyed doing.
You then became the professional at Kirriemuir - just the second woman to secure such a position after Muriel Thomson at Portlethen?
KD: Well done to Kirriemuir for their forward thinking. I had 20 years there and some lovely times there. My passion had never been to become a club professional, but it's funny how things can turn out. I had family at that time, so it was nice to have a secure job and the boys were at school in Kirrie and so was I. It was a great wee partnership, but committees change and plans for the future change. And, after 20 years, it was time for me to move on. In that time, I had not only been the club professional but also manageress and ended up as director of golf. At one point, I was dealing with the whole lot and I learned a lot. At one point, the clubhouse was making more money than the membership and visitors together and there aren't many golf clubs in Scotland can say that.
Tell us about your coaching programme, which has been hugely successful over the years?
KD: It's called Total Golf and goes from juniors all the way though to elite and professional golfers. I have a pathway all the way through. I spent time launching my programmes when I was at Kirriemuir - it was a good base for me. The junior side probably came in my time at Gleneagles. I think I drew the short straw when I was told, 'ok, Karyn you've got the juniors to look after'. But I came up with the idea of diluting the drills that I used on tour all the way down to games for kids. Nowadays, there are so many junior programmes using that games-based approach, but bear in mind this was 30 years ago. As a result of that, I was coming away from my coaching sessions much more satisfied as I felt it was rewarding and could see the kids were also enjoying it. I continued to grow that at Kirrie and, at one point, we were having 150 kids per week coming to the coaching.
Where are you based these days?
KD: When I left Kirriemuir, I had a decision to make and I thought I would try full-time coaching and see how it goes. Forfar Golf Club welcomed me to use the facility as a coaching base and that has been amazing. I've built the junior programme up there and am looking at 100 kids coming along this summer. It's been about using the same principles from my TG54 Programme. The kids want to learn. They are definitely out there. It's the retention factor people have to work on. The last couple of years, I've found the kids are coming back to my programme, so I am retaining them and Forfar are delighted about the numbers. When I was a Kirriemuir, I got to the point where I felt I had been around too long as the kids I started teaching were beginning to bring their own kids along (laughing).
You were appointed as the Scottish ladies' national coach in 1991. What did that mean to you at the time?
KD: I was totally honoured with that. Coaching had become my passion by then and it was great to implement parts of my programme into the SLGA programme. And, to give the SLGA their due, they 100 per cent supported me and 100 per cent gave freedom to do what I wanted, obviously within a budget. At that time, I looked after the development squad, the intermediate squad and the elite squad. That was good because I could mix and match them. It was beneficial for someone like Michele Thomson or Kelsey MacDonald, for instance, when they were coming along to training sessions and training camps and spending a week with someone like Anne Laing or Clare Hargan. I really enjoyed my time with the SLGA, but things come to an end due to committees changing and ideas changing. All I would say is that the players were absolutely flying at the time. The girls' squad that had been built up over those five years was phenomenal. You had Laura Murray, Michele Thomson, Kelsey MacDonald, Krystle Caithness, Carly Booth, Sally Watson and Megan Briggs among others. Yes, you have to have talent, but you have to nurture talent in the right manner and a positive manner. I remember going to Portstewart for the Girls' Home Internationals one year and they absolutely annihilated the three other countries.
Michele came down recently to help with a session for me and she says she still does some of the drills that I gave her way back in the day.
Is there an achievement by one player in particular you've worked with that you take real pride in?
KD: That's a hard question, but also a great question because, and I know this is going to sound cheesy, but it's the truth. I take great pride if a 36-handicapper comes to me and says, 'Karyn, I got out of a bunker at the first attempt yesterday following my lesson with you'. That means as much to me as people like Jenna Wilson, Lesley Mackay, Kelsey MacDonald or Kylie Walker all going on tour. I was proud of all the hard work and dedication all the girls put in during my time working with them.
Do you feel that golf is in a good place at the moment?KD: The pandemic has been a tragedy for a lot of people, but golf, as an individual sport and one where you can keep your distance from other people, has done well over the past year. I think the game has picked up what you could probably describe as 'lost members'. I'm loving it at Forfar and we have picked up members who had left to go to university or started a young family. They can't go back to playing football or other sports, so they have been coming back to golf. I'm talking about people in the 25-45 age range. I see a lot of people coming back and saying they played when they were younger but left the game. It's great they are back now and I hope golf can capitalise on that by retaining these people. Clubs have to offer good practice facilities, a good shop, good catering facilities, all these things people are going to enjoy when they are at the golf club, as well, of course, as a well-maintained golf course.
For someone who wasn't keen to play golf at first, you now have a real passion for the game. How proud are you about that?
KD: I think I am really lucky, having found a job I absolutely adore. Every day is a different day in golf and you meet so many interesting people. People have different challenges, different problems, different outlooks, different attitudes and you really have to find a way of communicating with every single person who steps in front of you. I'm a great advocate of looking at the person and not teaching a method. I will find out how much time a person has to commit, what their goals are and what they are capable of. You teach the person and not a method. I am so lucky having spent my life doing this. Am I proud? I have never thought about it that way. But I am a very lucky girl.
A message from the Editor:
Get a year of unlimited access to all of The Scotsman's sport coverage without the need for a full subscription. Expert analysis, exclusive interviews, live blogs, and 70 per cent fewer ads on Scotsman.com - all for less than £1 a week. Subscribe to us today https://www.scotsman.com/subscriptions/sports