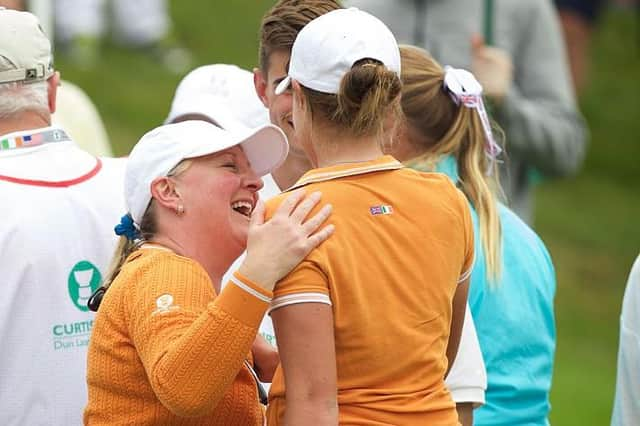 Great Britain & Ireland captain Elaine Farquharson-Black celebrates with Meghan MacLaren after she and Maria Dunne won their match on the second day of the 2016 Curtis Cup at Dun Laoghaire Golf Club in Enniskerry. Picture: Patrick Bolger/Getty Images.
The Aberdonian turned professional before Matthew, but their careers took different paths in the mid-1990s as Farquharson Black quit the paid ranks while Matthew went on to become a major winner.
But Farquharson Black has no regrets whatsoever, having achieved what she always wanted by becoming a lawyer - she's a partner in Brodies in her home city - at the same time as proving herself as a successful Scotland and GB&I captain.
Are you from a golfing family?
Captain Elaine Farquharson-Black and Olivia Mehaffey of Great Britain & Ireland during the 2016 Curtis Cup at Dun Laoghaire Golf Club in Enniskerry, Ireland. Picture: Patrick Bolger/Getty Images.
EFB: Yes, my dad, Colin, played and he also covered golf. He got me and my brother interested, but my brother never really took to it. At that point, I did ballet and I think that gave me good timing and balance for golf. I had my first lesson from a professional aged seven and played my first tournament aged nine. That was the North of Scotland Girls' Championship at Tarland. Apparently, I was more interested in frogs on the greens (laughing).
Was Deeside, where you have gone on to have a strong connection, your first club then?
EFB: No, it wasn't. I was a member at Tarland and Ballater before I got into Deeside when I was 10. I won the handicap section of the North of Scotland Girls at Cruden Bay and I think that's when I was invited to become a member of Deeside, where dad was already a member. At 11, I won a major mixed foursomes event which was held at Deeside, playing with Mike Paterson, the Deeside professional.
You won the Deeside ladies' championship for the first time at 14. Were you hooked on golf at that point?
Elaine Farquharson Black when she finished runner-up to England's Helen Dobson in the 1989 British Ladies' Amateur Championship.
EFB: Yeah, I'd say so. I won the Deeside club championship five years in a row and I only stopped playing in it because it clashed with the British Ladies Championship. I have played in it once since in 2003 when I was six months pregnant with Michael, my younger son, as it was the club's centenary year. I also won the county championship a few times before then being unable to play in that due to other tournaments I started to play in.
How did a young whippersnapper starting to dominate at Deeside go down with the other members?
EFB: On the whole, I'd say it wasn't something I think bothered anyone too much. I played in the ladies' competitions and in the junior pennant team at the club, which, at that point, was mainly made up of boys. I played in the top pair in that and also then the top pair for the men's team. Yeah, I always felt I was made welcome.
Your first big win was in the 1985 Scottish Girls' Championship at West Kilbride. How significant was that win given that the likes of Catriona Matthew and Kathryn Imrie were among your rivals at that time?
Catriona Matthew, Kathryn Imrie and Elaine Farquharson Black after winning the team trophy at the 1989 British Ladies' Championship
EFB: That was special and made more special by the fact my dad wasn't there that week due to the fact he was having a double heart bypass operation in Aberdeen, though I didn't know that at the time. It was just my mum, Ethel, and me down at West Kilbride and mum kept that a secret from me. I look back now and think, 'how did she cope with me playing while he was having heart surgery back in Aberdeen?' She told me as we were driving back up the road to Aberdeen and we went into the hospital with the trophy.
You then added the Scottish Women's Championship at Machrihanish in 1990. What do you remember from that week?
EFB: Well, it was great that dad was caddying for me after missing out at West Kilbride. I also remember it was the last time Aberdeen FC won the Scottish Cup! I I was practising on the Sunday before the event started and I remember listening to the penalty shoot-out on the radio. I had reached the semi-finals at Lossiemouth the year before, breaking the course record in each round to win the Babe Zaharias Trophy as leading qualifier before then losing to Shirley Huggan in the semi-finals. I won the Babe Zaharias Trophy again at Machrihanish and I remember dad saying, 'no-one ever wins the Scottish Championship after winning the Babe Zaharias'. But it was one of those weeks when everything worked out perfectly for me. I beat Catriona in the quarter-finals, Kathryn in the semi-finals and Shirley in the final. My recollection was that I didn't know what to do when I won. Having lost in the British Girls' finals in 1984 and 1985 then again in the British Ladies' final in 1989, I was more used to tears! Sometimes you are driven more by the losses. That was me.
That final of the Ladies Amateur Championship was at Royal Liverpool, where you came up against a tough opponent in England's Helen Dobson?
Elaine Farquharson Black in action for Great Britain & Ireland during the 1991 Vagliano Trophy at Nairn
EFB: I beat Kathryn again in the semis in a match that went to either the 22nd or 23rd hole then Helen just played out of her skin in the final. I was disappointed I didn't play as well as I had done that week and I ended up getting cuffed 6&5. My lasting memory of that is coming down the 13th and it's the only time I can really remember my father turning to me and saying, 'I'm really proud of you'. That was me in tears. I think people thought I was crying because I was losing, but that wasn't the case. It meant a lot to haear that.
You also made it to the final of the Scottish Women's Championship at Royal Aberdeen in 1992, but lost to Janice Moodie on that occasion. Was that a big disappointment due to it being in your home city?
EFB: Yeah, I was disappointed about that. Again, I didn't play as well in the final as I could have, though I think it was more down to not putting well than the expectations proving an added burden that day.
Scotland won the Women's Home Internationals three times in four years from 1988. How was it to be part of some of those team triumphs?
EFB: It was brilliant. It was a purple patch for Scottish ladies' golf. When we won at Hunstanton in 1990, I played No 1 and won all six games. In the 1989 European Team Championship at Pals, I also played No 1 and won six matches then as well. The GB&I teams then had a lot of Scots involved. A few of us were on a winning Vagliano Trophy side side in Venice in 1989 and Nairn as well two years later. Also a winning Commonwealth Trophy team at Gosforth in 1991.
You also made Curtis Cup appearances in both 1990 and 1992, suffering a heavy 14-4 defeat in the first one at Somerset Hills but then helping Great Britain & Ireland to a 10-8 win at Royal Liverpool?
Elaine Farquharson Black, far right, flew the Saltire in the 1989 Vagliano Trophy in Venice along with Shirley Huggan, Catriona Matthew and Kathryn Imrie.
EFB: We got caught out on the greens in 1990. Jill Thornhill was the captain and I remember her telling me to go out and practice my putting at lunchtime. I said to her, 'I haven't missed from six feet' but she replied, 'yes, but you haven't got the first one closer than six feet'. They had triple cut them from the practice rounds and we were just caught out by how fast they were. The USA also had a very good team, in fairness.
How nice was it then to rectify things, so to speak, two years later?
EFB: Yeah, that was good. Liz Boatman was the captain for that match and we'd won the Commonwealth Tournament in 1991. It was pretty special to be part of a winning Curtis Cup team on home soil playing in front of large crowds.
On the back of your successes, was it a certainty then that you turned professional?
EFB: No, and I think that probably contributed to how my career eventually panned out. Unlike most top amateurs, I didn't grow up wanting to be a professional golfer. I wanted to be a lawyer. All the time I was playing international golf I was studying and that's why I had a gap of not playing in the Scottish Championship until 1989 as I was studying at Aberdeen University and that was the first year they let me sit my exams early to play. After graduating, I went straight into my traineeship and worked for a week before taking three weeks off to go and play golf. I went to Venice for the Vagliano then Helen Dobson and I went to Brazil for the World Fourball, which we won. When I was approaching the end of my junior traineeship, I was aiming to get in the Curtis Cup in 1992, so I gave up work and went over to the States. Catriona and I went out and played the Orange Blossom Tour. I thought my game would get better if I gave up work/studying, but I struggled. When I played amateur golf, I didn't travel with the other players. Mum and dad were always there. We'd get a house as dad was always covering events for the paper. We almost created home life as the dog was there as well. It was a bit like the British cycling team taking their own mattresses with them. I had my home comforts.
You turned pro after the 1992 Curtis Cup only to suffer an early setback, I believe?
EFB: I went to the States to play on the Futures Tour and the night before my first event I was crouching down at the ball pocket on my golf bag and I ended up hospitalised after putting my back out. I missed my first pro event as a result of that before failing to get through the LPGA Tour School and came back in and played in a few events in Europe, making the cut in each of them but then didn't have another event until May the following year. I never really got going after that as there were only eight events a year and I played less golf as a professional than I did as an amateur. I worked as a lawyer in the winter, and doing some teaching at Kings Links, and played golf in the summer.
Did you quickly realise then that you weren't going to have a prolonged professional career?
EFB: I didn't enjoy life as a professional golfer. Because I never thought I wanted to be a professional golfer in the first place, my life plan even after I'd taken that step was to not do it beyond 30 because I wanted to have a family and return to law. As it was, it turned out to be much shorter than that and I would have given up completely if I'd tried to continue as I was hating it.
Was there a highlight in that short pro career or a low point possibly?
EFB: There were lots of low points (laughing). My recollection was that I would have a good first round then a poor second round and miss the cut. I just never took to it. I think you have to have a certain type of personality or outlook to cope with the lifestyle and it wasn't me. Bruce Davidson always used to say that my problem was that I always had a back-up plan, so I didn't want it enough and, inside, I think that was probably the case.
Fair play for making that decision and the fact you have enjoyed a brilliant career as a lawyer must give you a lot of satisfaction?
EFB: My mother was always the driver when it came to education and my dad was always the same with the golf. Catriona was my foursomes partner and dad would follow her great professional career through his job and I remember him saying, 'I'll take comfort from the fact that when she stops playing you'll still be earning as a lawyer (laughing)'.
How did it feel to be back playing for Scotland again after your reinstatement as an amateur?
EFB: I sat out for two years to get my amateur status back and I actually campaigned to the R&A to change that rule. They said I gained an advantage over the amateurs but I'd played less golf than full-time amateurs. I played for Scotland again in 1997 and 1998 and the latter was at Burnham & Berrow, by which time I was three months pregnant with Nicholas, my first son. That was the last time I played for Scotland and it was after that I went into the captaincy side. My first captaincy was in 2001 at Carlow, then Berkshire in 2002 and, at the 2003 Home Internationals at Cruden Bay, I was two weeks short of giving birth to Michael. Having not won any matches for many years, I was pleased that the teams I captained were close to winning the event.
To then be appointed as Great Britain & Ireland captain for a stint that included two Curtis Cups must have given you a lot of satisfaction after deciding that professional golf wasn't for you?
EFB: Part of me enjoyed those events more than playing, to be honest. I liked the mental side of it, I liked the motivational side of it. I was very methodical. I got all the players to complete a psychological assessment so that I knew their characters. Rather like Paul Azinger's pod approach, I combined players with similar personalities. I chose Helen Dobson as my vice captain/manager and she was fabulous and we worked well together. The players really respected her as she had won on the LPGA and she's still technically so good.
The winning team at Dun Laoghaire in 2016 was pretty tasty in terms of raw talent, including Leona Maguire, Bronte Law, Meghan MacLaren, Alice Hewson and Olivia Mehaffey?
EFB: Each family had to put in a message as part of my motivational preparation that week and the LGU also got one from my dad, who said, 'this could be the best Curtis Cup team ever' and arguably it probably was.
Do you see Leona Maguire going on to make her mark at the top level, having made her presence felt on LPGA leaderboards this season?
EFB: Yeah, she finished second behind Lydia Ko in Hawaii last weekend while Bronte Law has already been doing well over there, as has Meghan on the LET. Alice has also won as a pro and Olivia is getting back on to her game and will probably be turning pro this year. It's nice to see all of them doing well.
You were appointed as Deeside's first female club captain in its 117-year history last February. How special was that?
EFB: That was nice. It's nice to be able to give back and repay members for the support they have given me. I had been the junior convenor and then became vice captain, effectively standing in as captain when the captain moved to Brunei. Being a captain in a pandemic isn't the easiest of things, while we've also had some challenges with flooding in recent months. I am also a member of the R&A, having been afforded that honour on the back of my Curtis Cup captaincy, which was nice.
Is your own golf these days limited to getting the odd game with your two sons?
EFB: I struggle to get the time to play due to work commitments, to be honest. I played a round with Michael a couple of weeks ago and it was the first time I'd marked a score since 2019. It wasn't pretty!
You may not have joined the likes of Catriona Matthew, Kathryn Imrie and Janice Moodie in tasting success in the professional ranks, but it doesn't seem to have stopped you gleaning a lot of joy and satisfaction from the game?
EFB: I saw a tweet last week from Georgia Price, an English player who has decided to stop playing professional golf and admitting how tough that decision was due to the fact the game had shaped her as a person. I remember feeling the same way. But I have never regretted my decision. Golf still shapes me; it's just a different shape. In business, most people greet me by saying, 'oh, you are the golfer'. It still defines me. Sometimes I go out for a game with clients and they still expect you to play as you did in the height of your career. It was Rory McIlroy who said that 'my score doesn't define me' and I've had to kind of work hard on that in terms of separating the two and trying to enjoy social golf. I still work with a psychologist on that! I am very, very lucky that golf has been and still is very good to me.
A message from the Editor:
Get a year of unlimited access to all of The Scotsman's sport coverage without the need for a full subscription. Expert analysis, exclusive interviews, live blogs, and 70 per cent fewer ads on Scotsman.com - all for less than £1 a week. Subscribe to us today https://www.scotsman.com/subscriptions/sports
Elaine Farquharson Black flanked by her dad Colin and mum Ethel at the 1990 Curtis Cup in the US.
Elaine Farquharson Black, fourth right, helped Great Britain & Ireland win the 1992 Curtis Cup at Royal Liverpool
Elaine Farquharson Black always wanted to be a lawyer and is now a partner in Brodies in her home city of Aberdeen
Elaine Farquharson Black with her dad Colin when he received life membership of the Association of Golf Writers during the 2018 Open Championship at Carnoustie. Picture: AGW