If the club hadn't made such a mess of the January transfer window he may well have not featured. But the 36-year-old had to. Because there was no one else, no other striker aside from teenagers. An hour after the full-time whistle, following treatment for a tear on his groin, the injury which kept him out of the Livingston defeat, he appeared in the club's press room. While many others in the professional game would have got out of dodge, refused press duties, here was this player, who had perhaps done more than any other to salvage United's season, fronting up. He admitted he "didn't do much in the game" but "couldn't just sit at home and watch because I'm not that kind of guy".
Their fourth successive loss has them rock bottom, three points behind Ross County with a game to play and an eight-goal swing required. "We're not officially relegated but it will take a miracle at the weekend," was Fletcher's assessment.
"The boys are gutted, it was a quiet dressing room. It's a tough one to take but it is not just from Wednesday night, it's been the whole season. It's not been good enough from all of us. It's hard to speak just now because it is in the moment. Just for the fans and everyone who works here it is not nice for them. The table doesn't lie, the goals for and goals against is just not good enough.
"We come in every day, work hard, but it's all good doing that on the training pitch and us leaving the training pitch every day and saying 'we've got a good squad'. I've said it all season, it's a good team, a good group of lads. Sometimes it is not enough. When you cross that white line you need to roll up your sleeves and work hard for each other. We've got a great group of individual players who will probably have a great career but when you cross that line you need to work as a team and need to push each other."
Missing a nastiness
Asked to put his finger on why it hasn't clicked, the striker admitted he "couldn't" and that "it's probably one of the most frustrating things that I can't". He noted: "I've worked with teams where we've maybe not had the quality but we've worked together, fought through it and managed to get out the other side."
It doesn't take football's great analytical minds to suss out a key part of the team's issue. They've conceded 78 goals across the campaign. They've been too easy to play against, to play through, to score against. They've missed an enforcing presence in the middle of the park. Fletcher pondered "we've got such a good group of lads, there is no one who just wants to…" before tailing off. It's not hard to finish the sentence.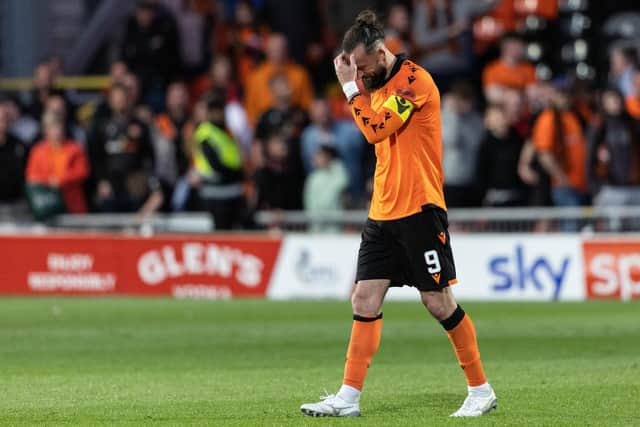 "Sometimes, without overstepping the line, you need a bit of nastiness in your team," he reflected. A player akin to their manager, Jim Goodwin. Adding: "He was probably what we needed in the team, the way he was as a player. He had a bit of bite about him and he's like that as a manager and I really respect him for that."
Goodwin backing
"I think he has been fantastic since he came in," Fletcher said. "I feel like, as a group, we have let him down to be honest. He came in and it was what we were crying out for, the way he was on the training pitch. We got what we wanted because that's what we were crying out for but we still didn't do it. He will probably say it is a group, collective thing, him as well. For me, we were the ones who crossed the white line, we were the ones who needed to do the job.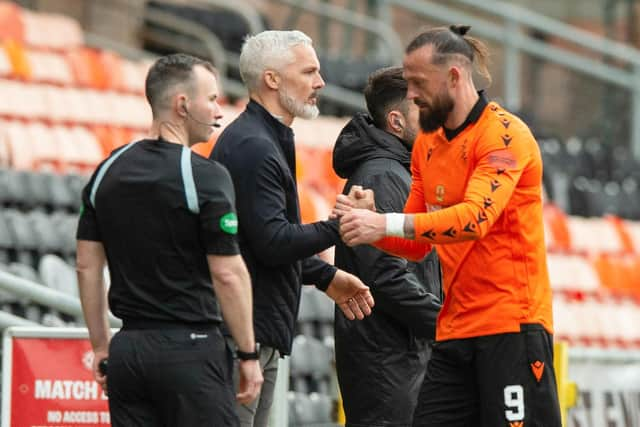 "I'm not upstairs so I can't dictate what goes on up there and the decisions that they make. It is down to them but they have got a really, really good manager there and a really great guy as well. He wants to win."
Fletcher's future
As for Fletcher. He signed for a team in Europe. It was "one of the main reasons" he wanted to come to Tannadice. A team who were expected to challenge for the European places once again. To be alongside Hearts, Hibs and Aberdeen. Instead, they let the season "dwindle away". With a year still left on his contract he will "sit down with the family" over his future.
"It's quite a young group and it's going to hit them," he said. "I'm an older, experienced lad, I kind of know how to take it but some of them, it might not hit them for a week or two, it is going to hit them that 'I'm not going to be playing in the Premier League anymore, I'm going to be in the Championship'.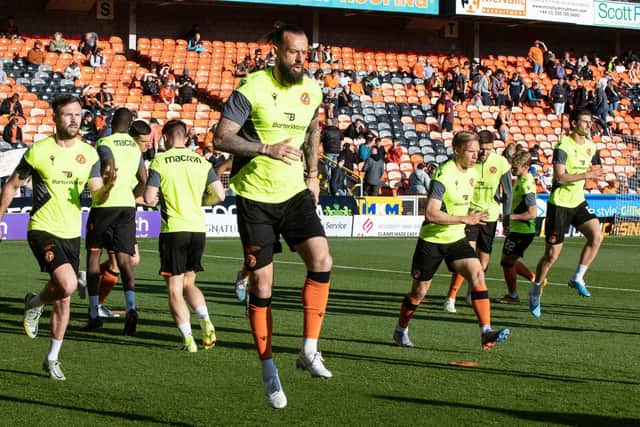 "They are going to need to get over it real quick because this club shouldn't be down there, it should still still be in the Premier League. All the lads need to go and have a hard look at themselves and see where they want to be in their careers because it is definitely not down there."