The Tannadice side require a win at Motherwell on Sunday and for Killie to defeat Ross County with an eight-goal swing in the favour to finish 11th following their fourth straight loss. Goodwin admitted the "likelihood of that happening is obviously very slim" but is keen to have talks with owner Mark Ogren and to continue in the role next season.
"I'm not sure," he said when asked about his future. "We will see what happens in the next few weeks. For me I'd love the opportunity to sort things out here because this is a really good club, a big club with fantastic ambitions. We know where the issues are, where they have been and what we have to strengthen. So let's see what the future holds.
"The chairman is here tonight, I am really disappointed for him - he's invested heavily in the club and nobody can argue with the financial investment he's made. There hasn't been enough payback on the park for what he's put in. I will sit down with him tomorrow and we'll have a chat to see what the future holds for me and for Dundee United."
'Apologise to fans'
Goodwin described the 3-0 loss as "one of the lowest points" in his career. "I came in and people thought I was mad, genuinely thought I could turn it around and we did get a bounce from the players," he said. "Unfortunately the defensive frailties reared their head again and ultimately that's what's cost us. I thought I could turn it around but I haven't been able to do that so I apologise to the fans.
"There isn't a player in there who can't accept their part in it. There are good, talented individuals within the squad. But as a team this season simply hasn't been good enough and I said that to them in the dressing-room. As players they have to take their part of the responsibility in this. As managers, myself, Jack Ross and Liam Fox we will take our share of the blame because we are in it together."
Killie boss Derek McInnes hailed his players for their attitude in what was a confident victory but conceded "there is still work to do" with a point on Sunday at Rugby Park against Ross County required to ensure their Premiership survival.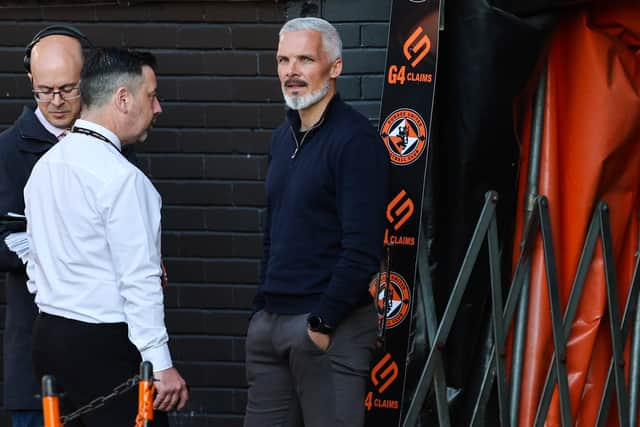 "Nobody is over-celebrating or getting ahead of ourselves, but it's important we enjoy the moment," he said. "The supporters came up in huge numbers and it's great to send them home probably feeling a lot more optimistic. But we have still got a tough game to navigate, it's all or nothing. It is set up nicely for both teams and we have a job to do but what pleased me was the performance and our approach to the game.
"We were very confident, we asked the players to play with optimism and belief and we had that. We were aggressive with our work and imposed ourselves on the game and with the position Dundee United were in, getting that first goal was crucial."