Rangers finally have their day: Ravenous Ibrox crowd devours win as Celtic resemble old bouquet of flowers
It was the day Michael Beale, whatever any public he may have made, will have craved for more than five months.
A day when the Rangers manager could inhale the sweet smell of a derby destruction, and exhale deeply. Oh, so deeply. With a mix of satisfaction and relief. Oh, such sheer relief. A day he desperately needed and, over the piece in now five such confrontations, deserved. Of course, even a commanding 3-0 league victory at home bitterest rivals Celtic is still just a crumb when it arrives after those adversaries have already been crowned champions, and are looking to chow down on a three-course feast before the campaign is out. But, let no-one be in any doubt, it was a morsel providing sustenance it was unthinkable for Beale to be left without. A scrap that a ravenous Ibrox crowd unsurprisingly devoured with raucous relish. No wonder when they have been starved of seeing their team treat Celtic as a sacrificial lamb for more than a year.
Beale's predicament pre-match was illustrated by the fact that even media down south on the morning of the game had cause to lay out the doomsday scenario in the event of his Rangers team being turned over for a fourth successive time by Ange Postecoglou's men. That outcome would have resulted in him becoming the first manager from either club to lose four straight in the fixture for 19 years and placed a threatening cloud over his head before even setting about the quest to point the club in the direction of the sunny uplands with his summer squad reconstruction.
Instead, with midfielders Todd Cantwell and Nicolas Raskin the focal points as the Ibrox side produced the dynamism and dig – as well as the former proving the man who set them on their way with a smacked-in fourth-minute opener – Celtic wilted. Like no less than outdated, garage-bought bouquet, indeed, as they were overwhelmed in a more comprehensive fashion than in their three single-goal victories in the fixture that had preceded this Ibrox defeat.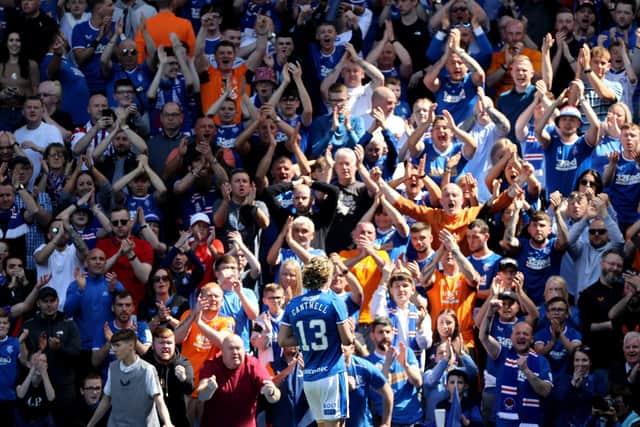 Mitigations even beyond the title banking having subconsciously diluted motivation that have a tendency to impact on derby dead rubbers will be cited by those of a Celtic disposition. The visitors' line-up was devoid of five integral first picks, with Kyogo Furuhashi, Daizen Maeda and Greg Taylor starting on the bench and Cameron Carter-Vickers and Alistair Johnston missing through injury. With the absence of the quintet, Celtic's potential for posting a record points total evaporated as those given the opportunity to step up in such as defenders Yuki Kobayashi, Anthony Ralston, Alexandro Bernabei and Oh Hyeon-gyu could not find their footing. Only Real Madrid have dished out greater punishment to Celtic this season, and their impaling at Ibrox represents the heaviest domestic defeat suffered in the near two-year Postecoglou era.
It was an occasion that witnessed lesser-spotted players on both sides and the impact of Rangers' changes – a number enforced by injury – was the reverse of how these were felt by Celtic. Beale might wonder if he would have better to dispense with such senior performers as Alfredo Morelos, Allan McGregor, Ben Davies, Ryan Kent and Borna Barisic before now in the fixture with their replacements Faahion Sakala, Robby McCrorie, John Souttar, Rabbi Motondo and Ridvan Yilmaz setting about their tasks with a fizz and freedom that has been missing as Rangers have appeared under a spell against Celtic.
It was not only broken but recast as Postecolgou's side were the team in a fug as they flunked-out defensively and flailed when crucial chances came their way. The confrontation in microcosm was offered up by the back-and-forth across the first seven minutes. Rangers began with an aggressive intent that seemed to startle their rivals, infused by the howlings of a home-only support juiced-up to demand their players deliver some sort of payback for the miseries inflicted on them in the fixture across three competitions in the past three months alone. Cantwell was an attack dog who had only one mode – full pelt – and only one thought in his mind – to best his opposition. And it was his ability to be fully switched that underpinned the opener, wherein Kobayashi seemed entirely to switch off when Joe Hart, moving to his right, punched down a wicked drive from John Lundstram. As the ball bounced up, Cantwell steamed in ahead of all others to bash a first-time effort into the far corner.
Emphatic, the finish was in contrast to the attempt from Oh after sent in on McCrorie by a delicious ball from the right by Liel Abada. Taking a touch to eliminate the keeper, the forward's clumsy clip towards an empty goal came to grief on the outside of the post. Just after the half-hour mark, Kobayashi's afternoon further deteriorated courtesy of being embarassingly outmuscled by Souttar as they challenged for an outswinging James Tavernier corner from the right. In a moment of redemption for the Scotland international following his catastrophic error for the third goal in Rangers' 3-2 title-setting defeat in Glasgow's east end six weeks ago, his strength and determination allowed him to angled in a header while slightly off balance.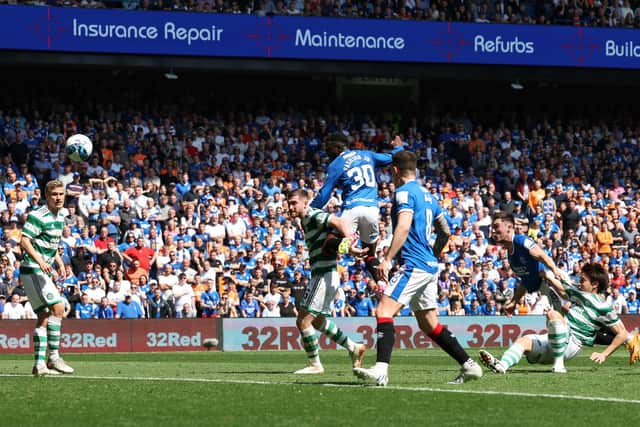 The role reversal from this season's previous – admittedly more significant – five derbies was made complete when Callum McGregor and Carl Starfelt got themselves into a fankle in the lead-up to Rangers' 70th minute third. A result of the defender stepping in as the Celtic captain scrapped with Cantwell for possession only for him to have the ball then nicked from him on his blindside by Sakala. It gave the Zambian a clear to motor forward and round Hart before tapping in. With that strike, a confrontation that has driven Rangers to distraction this season could be parked in the most satisfying fashion.