Michael Beale: Win over Celtic gives Rangers 'oxygen' as one player pushes into contention for next season
Rangers manager Michael Beale conceded a first derby victory as manager had given him some "oxygen" ahead of the comprehensive squad overhaul in the summer.
The Englishman cautioned over reading too much into the dominant 3-0 defeat over rivals odds-on for a clean sweep of the domestic honour. However, he appeared equally aware of the suffocating effects had he lost a fourth straight confrontation against Celtic and remained winless over five games – no manager of either club in almost two decades having suffered that fate.
"Listen I was here for a long time in a different period where I played a lot of these games," Beale said of the personal importance of the success. "It's my 16th, 17th game against Celtic [as an assistant and manager] so I'm, not new to the fixture. I was two minutes away from [a win in my first one as manager before Celtic equalised] in January and you think the next one will come quick. I think it gives us some oxygen going into the summer and the exciting period we have now of recruiting some players in. I still think this current group are capable of big performances. They put a decent one in today.
"When we analyse the games back we have had games against Celtic this season where we have had more possession. We've had chances and not taken them. Today we had slightly less possession and because were in a two-goal lead quite early it was their game to chase.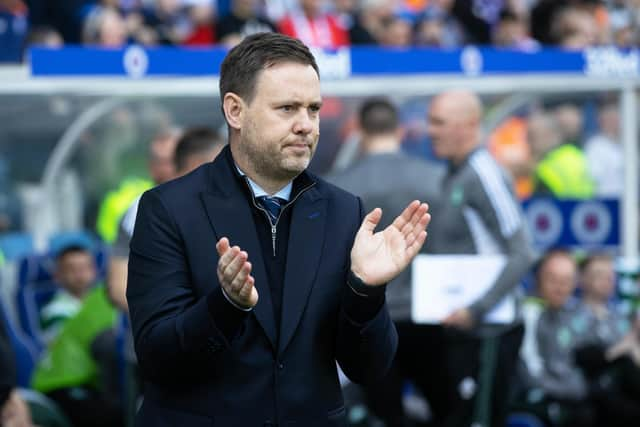 "I felt Rabbi [Matondo] and Fashion [Sakala] were getting in behind. Games at this level are fine margins between two teams like us and Celtic. It comes down to the boxes and we have made mistakes [in the past]. Today, for our third goal, they have made a big mistake and we have punished them. That's it. I don't want to talk about the work we've got to do or how far it is, it's just three points. Let's take it and I think it gives the fans some oxygen and breathing space too, looking forward to the summer."
Robby McCrorie produced another convincing display in the Rangers goal in an encounter in which Todd Cantwell, who bagged a fourth-minute opener, and Nicolas Raskin provided bite and bustle that was not matched by their rivals. Rangers are expected to sign Jack Butland in the summer with Allan McGregor set to retire but Beale was willing to answer in the affirmative when asked if there could be the possiblity for the 25-year-old Scot to become his club's no.1 next season.
"Yeah, cos I think he will only get better with time," he said. "He's 100 per cent in my thinking. Listen we are going to lose one goalkeeper because he is out of contract. We are not in the job of signing bad ones. We've had Allan and Jon [McLaughlin], two Scottish internationals, and Robbie has been in the group. He has been injured for four of the six months I've been here but he always knew he would get an opportunity. All he can do is keep playing as he did today. I think that's four clean sheets on the bounce as a Rangers first-team keeper so that's not a bad record to upkeep. He has set a high standard for himself. "