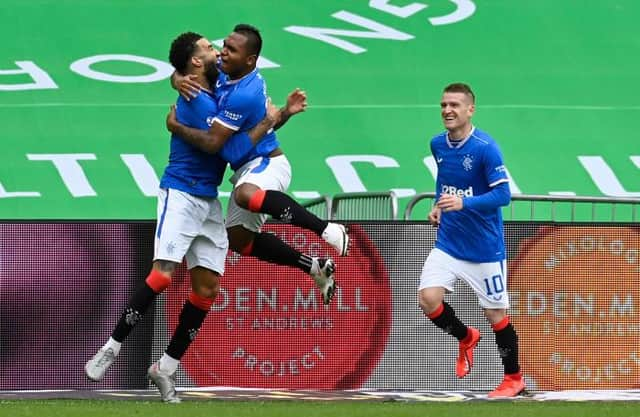 GLASGOW, SCOTLAND - OCTOBER 17: Rangers' Connor Goldson celebrates with teammates after making it 2-0 during a Scottish Premiership match between Celtic and Rangers at Celtic Park, on October 17, 2020, in Glasgow, Scotland. (Photo by Rob Casey / SNS Group)
However that didn't stop Rangers fans revelling in the success – the second straight Old Firm win for Steven Gerrard's side.
They took to social media to celebrate and dissect the victory.
@MarkGibb9: "It makes a difference to yer weekend - the boys have done good. Keep it up."
Lisa Thomson: "Amazing start to the weekend."
James Simpson: "Great performance but need to keep this going this time and not throw away silly points to Livingston next week, we need to keep on winning."
Russell Taylor: "All credit to the coaching team for how we are organised in our play. It has been evident the last few years. Now we need the players to step up to the plate in every game."
Christine Barclay: "Well done every single Glasgow Rangers player you were outstanding today."
David Patterson: "Been a long time since I've seen such a poor Celtic side. We were dominant and NOBODY can question us deserving the three points. Goldson, what a man fantastic result!"
The support also looked beyond the double goalscorer for key input to the win.
@GrahamBarr16: "Tav's freekicks have been a lot more dangerous and consistent this season. Long may it continue. Great performance and result. Let's go 55!"
@bryangreenfield: "Helander definitely underrated and Goldson cause of his goals. But I'm telling you, Scott Arfield is so underrated by so many. His unselfish runs don't even get talked about."
David Cooper: "That was the most enjoyable and comfortable win I have ever seen against them absolute stroll in the park didn't look out of second gear. Goldson was the star man by a mile and Kamara was awesome great team effort overall tho great win."
David Mckillen: "Great result, good performance thought we looked a bit dodgy first half defensively, much improved 2nd half. When Goldson concentrates he is immense."
Darran Boyle: "Destroyed them tactically. Well done lads. We played with nine men for most of the game so very well done."
@LewisMcilreavy_: "Goldson for Ballon d'Or."
@RayVonHay: "Is there a Thomas Muller GOALson meme yet? Gies it."