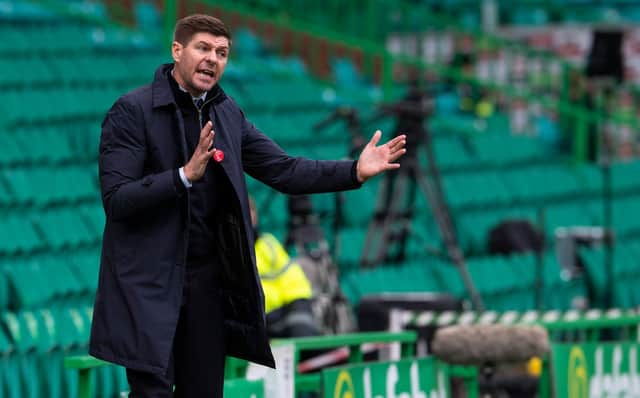 Rangers manager Steven Gerrard at Celtic Park.
Two goals from Conor Goldson gave Rangers a comprehensive 2-0 win over their Glasgow rivals, moving them four points clear of Celtic at the top of the Premiership table, albeit having played a game more. They were dominant from start to finish at Celtic Park, with Gerrard delighted at his team's display.
The Ibrox boss admitted his team are in a "good place" right now, but cautioned against anyone at the club getting too excited as they bid to win the league and halt Celtic's ten-in-a-row dream.
"We move on to the next game," said Gerrard. "We need to be humble, we need to be respectful. We know what we are chasing. Celtic are the team to catch, we know that. There is no way we are going to get carried away. The big test, the big challenge, for us is can we maintain it for a full season. I am happy with the start we have made, I am happy with where we are. You can see the bench today was starting to look strong behind me as well. We are in a good place. But things change. You get tested and challenged through the season. The challenge for us as a group is can we maintain it for the full season.
"There is no message to Celtic. I think it is for us. We have come here again, we have performed well, we have done the job that the players were asked to do. But it is not about sending a message. It is still very early, there is a lot of football to be played. I said to the players there 'look, you can be happy today, you have put in a really good performance, enjoy your night, we go back to work on Monday'. We need to remain calm and professional."
Gerrard hailed his team's "maturity" and also believed that his men weren't at their best despite what was thoroughly dominant display against an admittedly under-strength and off-colour Celtic
"I am extremely happy with the outcome," added Gerrard, who is already looking ahead to facing Standard Liege in the Europa League on Thursday. "It is a fantastic result. It is three important points, it is what we have come for. We gave the players a game plan in a short space of time. It wasn't too much different to what we have been doing against this type of opposition, who are good. The players have gone out and carried it out with a mature performance, a professional performance.
"We have been relatively quiet during the course of the 90 minutes considering what you normally face here. The players deserve credit for the three points, the result and the performance. I don't think we were at our fluent best, but we were really assured and professional and controlled in what we did today.