'Sensitive and emotional' Kevin van Veen appreciates the love but admits it might not be enough to keep him at Motherwell
A player who fails to hide his emotions, Kevin van Veen has thrived on the adoration of the Motherwell fans this season.
Last weekend he took his season's goal tally to 25 goals - an impressive number given the way Motherwell have struggled at times this season - and he confesses that it all got a bit much for him. If he was to be given top billing at Sunday's awards dinner, it is unlikely that the charismatic striker would be able to contain his delight.
"I had some private stuff to deal with before the game and I took it into work as everybody does sometimes," explained Van Veen. "I am sensitive and emotional. It was a family issue but I still think I managed to play the game the way I should and after I scored that goal, everything just came out. There was everything, the emotional support from the club, the banner, and I broke a little bit."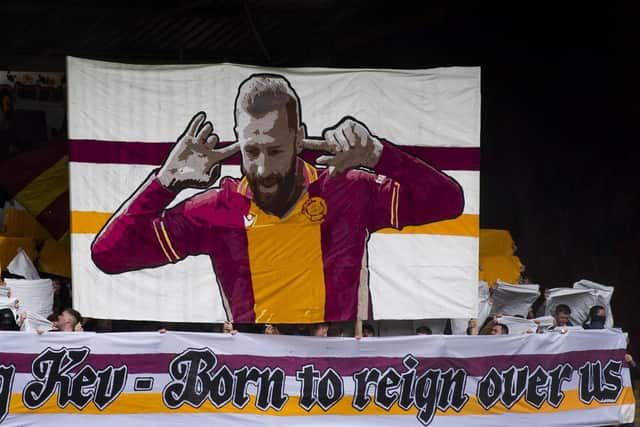 The 'King Kev. Born to reign over us' banner was the Well fans' take on the coronation and their main man crowned off the afternoon's performance with a late goal. "It's amazing to get all the support from the club. As I say, I am a very sensitive footballer and it means a lot to me. That's why I didn't give up and scored in the 91st minute. I knew the goal would come and it did."
It took him level with Dixie Deans, who was the last Motherwell player to net goals in seven consecutive games, in the old second division, in 1968/69. But, now the Dutchman is looking to make it eight with another contribution away to St Johnstone on Saturday. "When I am old it would be amazing to look back at the history books if I can achieve that. Then people won't forget my name. if it's going to be the winning goal as well, it's even better because three points is still important. But if I can break records, it shows what I have been doing."
What he has been up to is pretty obvious, with 25 goals in all competitions this season. It is 10 years since a Motherwell player was nominated for the PFA Scotland Player of the Year, when Michael Higdon netted 27 goals and ultimately won the individual accolade. But, all the plaudits and love still may not be enough to convince the 31-year-old to hang around for another season at Fir Park, though.
"I wouldn't say it will sway anything but I love playing for the club, I appreciate the club and love everybody at the club. On the other hand, you don't know what can happen in the summer. Financially, if a club like Motherwell gets an offer they can't refuse, then I cannot say I'm going to stay. Everything has to be a green light.
"A few months ago we agreed something in China but the payments weren't right for Motherwell at that moment, so I didn't force my way out. I kept a cool head and we decided it wasn't the right thing to do. I could have gone the other way."
A message from the Editor
Thank you for reading this article. If you haven't already, please consider supporting our trusted, fact-checked journalism by taking out a digital subscription.
Comments
 0 comments
Want to join the conversation? Please or to comment on this article.