Kevin van Veen: Why Motherwell's 'King' would deserve Player of the Year despite incredible Celtic competition
"We won the treble that year. In fact, the only thing we didn't win was the Boat Race. And they still gave it to Ginola! Can you believe that?!" Sir Alex Ferguson at his finest. Eight years had passed but there was still incredulity around David Ginola winning the Football Writers' Association's Player of the Year award, plus the PFA accolade, in 1999 rather than one of his treble-winning Manchester United stars.
It was said that because there were so many United players in contention they split the vote to allow the Frenchman, who finished mid-table with Tottenham Hotspur, to win the award. The situation comes to mind following Kevin van Veen's nomination for the PFA Premiership Player of the Year. The Motherwell star is up against Celtic trio Callum McGregor, Reo Hatate and Kyogo Furuhashi.
Fans of the Scottish champions won't like to hear it but if the Dutchman was to pick up the award later this month, it wouldn't be undeserving. The 31-year-old is not there to make up the numbers or to add variety to the shortlist. Who is the best player in Scotland? Hatate. An incredible talent who should be cherished. Who is the second best? Kyogo . And he's the Premiership top scorer. Then there is McGregor. You hear of players being Mr Reliable, Mr Dependable, 6 or 7 out of 10 every week. The Celtic captain rarely seems to drop below an 8.
But what Van Veen has produced is nothing short of extraordinary. He pitched up last season, joining Graham Alexander at Fir Park, after a two-goal campaign at Scunthorpe United. The highlights role showed a talented albeit mercurial and inconsistent forward. Capable of jaw-dropping moments but, equally, a rueful shake of the head. He was fun to watch, an entertaining personality who finished with a respectable 11 goals in all competitions, albeit four fewer than bookings he received.
Anyone that watched Van Veen will have been aware of his technical grace, his ability to create something out of nothing, not rapid but quick enough, strong and rangy, an awkward customer to play against who can score all types of goals, whether it be from distance, in and around the six-yard box, headers, penalties or free-kicks. He was a striker who could lead the line but if everything clicked there was the capacity to be a devastating forward. As he has proven this campaign.
His 21 goals in the league have been worth 15 points to the Steelmen. They make up 45.6 per cent of the club's Premiership goals this campaign. If it wasn't for his goals at the start of the season Motherwell may well have been cut adrift at the bottom before Stuart Kettlewell replaced Stevie Hammell. The former manager's decision to play him wide towards the end of his tenure was one of the more baffling managerial decisions across this season. The 31-year-old's record of 12 goals in 10 appearances under Kettlewell tells a story. The Well boss has given Van Veen a partner, someone who can occupy centre-backs, allowing him more freedom.
'King Kev'
At the weekend the Motherwell fans unveiled a tifo dedicated to 'King Kev' clash and he more than repaid them against Kilmarnock. In one match he turned into both Dennis Bergkamp and Zinedine Zidane. There were similarities to the Dutchman's famous goal against Argentina at France '98 with his stoppage-time strike. He plucked a long pass out of the air and in one touch took out the Killie defence before slotting brilliantly into the corner. Then there was a touch to not only bring down Liam Kelly's long ball but take it away from Joe Wright. Again, in one touch and movement with a backheel. The Killie defender could only foul him. Parallels to Zizou in a France shirt whe he collected a Fabian Barthez throw.
Those moments, given the right environment, he can produce on a weekly basis. This is a player loving life right now. Full of confidence. Speaking after scoring against Celtic last month he had 30 goals in all competitions in his sight, while his approach to playing at Celtic Park painted a vivid picture of his mindset.
Showing balls
"But me personally, you need to have a pair of balls," he said about facing the champions. "Sorry if that's a swear word, but I mean, you have to come here and not be scared, because if you get scared they will roll you over. They smell if you are scared, they smell if you have fear so if you have the ball, you need to try things and put them on the back foot. Sometimes there will be gaps, there will be chances. I thought every time I get the ball I'm going to try something. If I lay it back – boring. I need to go the other way."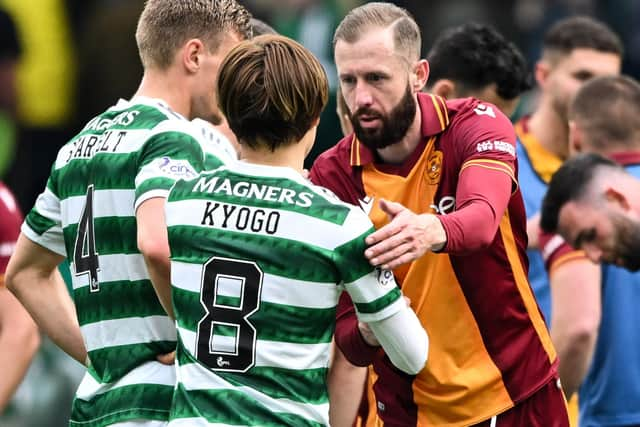 He added: "It will be good when I hit the 30 mark. I hope everybody's nose is in it, put it that way, that's going to happen because I feel good!"
You simply wouldn't put it past him doing so with four matches remaining, in the bottom six and on perhaps the hottest streak of his career. There is every chance he will move on in the summer. Still with a year to run on his deal, the player has kept his future open. With that in mind, he should be enjoyed and savoured in the meantime.
It really is hard to look past Reo Hatate or Kyogo Furuhashi but King Kev could be to Ange Postecoglou what David Ginola was to Sir Alex.