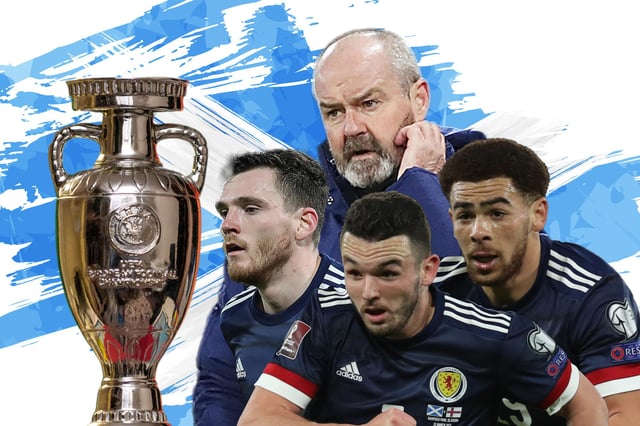 Scotland are joined by England, Croatia and Czech Republic in their Euro 2020 group.
The warm-up games and training camp are over, and now the real Euro 2020 action begins for the Tartan Army.
Some 12,000 fans will be in the socially distanced national stadium for the return to the big stage – the first match in 23 years at a major tournament for the national team.
It's been a longer wait than ever imagined – and prolonged by the pandemic which means a reduced allocation for the Tartan Army for this eagerly awaited game.
Can the current crop re-write that record from 1996 on the first major tournament appearance since 1998?
We will find out and The Scotsman will be there at Hampden and here with you bringing you all the action and reaction as well as pre-match build-up to get you in the mood (as if you need it) via our liveblog below, which we'll be updating throughout the big day.
Scotland v Czech Republic: FULL TIME
Last updated: Monday, 14 June, 2021, 12:38
Euro 2020 - Group D
Scotland 0 Czech Republic 2 (Schick 41, 52)
SCOTLAND: Marshall, O'Donnell (Forrest 77), Robertson, McTominay, Hendry (Fraser 66), Hanley, McGinn, Dykes (Nisbet 77), Christie (Adams 46), Cooper, Armstrong (McGregor 66).
CZECH REP: Vaclik, Coufal, Celustka, Kalas, Boril, Soucek, Kral, Jankto, Masopust, Darida, Schick.
Record-breaking goal from Patrik Schick is longest distance in European Championships history.
Good morning and welcome to Euro 2020.
Scotland will be kicking off the national mens' first major tournament at 2pm - and The Scotsman will be here for all the pre-match build-up, news, match details and in-play updates from Hampden on a day that's been awaited for more than a generation.
Since when?
As we said, it' been a long time coming.
8393 days to be exact since that match in St Etienne when Craig Burley was sent off and no-one really expected us to be waiting almost 276 months until the next one, did we?
If you want to be particularly pernickety, come kick-off time it'll be 201424 hours and 15 minutes since Scotland we last involved at the top table of mens' football.
Nothing to fear
Joel Sked believes Scotland have nothing to fear in Group D.
When the whistle blows at Hampden Park at 2pm on Monday to signal the start of Scotland's involvement at Euro 2020 it will be 8,392 (EIGHT THOUSAND THREE HUNDRED AND NINETY TWO) days since the humbling 3-0 loss to Morocco in the Stade Geoffroy-Guichard stadium at France 98.
Writer Alan Pattullo has spent the last few days following the Scotland squad at their Rockliffe Hall training camp.
Here's the latest diary from his base in the north-east of England as we build-up to the big one
Scotland are only the latest international side to be able to claim to have stayed in Darlington, or at least a few miles outside it, during a major international football tournament.
Watching from afar
Ex-pro, and ex-pat, David Weatherston - once of Falkirk, St Johnstone and a regular on the pitch at Hampden with Queen's Park, tweets...
The Scotsman: LIVE
Join The Scotsman Publications' football editors Mark Atkinson and Matthew Elder with Joel Sked and Craig Fowler for a live preview of today's game from 11am this morning.
An expert panel of The Scotsman's football writers will debate Scotland's prospects in a livestream event running in the build up to the nation's Euro 2020 opener on Monday.
IN QUOTES
I watched the Champions League semi-final recently. McGinn versus Modric? Honestly, I'm now McGinn, all day long.
Pat Nevin, A View from the Euros
Team talk
Steve Clarke's team will know who is playing and who isn't by now.
Scotland head coach Steve Clarke has settled on his starting line-up ahead of their Euro 2020 opener.
Here's who we'd choose if we were in charge (but other opinions are expressed, and explained, in the video here)
There has been so much debate about how the Scotland football team will line up against Czech Republic at Hampden Park that Steve Clarke has stopped talking about it.
Last 5 results: Czech Republic
Let's have a look into the match stats ahead of kick-off in just over two hours' time.
Here's the last five results for the visitors to Hampden this afternoon.
Czech Republic 3-1 Albania - June 8, 2021
Czech Republic 3, Albania 1: June 8, 2021
Italy 4, Czech Republic 0: June 4, 2021
Italy 4, Czech Republic 0: June 4, 2021
Wales 1, Czech Republic 0: March 30,2021
Czech Republic 1, Belgium 1: March 27, 2021
Estonia 2, Czech Republic 6: March 24, 2021
Estonia 2, Czech Republic 6: March 24, 2021
Last 5 results: Scotland
Here's a look at the recent results for Steve Clarke's side ahead of the Euro 2020 opener in just two hours' time!
Luxembourg 0, Scotland 1: June 6, 2021
Netherlands 2, Scotland 2: June 2, 2021
Scotland 4, Faroe Islands 0: March 31, 2021
Israel 1 Scotland 1: March 28, 2021
Scotland 2, Austria 2: March 25, 2021
Scotland squad
The team are en route to Hampden from their hotel base in Glasgow - and Steve Clarke has spoken of the toughest decision he has had to make.... and it's NOT choosing the team.
Steve Clarke says the hardest part of picking his Scotland team for Monday's Euro 2020 Group D opener against Czech Republic at Hampden will be leaving three players out of the matchday squad.
🚌 Travel update
The Scotland squad has arrived at Hampden!
IN QUOTES
Patrick Schick has a bit of quality about him, I hope Tomas Soucek can get into the box - any set-piece or cross he's a big big threat. Players like Jankto with pace can be dangerous. Scotland should watch those players most.
Tomas Cerny, ex-Hamilton Accies goalkeeper via Sky Sports News
⏲️ 10 minutes
There first of many important times this afternoon comes in around 5-10 minutes.
That's when Steve Clarke's team will be made public.
If you scroll back you'll know that some already know the side, but it'll be official around 75 minutes before kick-off.
Will Billy Gilmour be involved?
The scene is Wembley 54 years ago and out on the pitch the Scottish football oracle approaches three men in dark blue for their final thoughts before the big game.