Women's Euro tickets: Football fans' fury as England vs Sweden Euro 2022 tickets put on sale for £500 on eBay
Tickets for the Women's Euro semi-final were able to be purchased for as little as £15 on face value – but touts are charging fans as much as £500.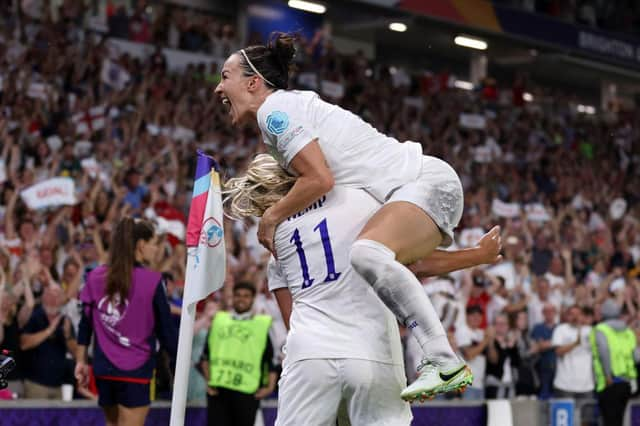 Georgia Stanway is mobbed by her England team mates as she celebrates scoring her sides second goal against Spain (Photo by Naomi Baker/Getty Images)
Online ticket touts have been branded "disgraceful" by angry fans who are being priced out of supporting their team at the Women's Euros 2022.
The Women's European Championship – held throughout England in the month of July – has been the most successful Euros ever, with record breaking attendances and record scorelines. But now it appears that touts have taken advantage of the tournament's success, with fans desperate to grab a piece of the action as the tournament draws to an exciting close.
Sarina Wiegman's England side take on Olympic silver medallists Sweden tomorrow night (July 26) in the Euro 2022 semi-final at a sold out Bramall Lane in Sheffield after progressing to latter stages by beating pre-tournament favourites Spain in the quarter-finals last week.
A win for the host nation would see them qualify for their first major tournament final since Euro 2005, where they finished runners-up after losing 6-2 to Germany in Helsinki.
Understandably, with the stakes high, fans have clamoured to be part of what could be a historic night for the Lionesses that could seal a final place at Wembley Stadium up for grabs.
Now the bookies' favourites to lift the trophy, the Lionesses have been in scintillating form during the tournament, scoring 14 goals in their first three games to progress out of the group stages with ease.
And, with demand for tickets extremely high, the UEFA ticket site made limited tickets available for tomorrow night's game at 10am this morning. But fans were left fuming when tickets sold out almost instantly only to appear on eBay at hugely inflated prices.
Tickets were listed for sale in three categories via the ticketing portal, with prices starting at just £15 for the semi-final clash. Though many fans struggling to get through after being placed in a queue, and numerous tickets were listed on auction site eBay for a 'starting price' as high as £500.
It left one Twitter user particularly exasperated after missing out on a semi-final ticket. They wrote: "These ticket tout companies are a joke! The fact they have managed to get ahead of genuine fans for tickets is disgraceful! There shouldn't be a limited amount of tickets being released either. Ridiculous!"
Other users posted they were disappointed to have missed out, but encouraged those with spare tickets to sell them on to genuine fans are face value.
Want to join the conversation? Please or to comment on this article.