Brian McDermott arrives at Hibs: 'Ridiculous' pressure, living in dark place, everyone being all-in, excitement
Brian McDermott has experienced the pressures associated with club management and says he has not arrived at Easter Road to add to them.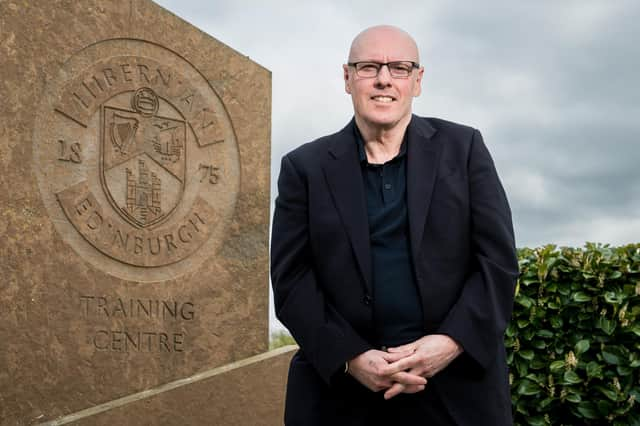 Instead, Hibs' newly-appointed director of football envisages a strong off-field team performance that will ease the burden on manager Lee Johnson as everyone works towards ongoing improvement. "There's too much pressure, definitely," McDermott said as he met the media following his appointment. "We all want to work hard but you want to enjoy what you're doing; creating something and making something happen.
"For me the most important thing is the collective, a bunch of people working really hard for one common cause, because the pressure is ridiculous. The amount of managers leaving football clubs is ridiculous. It doesn't make any sense to me. It's a moving-on culture, nobody is building anything. It should be about building. Mikel Arteta a couple of years ago lost a few games and people were talking about him going but now look at what he's building at Arsenal. It's incredible. It's about trying to create something and that's what I really believe in."
A former player and scout for the North London club, McDermott arrives in the capital with a wealth of knowledge across various aspects of the game, from identifying talent to coaching it, at youth, reserve and first-team level, as well as managing and mentoring. While Johnson joined Hibs under a different football structure, he was part of the discussion with chief executive Ben Kensell, head of recruitment Ian Gordon and former owner and chairman Ron Gordon, before he passed away, which identified the benefits of bringing in a director of football and he was part of the final interview panel who identified McDermott as their first choice.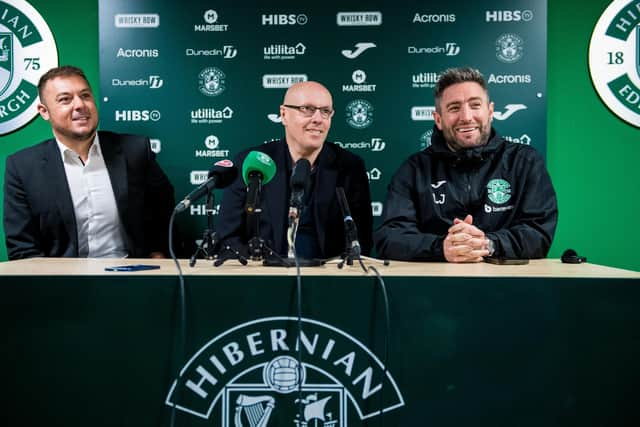 "It is good for me because I have someone at close quarters who has been there and done it. That will save me calling my dad as much!" admitted Johnson, whose father Gary has been in management for decades. "It just feels right, in terms of timing, going into the window, and it feels right in terms of where we are as a football club to be able to add a really strong individual to the organisation and I was happy with the process.
"The process was a really important part of it. Everybody needed to commit to Brian because if they didn't then he wouldn't be able to do his job properly. That was important to Brian himself. He said: 'Look, don't take me if everybody isn't fully committed. If everybody isn't fully committed that means I'm not the one for you because when I come, I'm coming in to give it everything'. And that was the same with me as manager, I said the same thing at my interview. It's not that you don't want to be there and it's not disrespectful to the club but I said: 'If I'm going to give you everything, make sure everyone is fully in, in terms of wanting me to be here. If not, it wont work'. That is the key."
While some relationships between managers and the men who oversee football operations and recruitment can be testing, both men insist they are excited to be working together. With five games of the current campaign remaining and improvement on last season's eighth-place finish guaranteed, work has already begun on bolstering the first team, be that through scouting, coaching or ensuring there is a clear pathway from the youth ranks to the first team.
"As a football club, we've got to be better at integrating players. That's one of the factors that Brian, Ben, Ian and myself will have a good look at, because if you are going to recruit players across borders and culture it is very different," added Johnson. "Scottish football is so unique and has a different tempo. One minute you're going to Celtic and the next minute you're not 2-0 up after 20 minutes against someone at home and you're getting pelters.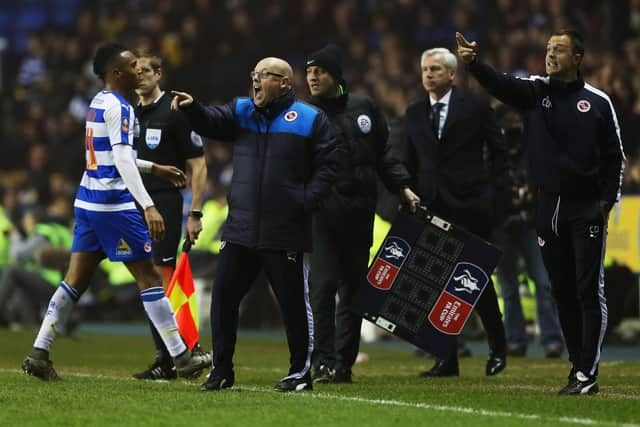 "You've got to deal with the goldfish bowl, and I include the media in that, that is Scottish football. It's fantastic, because it is so passionate and it's so up and down, if you like, but it's our job to flatten the wave and make sure we're doing consistent good work over a period of time."
And, rather than turn up the heat when the side does hit a dip, McDermott's own experiences means he will work to help coaches and players produce their best while avoiding kneejerk reactions. "I've got a perspective on where the boss sits. I know. I've been there," said the man who sampled highs of promotions and manager of the year awards, as well as the lows of losing jobs. "Unless you've stood on the line as a manager for one game you will never know. It's really hard.
"For me, I did nearly 500 games, and people used to say 'you look calm'. I was not calm! "When you went 1-0 down my heart rate would drop because I'd think 'okay now we have nothing to lose and everything to gain'. It was a strange feeling. Then I remember we went 1-0 up after three minutes with Reading at Elland Road and I thought 'Oh my God we have 87 minutes of this now'.
"You get the euphoria of the whistle and the relief. It was never joy, it was relief. I can't speak for Lee but that's how it was for me. It's an all encompassing job. But I like to think that in most roles at a football club I've sat in the person's shoes and can talk about it."
Last year McDermott opened up on some of the mental demons that feed off men under those pressures and while he will always strive for the best and recognises that the top players and staff will always be pushing to produce more and more, he says it is important not to lose sight of players' and staff's psychological well being.
"This is really important to me, as far as people opening up – staff, players, whoever. It's so important, if I can help somebody," he said. "Because I've been in a dark place, and I know what it looks like. I've lived in a place that was quite dark, and I don't live in that place any more, a day at a time. I feel very, very grateful.
"As far as the mental health side of it goes, we've all got mental health, we've all got issues at certain times. For me, I never really opened up and talked about them, until 2015, and then I mentioned it in public a year ago, so I've been doing lots of talks on it. It's my journey, and it's only my journey, but for me if I did struggle on a daily basis – and I don't now – then I'd open up and talk about it.
"You want to be there for a football player, a member of staff, to make sure they know they've got somewhere to come. I'm not a psychiatrist, I'm not a psychologist, I just lived a certain way and I've gone through certain things. I can signpost people for help if they need it. It's just about being there, and sometimes it's just listening. One of the big things about that sort of thing is to listen and to make sure you hear what people are saying. I remember back in the old days, you never spoke. As a player, you didn't talk or open up or speak, because it was always, 'you've got to man up'. Life's moved on a little bit since those days, we'd like to think. But it needs to be better."
And, once again, it comes back to improvement. On and off the field, personally and professionally.