Steven Naismith tells Hearts to back up cup win, embrace fans' expectations, addresses Jorge Grant situation and lauds Rangers' Alex Lowry 'brilliant' ability
Steven Naismith has called on his players to "back up" their 2-1 win over Kilmarnock that sent them into the semi-finals of the Viaplay Cup.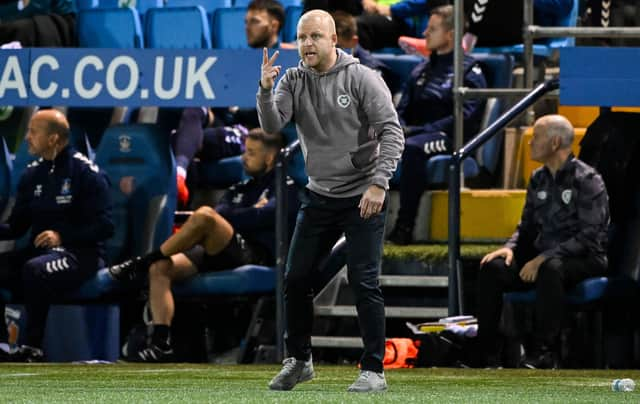 A stoppage-time goal from substitute Alex Lowry at Rugby Park clinched the victory after Brad Lyons had cancelled out the visitors' opener through Jorge Grant. The match looked to be heading to extra time until Lowry's intervention and Naismith hailed the performance, challenging the team to replicate on a more regular basis given there has been fan unrest over the club's slow start to the season.
"I'm delighted to get through, it was the next step we needed to take," Naismith said of reaching the last four of a competition they have not won since 1962. "At this club there's a demand to get to semi-finals and finals and ultimately win silverware. I'm happier with the performance than the result, I thought we were really good. We were the better team in the first-half, scored a really good goal.
"When they scored the momentum changed but we stemmed that flow and had a few attacks ourselves. Our season has either been really entertaining or flat performances and it's now about getting that on a more consistent basis. It's a big win and everybody's delighted but we do need to back that up."
Naismith admitted that his players need to embrace the expectation levels of playing for a club as big as Hearts. "It's about that consistency," he continued. "The hard part for the players is that there is a demand at this club. Me as a player grew to enjoy that feeling, understand it. It's the biggest challenge for any player at Hearts. The demand is there. You either accept it or try to use it to your advantage, or you'll not make it at the club. That's simply it. I think we've got some really good footballers who can bring success.
"I's a mental challenge. When you're expected to go to every game and have on a performance and win, that naturally brings pressure. As a player, you either do it or don't. As a player, at the Old Firm, in my first year I was really poor, but you understand it and you learn from it. You make mistakes but you learn from it and you get better. I believe that we have got success in this group."
Naismith handed Grant his first start of the season and the midfielder, who has been out of the picture and told game-time could be limited, rewarded the manager with the goal. "This was at the start of the season and I had given every player a feeling of where they are within the group," Naismith said of that conversation in the summer. "I believe that over the course of the season, you'll need everybody. The biggest thing for me is that I am honest with the players because I felt that as a player myself, it was better to be that way. I said to him that he needs to work hard and show his chances. In my first game as interim against Hibs, I started Jorge Grant. I think he's a top player. I just wanted to see more, more good moments and have bigger impacts in games. Over the past few weeks, against Aberdeen and in training, he's been good. He had to wait for his moment."
The manager was also delighted with Lowry's contribution, his first goal since joining the club on loan from Rangers. "Alex has got brilliant ability," Naismith said. "I'm not sure I've seen in my whole footballing career a young Scottish player that I have been working with that has got such good ... he can do things with a ball that a lot of others can't. I've challenged him to see more moments like that. He's been frustrated at not getting more game-time, but I said to him, you need to show moments and when you are on the park, you need to do more."
Naismith also confirmed that midfielder Cammy Devlin was taken off at half time due to illness.
Defeated Kilmarnock manager Derek McInnes, meanwhile, lamented his team being "too excitable" when chasing a winner in normal time. "I was angry that we've allowed that type of goal to decide the cup tie," he said. "We had Hearts where we wanted them. We were in charge of that tie in the second half. We had four or five shots early in the half and that set the tone and Brad comes up with a big moment.
"We played the last phase of play as if we needed a goal to get back in the tie. We were guilty of trying to win it then. We were too excitable, too gung-ho to win a game of football in 90 minutes when we could have won the game in extra time.
"It was all last gap and unnecessary, almost as if we were chasing a game to win it in 90 minutes when we didn't need to. We could – and should – have won it in extra time. But we allowed an opportunity for Hearts and they took it. We were guilty of naivety and bad decision-making instead of playing percentages and playing smart."