Robbie Neilson: The Hearts legend who divides the support, latest protest, why fan concerns and what next
The alarm has gone off, 'I Got You Babe' by Sonny and Cher is playing on the radio. Forget Bill Murray and Andie MacDowell, however. We're not in Punxsutawney, Pennsylvania. We're in Gorgie, Edinburgh. It's Groundhog Day. The protagonists, once more, are Robbie Neilson and a divided Hearts support.
There has been the 'No Style No Bottle' plane flying over Tynecastle Park. Protests and banners outside of the Main Stand. Now, it's a message scrawled over Foundation Plaza on McLeod Street, described as a "pathetic act of vandalism" by the Foundation of Hearts, the fan group which owns the club. While its placing has been widely criticised by fans, the message itself will have found plenty of support. Something which will bemuse onlookers without a vested interest in Hearts. As ever, it is a situation which is intriguing, far from black and white and one which deserves scrutiny.
Until 2014, Hearts fans rarely enjoyed stability off the field. Money issues, Wallace Mercer's controversial, and thankfully failed, plans to merge Hearts and Hibs, Chris Robinson's proposed sale of Tynecastle Park, the Vladimir Romanov era which ended in administration. Situations which have focused much of the ire of the club's support. Now, with competence and success off the field, all focus is on the pitch, the team's performances and ultimately the manager. Few have divided the fan base in the way Robbie Neilson has. A bona fide club legend, seeped in Hearts, who has achieved success as player and manager. There are roughly three camps. Supporters, detractors and a large swing vote, who can find themselves in either camp various times a season.
Neilson out?
With that in mind and Hearts in third, why the current disgruntlement? Some ans see a team slipping up from a once commanding position, allowing for the possibility of Aberdeen or Hibs to overtake them. The importance of third and what it means increases that fear, the pressure and the agitation. 'Best of the rest' is vital, providing one of Celtic or Rangers win the cup. Back-to-back European group stage appearances would be financially significant. Some supporters believe the team is regressing, even before the recent run of five defeats in six, and there will be glances towards Motherwell and Aberdeen and the bounce gained with replacing managers. The style of play has been ponderous, predictable, slow and safe, easy to play against, while there has been an inability to react. The team had two weeks to fix things after the 3-0 loss at Aberdeen. They were even worse against Kilmarnock. Robert Snodgrass even admitted he didn't know which Hearts is going to turn up. There is no such thing as 'Big, Physical Hearts'. In addition, the club's away form continues to be poor, just three league wins outside EH11, and question marks over the manager's ability and decision making when facing the Old Firm, losing the last 14 encounters. The team selection and set up for the loss to Rangers at Tynecastle earlier this year still rankles with many.
There is a view held that Neilson is not the manager to take the team onto the next level. Some will say there is no next level for Hearts. They are wrong. The Old Firm are out of reach but the next level is to pull away from those below them. To win more away games. To win more points season-on-season. To qualify for Europe season-on-season. Doing that would move the team closer to the Old Firm. And that's where Neilson and the club should be judged. Why? Because he has talked about it. Sporting director Joe Savage has talked about it. Just because Hearts have underachieved for decades, struggled to put competent back-to-back seasons together, doesn't mean there should be an acceptance of mediocrity because of what has happened in the past
Neilson in?
Still, they are third, St Mirren and Ross County to play at home before the split. If you offered fans the current position during the first half of the season they would have snapped your hands off. The dynamic has changed. Aberdeen and Hibs' terrible periods this season should be noted, but Neilson, in taking the club from the Championship to third in the Premiership in his two stints as Hearts manager, has overcome difficult spells previously. He has been hampered by key injuries in defence, midfield and attack, as well as goalkeeper, talisman and captain Craig Gordon. On reflection, a poor January transfer window has not helped matters. He is still in a position to achieve what so few managers in the history of the club have, recording back-to-back top three finishes at a time where it has arguably never been more important. Just when it matters, Neilson has been able to make a key tweak, land a key result. There were doubts about his derby record. He's now eight unbeaten. There have been and are doubts about style of play but he has made the team an entertaining watch during both spells. He will be hurting at the current situation but at the same time, focused, confident and steadfast that he can and will turn around the current slump.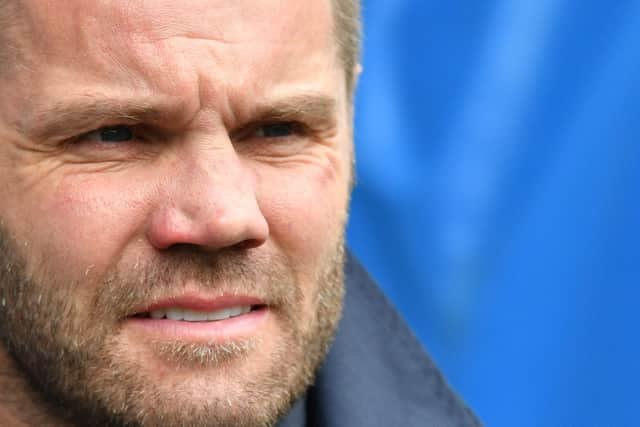 It is highly unlikely Hearts sack him. Now or in the summer, even if the team were to finish below third. He is a trusted figurehead, given a new three-year-deal less than 12 months ago. The club stood by him after the Brora Rangers Scottish Cup final defeat. A decision proven to be correct. There will be the utmost faith that he will be able to steer the ship through what will be seen as far less choppy waters now. In turn, if results and performances continue, supporters will become even more agitated, especially as a fan owned club, that they are not being listened to. The Foundation of Hearts will provide the reminder that Hearts are fan owned, not fan run. Perhaps in a few months optimism will return, European football will return.
The alarm will then ring. 'I Got You Babe' playing on the radio.
Comments
 0 comments
Want to join the conversation? Please or to comment on this article.