'It's not rocket science': Hearts told how to improve by Steven Naismith as squad gets major boost
Reviving Hearts' on-field fortunes need not be rocket science, according to interim manager Steven Naismith, who says a little bit of luck could be all that is needed to get the season's ambitions back on track.
Six defeats on the bounce have already cost Robbie Neilson and his assistant Lee McCulloch their jobs, resulted in experienced midfielder Robert Snodgrass being axed and, as well as a derby defeat by Hibs last weekend, the team have also surrendered third place to Aberdeen. Hpwever, with six games remaining, the stand-in Hearts boss believes that the Gorgie players can recover their status, provided they can bolster the mental side of the game and take on board the tactical changes he is trying to implement.
"There's a bit of that [mental toughness]," said Naismith ahead of Saturday's Premiership match against Ross County. "There's a bit of luck. There's a bit of picking up what we're asking them to do. I believe it's one game [that can flip it]. If we can get a good result or something happens that gets you a goal in the game, everybody just relaxes, everybody wants to get on the ball and we decide to play this pass, that pass, the forwards start thinking, 'I'm going to get in the box here. I might be a goal'. It's as simple as that. It's not rocket science. From my experiences as a player, you have runs of not performing well – then one goes in off your shin and before you know it you've scored in the next three games. That's the game, that's why we love it."
Finding a way to goal more frequently is crucial to Hearts' ambitions. While they have conceded 14 goals in the past six losses, they have scored just two. "Change takes time," continued Naismith. "Every training day we've had has been really good in terms of the structure, the meetings and what they're doing but that's not going to win you games – it's inevitably what you do on the pitch on a Saturday. We need to have a better threat going forward. I felt we defended better than we've done in recent weeks [against Hibs]. But one moment killed us and when you don't carry as big a threat you struggle to get back into the game. We're at home this week and need to give the fans something to get behind.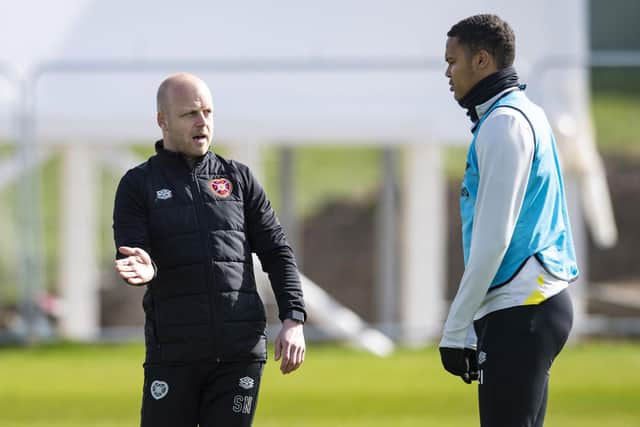 "We've touched on moments in previous games where we've not done that and what the reaction to that is and why it is. Sometimes players come to Hearts and don't understand the demand and what the expectation is. So when they're doing things on the pitch, they can't understand why there's a negativity to it. It's about us showing them why and saying, 'We need to be better at this, we need to trust ourselves and have more players going forward in attacks who make the right choice'."
Josh Ginnelly has returned to full training, giving Naismith another attacking option for the latest test against relegation battlers County. And there was more good news for the club as Naismith revealed that Michael Smith could return before the end of the season following last weekend's hamstring injury. "I can't sit here and say he is going to come back in two weeks or three weeks," added Naismith. "It's about how his body reacts. I think he can play again this season but that's not definitive."