Inside story of Inverness CT's pursuit of Neil McCann as club insist Hearts legend John Robertson is not leaving
Inverness Caledonian Thistle chief executive Scot Gardiner insisted manager John Robertson is "100 not leaving" the Highland club after appointing Neil McCann as his temporary replacement.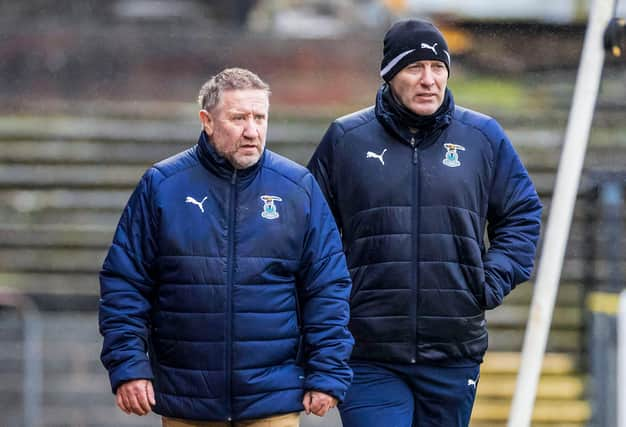 Gardiner spoke out to explain the process behind hiring McCann as interim manager after granting Robertson indefinite compassionate leave due to a family bereavement.
He stated that 46-year-old McCann was the first choice and backed by the Inverness board, but added the approach was far from straightforward due to the short-term nature of the job.
There was also the added complication of assistant manager Scott Kellacher being absent at the moment through illness.
Speaking to the club website, Gardiner told how he informed directors of his plan to bring McCann north after agreeing Robertson's time off. The stand-in will take charge for the first time on Friday night when his former club Hearts visit the Caledonian Stadium.
"I spoke to the board and chairman [Ross Morrison]. I told the chairman that I thought Neil McCann would be fantastic. I had a list of four names but Neil was number one for a number of reasons," said Gardiner.
"It wasn't straightforward. If a manager and his assistant leave because they're head-hunted by another club, then you get your contracts book out and you get applications in any case.
"Scott and John are not leaving us – 100 per cent they're not leaving us – so this was a difficult situation I had not encountered before. You needed a good man, an experienced man, who had a reason to take the job. It could be a few weeks, a few months, we don't know.
"We needed someone who could drop everything in their life, move to Inverness for we don't know how long, and live we don't know where because we don't just have a stack of houses sitting.
"It had to be someone John could trust and communicate with. I didn't want to add additional angst to the situation by putting someone in who John thought: 'They're there to get my job.' I didn't want Kell to think that either because it's not the case.
"So all of that really narrows the window. We were Covid testing on Sunday morning and the last thing John said when he left was: 'Good luck with Neil.' I had a board meeting Sunday lunchtime and then I called Neil directly.
"I've known Neil since 1999 at another club. He was just going on air to cover the Rangers-Dundee United game. His first thoughts were for John. We spoke again on Sunday night, then Monday night and we were trying to see how it could be done.
"He was adamant he wouldn't do it unless he met John or spoke to John. That wasn't necessarily practical but I thought it was honourable and decent. The board were 100 per cent behind the efforts to get Neil. I would update them after each call.
"We had the added pressure of Covid because Neil couldn't take part in the Hearts game if we didn't get him Covid tested and get a negative test back. We had to get someone to meet him at a location, Covid test him and get that over to a lab in Glasgow in time to get a negative test for him to come in.
"Neil had a long conversation with John on the phone. Neil said: 'It depends what John says here whether I'm going to do this.' Happily, after the call, he said: 'John has giving his blessing and said he wants me to do it.'
"We are full of gratitude to Neil for doing what he's doing, and also to the BBC, Sky and Rangers for allowing him to step away for a little while to help his friend, former team-mate and Inverness Caledonian Thistle."
Robertson had personally signed thousands of souvenir tickets as a virtual sale of briefs for Friday night's game were snapped up by fans of Hearts, Inverness and other clubs. The total could reach 10,000 before kick-off.
It was decided after Inverness' 2-0 win at Ayr United last Saturday that Robertson – already without Kellacher – would take a break.
"We lost Scott to a medical issue which wasn't related to the pandemic, but it was serious and very worrying for Scott and his family as well as everyone here. We all count Scott as family," said Gardiner.
"He is now recuperating from that but it will take him quite a while because he was hit pretty hard. Thankfully, he is getting better now.
"John just had the most awful time recently with multiple things piling up. They were all outwith his control but would have put a greater strain on a lesser man – somebody who wasn't as strong or positive as John.
"We had a very difficult situation to deal with, particularly in the last week or so. It was only right that the club looked at the position with regards to giving John compassionate leave.
"John and I had probably discussed that since last Wednesday – about what would that look like and how could it happen, especially because Scott Kellacher isn't here and the amount of games we had piling up.
"Ultimately, John's health and wellbeing were more important to us. It's important for John, Sally and all of his extended family that he's fit and healthy.
"John and I had a discussion what we would have to do and how we could address it while John was taking some time and space. Although it wasn't going to be easy, that led us to getting the game out of the way.
"It was a phenomenal performance and tremendous effort by John Robertson going above and beyond to be there on Saturday of all days considering what was happening elsewhere in his extended family.
"We agreed with John and everything was planned, but then we had a situation of what we were going to do next."
A message from the Editor: Thank you for reading this article. We're more reliant on your support than ever as the shift in consumer habits brought about by Coronavirus impacts our advertisers. If you haven't already, please consider supporting our sports coverage with a digital sports subscription.