Kevin van Veen bares all in revealing interview - how to stop Celtic, Kyogo, 30 goals and leaving Motherwell
Kevin van Veen is one of Scotland's most colourful characters, as well as being a pretty adept striker. His goal for Motherwell that earned them a 1-1 draw at Celtic Park was his 24th of the season and helped his team become the first to take points from Parkhead this season. And in his usual honest manner, the Dutchman explained exactly how you do it.
"You need to be respectful in a certain way because they are that good," Van Veen said. "They are such good footballers, they have an amazing gaffer and the crowd, the venue, everything is amazing here. But me personally, you need to have a pair of balls. Sorry if that's a swear word, but I mean, you have to come here and not be scared, because if you get scared they will roll you over. They smell if you are scared, they smell if you have fear so if you have the ball, you need to try things and put them on the back foot. Sometimes there will be gaps, there will be chances. I thought every time I get the ball I'm going to try something. If I lay it back – boring. I need to go the other way. So I think with no fear and a really good structure as the gaffer set us up, everything worked out the way we wanted it to."
Van Veen is a talisman for Motherwell. They have had periods of real mediocrity this season yet he continues to score. He wants 30 goals and with five matches to go, sees no reason why he can't reach that target as he competes with Celtic's Kyogo Furuhashi and Hearts' Lawrence Shankland for the Golden Boot. "Kyogo is the best striker in the league. He's the man with the most brains for me, he's clever. Of course I'm trying to put pressure on but all due respect to Kyogo, he's amazing, but I need to look after myself as well. I've got five more games, 24 goals already and everybody laughed at me ... it will be good when I hit the 30 mark. I hope everybody's nose is in it, put it that way, that's going to happen because I feel good! If I put the goals in then it means I am helping the team and that's the most important thing."
Van Veen, now 31, is out of contract at the end of next season. There was some interest in January and if he maintains this form, it is likely a firm bid will come in. Where does he stand on it? "Being honest, I love this club, from cleaner to chef. But on the other hand, because I'm 31 and I feel like I'm in my prime, I'm feeling very good. If there's someone coming in and it feels like the right step, I will have a conversation with the club and the gaffer. That might be my last chance so maybe we can all have a green light and everybody's happy because if that's the case, and they do get certain money for me, then I'm helping the club too.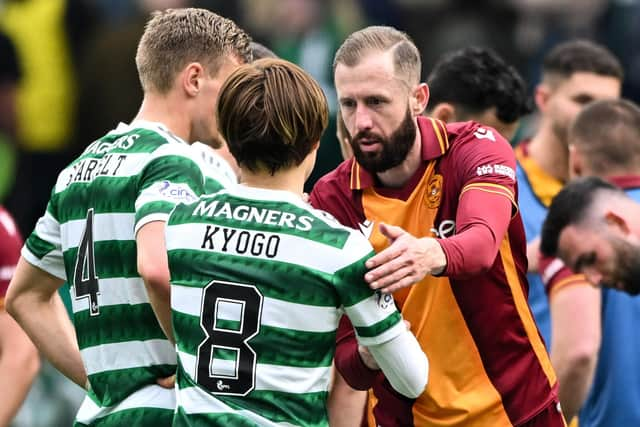 "Because I'm 31, maybe they get younger people in and make a change, and I can make my own step. That's important but I would never force my way out, I'm very happy here, but on the other hand, I am getting older and if there's an amazing step for me, I would be willing to take it but it has to be all positive from everybody's side. I won't press anything through because that's my respect to this club, they gave me the chance to perform at this level."
If he does go, Scottish football will be poorer for it – on and off the pitch.