Humza Yousaf opens up on Celtic support as First Minister addresses Ange Postecoglou exit fears
Humza Yousaf has opened up on his support of Celtic and joked he would try to use ministerial powers to prevent manager Ange Postecoglou leaving for Tottenham.
The First Minister has made no secret of his affection for the Parkhead club having been been pictured wearing a Celtic strip as well as attending matches including the recent Scottish Cup semi-final win over Rangers.
Speaking on Radio Clyde's Superscoreboard, the SNP leader recalled how his love of Celtic began.
He said: "I was taken to my first game by my late uncle who was a Celtic fan, my first game was Regi Blinker's debut and I was hooked. It was the buzz I think of walking to Celtic Park with all these other fans, scarves and strips on. Just being part of that community left me absolutely buzzing.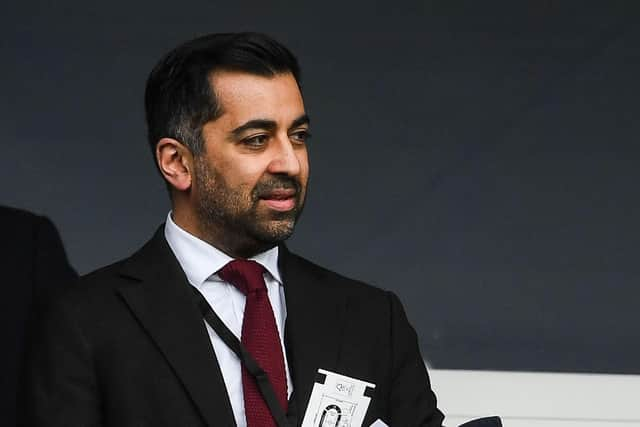 "I was totally hooked from then. Football has given me a lot in life. Even before I was First Minister, when I was Health Secretary and other jobs, I've had quite a bit of stress, and football is a great outlet when you're playing or watching.
"If you're anything like me when you watch the football, get animated, so that's a good stress reliever. It's a great outlet for me when it comes to all the other stresses in life."
The SNP leader also revealed that he was advised to hide which team he supported when he entered politics but felt there was nothing wrong with making it known he supported one half of the Old Firm.
He added: "It does come with its challenges because I think people assume that everything you do is through the lens of being a Celtic fan. I'm not going to pretend I'm anything other than that, because what's the point?
"I remember when I first got into politics people said 'Why don't you just pretend you're a Partick Thistle fan?' I thought 'there's plenty of pictures of me in a Celtic top, folk know me, what is the point of pretending?'
"Plus there is nothing wrong with supporting Rangers, Celtic or any other club in the country."
Mr Yousaf added: "I just asked my entire team to see if there's anything within my ministerial powers to stop Ange leaving Celtic, if of course the rumours are true.
"Of course there's nothing I can do. I would be gutted, I think he's been a real revelation. Not just as a manager and his tactics but also the players he's bought, I just don't think they would've come to the Scottish Premiership if he hadn't brought them."
Comments
 0 comments
Want to join the conversation? Please or to comment on this article.