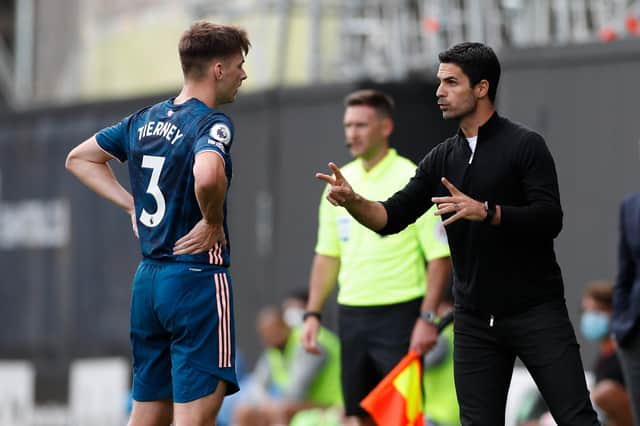 Gunners manager Mikel Arteta talks with Arsenal's defender Kieran Tierney (Photo by PAUL CHILDS/POOL/AFP via Getty Images)
Video games are said to be the link between Armstrong, who returned a positive test at the Scotland camp on Tuesday, and the 23-year-old.
Officials declared the pair as close contacts and due to Armstrong's diagnosis, he has to sit out for ten days while Tierney faces the mandatory two week isolation period to fend off potential spread.
It will be his second time out of action because of the virus – he tested positive two months ago according to The Scottish Sun – but showed no symptoms and was fit to begin the English Premier League season with Mikel Arteta's Gunners.
The manager is now said to be unhappy that his £25million defender will be missing for a key domestic clash with Manchester City, and Europa League meeting with Rapid Vienna and questions have been asked if his previous positive test, and recovery, could alleviate the need for further isolation.
However Professor Jason Leitch, Scotland's clinical director, has said there will be no special case made for either Tierney, or Ryan Christie who was also identified as a close contact in the national team camp and is facing his own fortnight on the sidelines despite also reporting a negative test result.