'Crazy time' - Michael Stewart delivers verdict on 'understandable' Celtic protests
Michael Stewart has claimed that he can understand why Celtic fans have resorted to protesting outside of Parkhead amid the Hoops' current slump in form.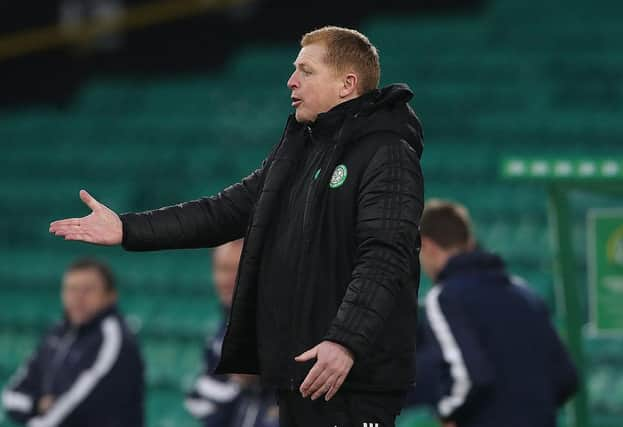 Manager Neil Lennon has come under increased scrutiny recently, with his side currently on a run of just two wins in 12 matches.
As a consequence of their downturn in form, the defending champions find themselves 13 points adrift of Rangers at the top of the Scottish Premiership, and have also been knocked out of both the League Cup and the Europa League.
Tensions among some factions of the Celtic fanbase have boiled over in recent weeks, with protests staged outside the ground – some of which resulted in clashes with police in the aftermath of the 2-0 defeat to Ross County at the end of November.
Some supporters have also taken to hanging banners outside Parkhead, with one appearing earlier this week bearing the message "Shoot the Board".
And while Stewart has not advocated for the sentiment behind that banner, he has suggested that he can understand where the frustrations of some fans are coming from.
Reacting to an interview with Lennon calling for unity and support from the fanbase, Stewart told BBC Sportsound: "It's a difficult one. I totally feel for Neil Lennon, I hear what he's saying.
"Is it helpful? No, it's not, and I agree with him on that. But equally, the supporters are not in the ground at the moment. I think there's so much pent up frustration and anger at the situation they find themselves in, they're looking for an avenue to show that.
"This is what the banners are, and you can understand. I've heard a lot of discussion and talk about how the Celtic supporters are spoilt, that there's a generation who have only ever experienced success, and to a certain extent that could be true, but it's all about relativity. These fans have experienced a lot of success, and they're looking at what could be an iconic season, potentially, and they can see it slipping away.
"It's understandable that there's that level of frustration, annoyance, anger, but I do feel for the manager and the players, because you want it to be done in such a way whereby it doesn't impact them, where the players and the manager are fearing for their own safety from their own supporters.
"It's a crazy time that we live in. If this was normal, the fans would be in the stadium, they'd be booing, they'd be screaming, they'd be shouting. Perhaps there would protests outside the ground, but I don't think they'd be at the level of knocking over fences and barriers – that level of aggression I don't think would be there.
"It's a difficult, difficult situation at Celtic. Football fans, when they're frustrated with what's going on the park, they show it. They vent their frustration, they protest – that's nothing new.
"I just think the level of it is perhaps because of the environment that is in society at the moment."